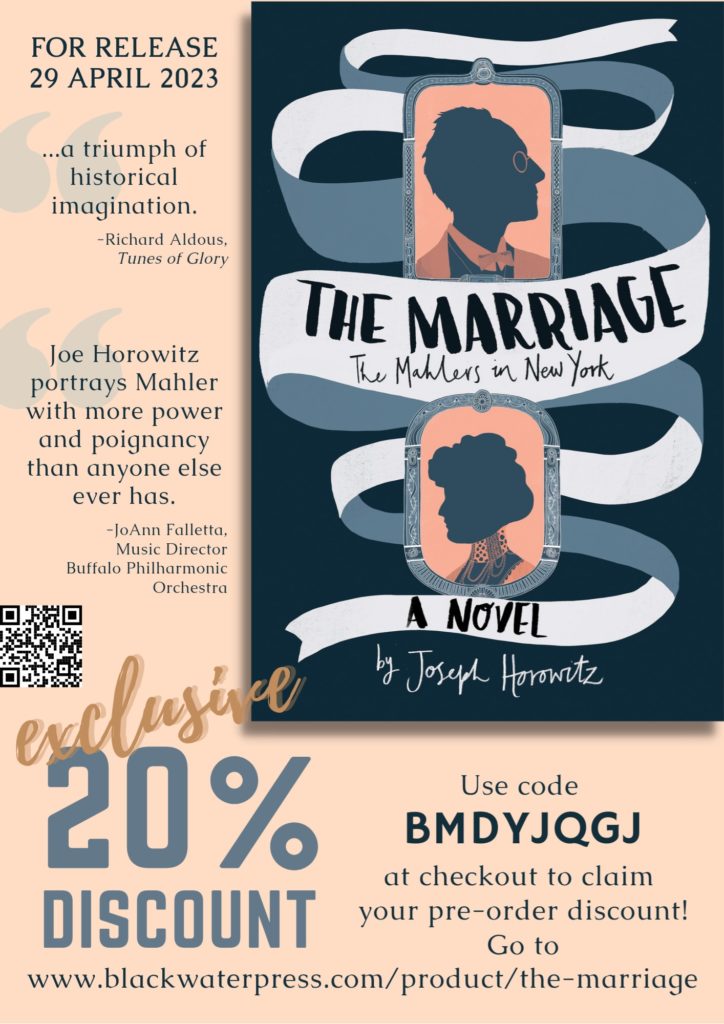 My forthcoming Mahler novel is now available for pre-order with a 20 per cent discount.
Related events:
April 4: "Mahler in New York." A concert with film and readings (I'm reading from my book): Argento New Music Project, Dimenna Center, 7:30 pm
April 23: Colorado Mahlerfest webcast, 6 pm ET – I'll be talking about why I have fictionalized the story of the Mahlers in New York, and what I've learned as a result.
April 29: Mahler Foundation webcast, 10 am ET – a Youtube conversation with the Mahler scholar Morten Solvik
May 20: Colorado Mahlerfest symposium, 9 am Mountain time (Boulder, Colo.) – A talk on Mahler's failure in New York: why it happened and what it meant.
June 17: "Einsamkeit," presented by Peridance Contemporary Dance Company (NYC). – The premiere of a new music/dance piece by Igal Perry, setting Mahler and Schubert performances by JH and the bass trombonist David Taylor.
July 5 : Brevard (NC) Music Festival. A concert including "Mahlerei," my adaptation of the Scherzo of Mahler's Fourth Symphony as a concertino for bass trombone and chamber ensemble. With bass trombonist David Taylor.
TBA – American Purpose "Bookstack" podcast, with Richard Aldous