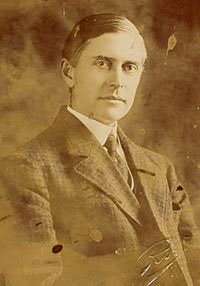 "America's forbidden composer" is Arthur Farwell (1872-1952), leader of the "Indianists" movement in music. As I've discussed in a recent blog: politically, Farwell seems hopelessly incorrect today. But impressions of Farwell, insofar as they endure, are typically misimpressions. His significance is not merely historical. He composed some of the most original and compelling American piano, choral, and chamber music of the early twentieth century. Two new PostClassical Ensemble webcasts make it possible to actually listen to top-notch Farwell pieces in top-notch performances – and discover what is actually there.
Click here and you can audition:
—Pawnee Horses for 16-part a cappella chorus (1937)
–Two versions of Pawnee Horses for solo piano (1905)
–Two versions of Navajo War Dance No. 2 for solo piano (1904)
—Three Indian Songs for baritone and piano (1908)
–The Hako String Quartet (1922)
Our webcasts also include, by way of context:
–Music by Dvorak and Busoni inspired by Native America
–Three formidable compositions by the contemporary Native composer Jerod Impichchaachaaha' Tate
–Two products of the South Dakota Symphony's visionary Lakota Music Project, one a vivid showcase for the Native flutist Bryan Akipa, the other a remarkable collaboration between Akipa and the composer Jeffrey Paul
All of this was heard at the Washington National Cathedral during PostClassical Ensemble's "Native American Inspirations" festival two months ago. The festival's principal revelation was Farwell's Hako Quartet – a work never recorded (the world premiere recording, on Naxos, will be PCE-produced). As I've written in this space, its inspiration is a Great Plains ritual. Though it incorporates passages evoking a processional, or an owl, or a lightning storm, it does not chart a programmatic narrative. Rather, it is a 20-minute sonata-form that documents the composer's enthralled subjective response to a gripping Native American ritual. It conveys throughout a primal tingle. It mounts to climaxes of exaltation rare in the American chamber-music literature. It bears intense witness to elemental magic and mystery.
Our webcast includes commentary by the South Dakota Symphony's music director, Delta David Gier, who coached the gripping Lakota String Quartet performance in DC. Gier calls the Hako "a salute from one culture to another," part of a centuries-old tradition of cultural fusion in the concert hall. He says that Farwell is "someone who needs to be rediscovered." At the same time, Gier does not envision presenting the Hako on Indian reservations within his Lakota Music Project. The Native American musicians with whom he regularly – and remarkably – interacts are, he explains, "not interested in the white man's take on their culture."
As I say in our webcast colloquy, this decision makes me "uncomfortable." "I'm very protective of Farwell because of the degree to which is music is forbidden," I respond. "With the greatest respect and admiration for you, and what you've achieved in South Dakota, I think I disagree. Because if you take that attitude, I fear you're feeding a widespread and ill-informed prejudice. It's as if he were a forbidden composer in [Maoist] China or the Soviet Union. I know: you perform this music, and you're in deep trouble." (In DC, the Museum of the American Indian wanted no part of our festival; a Museum representative said Farwell lacked "authenticity." On twitter, PostClassical Ensemble was attacked by a torrent of writers none of whom had ever heard a note of Farwell's music.)
You can listen to the entire exchange and ask yourself who is being more "disrespected" when the Hako is forbidden – Arthur Farwell or Native America.
Another highlight of the webcasts is a unique presentation by William Sharp – a supreme American concert singer who regularly partners PCE. Bill was assigned Farwell's Three Indian Songs – music which he approached with some trepidation. As he recounts, he discovered himself so consumed with this assignment that he investigated the pertinent legends, auditioned historic wax cylinders of Indian chant, and conferred with the Lakota singer/drummer Emmanuel Black Bear. You can hear Bill describe it all – and caution against "thoughtless knee-jerk" condemnations of "cultural appropriation."
The deeper Bill immersed himself in Farwell's world and its sources, the more galvanized he became; he acquired a mission. As I remark in our webcast, his response seemed a microcosm of Farwell's journey. Farwell is a composer who plainly felt compelled to become an "Indianist." As Bill McGlaughlin, our inimitable host, puts it: "It's how music is transmitted. It's what musicians do."
To finally frame the cultural appropriation debate, we listened to what was once by far the best-known Indianist concert song: Charles Wakefield Cadman's "From the Land of the Sky Blue Water" (1909). I would call this song a specimen of tuneful kitsch. That is: we sampled a full spectrum of "appropriation." In their own time, Farwell and Cadman were antipodes. Farwell passed on including Cadman's songs in his Wa-Wan Press publications. Cadman, in turn, viewed Farwell as a kind of fanatic, out of touch with practicalities. As I have previously written: Cadman's once-famous song is as remote from Farwell's Pawnee Horses as a balalaika orchestra playing "Dark Eyes" is remote from Stravinsky's Les noces. Beware of facile generalizations about the Indianists.
What to make of Cadman's song today? Is it "cultural misappropriation"? Is it "disrespectful"? On our webcast, David Gier answers "Yes and no." Bill McGlaughlin says: "For me, it's a period piece. I'm not offended by it – I just don't want to hear it again." Bill proceeds to compare Cadman unfavorably to Sigmund Romberg and Victor Herbert – "period composers" of higher ability.
For me, as for Bill, the pertinent criterion is aesthetic, not moral. If "From the Land of the Sky Blue Water" today seems ephemeral, it's partly because, unlike Farwell (or Dvorak or Busoni), Cadman was not smitten by the primal. He did not ride a tidal ardor for Native America. He merely discovered something useful.
I remark in closing: "How I wish that this conversation were more pervasive. Instead, it's usually just silenced. It was hard as hell to get this conversation started in DC because so many people refused to take part. That there are actually people who refuse to listen to the music of Arthur Farwell – this pains me."
For more on Arthur Farwell and cultural appropriation, click here. To read a blog about Harry Burleigh and cultural appropriation, click here.
NATIVE AMERICAN INSPIRATIONS: LISTENING GUIDE
PROGRAM ONE
Part One:
00:00: Farwell: Pawnee Horses for a cappella chorus, performed by the University of Texas Chamber Singers conducted by James Morrow
2:00: Introducing Arthur Farwell
7:50: Farwell: Pawnee Horses for solo piano, performed by Benjamin Pasternack, then by Emanuele Arciuli
14:23: Farwell: Pawnee Horses for a cappella chorus (reprise)
19:23: Farwell: Navajo War Dance No. 2 performed by Emanuele Arciuli
25:40: William Sharp introduces Three Indian Songs by Arthur Farwell and discusses "cultural appropriation"
32:40: Farwell's "Song of the Deathless Voice" introduced and performed (35:40) by William Sharp with pianist Emanuele Arciuli
38:30: Farwell's "Inketunga's Thunder Song" introduced and performed (39:40) by William Sharp with pianist Emanuele Arciuli
42:16: Farwell's "Old Man's Love Song" introduced by William Sharp
44:18: A pertinent wax cylinder recording from the 1890s
50:39: Farwell's "Old Man's Love Song" performed by William Sharp and Emanuele Arciuli
Part Two:
6:24: South Dakota Symphony Music Director Delta David Gier describes the Lakota Music Project
10:20: Farwell: Hako String Quartet excerpt 1, performed by the Lakota String Quartet
15:16: Farwell: Hako String Quartet excerpt 2
32:59: Larghetto from Dvorak's Violin Sonata (Netanel Draiblate and Emanuele Arciuli) preceded by the pertinent Longfellow passage read by William Sharp
45:09: Busoni Indian Diary No. 1 performed by Emanuele Arciuli
59:33: Cadman: "From the Land of the Sky Blue Waters"
1:10:19: Farwell: Navajo War Dance No. 2 performed by Benjamin Pasternack
PROGRAM TWO
Part One:
00:00: "Resolution" by Jerod Tate, sung by William Sharp with PostClassical Ensemble led by Angel Gil-Ordonez
12:10: Shakamaxon (movement one) by Jerod Tate, performed by PostClassical Ensemble led by Angel Gil-Ordonez
27:29: Shakamaxon (movement two) by Jerod Tate
42:26: Victory Songs (excerpt) by Jerod Tate, performed by baritone Stephen Bryant and the South Dakota Symphony led by Delta David Gier
Part Two:
10:15: Wind on Clear Lake by Jeffrey Paul, performed by Bryan Akipa and members of the South Dakota Symphony led by Delta David Gier
22:13: Bryan Akipa describes composing Meadowlark
26:11: Meadowlark by Bryan Akipa, performed by Akipa and members of the South Dakota Symphony
41:04: "Prologue" and "Hiawatha's Wooing" from the Hiawatha Melodrama, composed by Michael Beckerman and Joseph Horowitz, with Kevin Deas (narrator) and PostClassical Ensemble led by Angel Gil-Ordonez
53:30: "The Hunting of Pau-Puk Keewis" and "Epilogue: Hiawatha's Departure" from the Hiawatha Melodrama