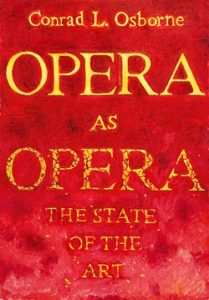 This weekend's "Wall Street Journal" includes my review of Conrad L. Osborne's new mega-book "Opera as Opera" — the most important English-language treatment of opera in performance ever written:
During the 1960s, '70s and '80s, when classical music was a lot more ­robust than nowadays, High Fidelity was the American magazine of choice for lay connoisseurs and not a few profes­sionals. Its opera expert, Conrad L. ­Osborne, stood apart. "C.L.O." was self-evidently a polymath. His knowledge of singing was encyclopedic. He wrote about operas and their socio-cultural underpinnings with a comprehensive authority. As a prose stylist, he challenged comparisons to such quotable American music journalists as James Huneker and Virgil Thomson—yet was a more responsible, more sagacious ­adjudicator. In fact, his capacity to marry caustic dissidence with an ­inspiring capacity for empathy and high passion was a rare achievement.
Over the course of the 1980s, High Fidelity gradually disappeared, and so did C.L.O. He devoted his professional life to singing, acting and teaching. He also, in 1987, produced a prodigious comic novel, "O Paradiso," dissecting the world of operatic performance from the inside out.
Then, a year ago, he suddenly ­resurfaced as a blogger, at ­conradlosborne.com—a voice from the past. Incredibly, the seeming éminence grise of High Fidelity was revealed to have been a lad in his 30s. And now, in his 80s, he has produced his magnum opus, Opera as Opera: The State of the Art—788 large, densely printed pages, festooned with footnotes and end­notes. It is, without question, the most important book ever written in English about opera in performance. It is also a cri de coeur, documenting the devastation of a single precinct of Western high culture in modern and post­modern times.
This Olympian judgment takes the form not of a diatribe but of a closely reasoned exegesis. It impugns philistines less than intellectual trend-­setters, notably including operatic stage directors (with Robert Wilson's catatonic Wagner the "last straw"). They are, in Mr. Osborne's opinion, recklessly intolerant of earlier aesthetic norms, not to mention norms of gender, politics and society. His conviction, painstakingly expounded, is that the past is better served by understanding than by such remedial tinkering as (to cite one recent staging) empowering Carmen to survive the end of Bizet's opera rather than submitting to José's knife blade.
That Mr. Osborne has chosen to self-publish Opera as Opera is not really surprising. To begin with, it is several books, complexly intertwined. The ­subject matter ranges from philosophy and aesthetics to theater and theater history, to the mechanics of the human voice—and some of this material is ­addressed exclusively to specialists. The pace of exegesis is at all times unhurried; Mr. Osborne is intent on telling us everything. In fact, large chunks of ­Opera as Opera take the form of a ­copious diary that most editors would instantly scissor (and, if skilled, better organize).
Mainly, however, Opera as Opera is self-published because the audience for which the author continues to write does not itself continue. Let me offer a sample of what the Osborne perspective on things looks and sounds like: "Over these past five decades, continuing a process already underway, the ­operatic world has grown more tightly integrated. . . . During this time, the aesthetic ground has also shifted, and has now come set sufficiently to clarify its contours. The hostile takeover is on the books and the stealth candidates are out in the open. Still, nobody who is anybody will quite say so. Performance criticism . . . has been reduced, marginalized, and stuck in a lineup of popcult perpetrators, where it suffers the same woes as the artform on which it fastens. It is by far not enough for devotees to express exasperation and bafflement, or chuck everything into the Eurotrash bin. The dismemberment of opera is being undertaken by some of its most sophisticated, well-educated, and talented practitioners, and while their tongues are often in their cheeks, they don't seem to know it. . . . Operatic true believers must show not that they don't understand, but that they understand all too well, and that they have reasons beyond the lazy pleasures of nostalgia for their dismay."
A useful starting point for absorbing the many-tentacled Osborne argument is the "metanarrative" he extrapolates from the operatic canon. It turns out that nearly all operas coming after Mozart and before Richard Strauss may be said to hew to a single basic story. An outcast male protagonist falls obsessively in love with a forbidden woman who returns his love. The fated couple encounters inflamed opposition. A clash of male claimants ends badly for the lovers. Mr. Osborne is hardly the first to notice that this template, or something like it, encodes dated notions of virile masculinity and divine femininity, but his treatment transcends cant, jargon and ideology more than any other known to me; it is adult. The challenges here posed for 21st-century preservation and revivification in the realm of opera are tackled vehemently, pragmatically and resourcefully.
The challenges ramify, multiply. ­Appended to the metanarrative is an even more original, more powerful insight. Here Mr. Osborne delves into the history of rhetoric and "orality"—the stuff of the Odyssey and its distant progeny. Relying on other writers, he limns the 19th-century novel as a watershed departure, displacing poetry and drama as the dominant literary mode, "with its tightly controlled narrative, its . . . increasingly antiheroic characters leading increasingly important inner lives, and its cultural saturation via print." And then—an intellectual coup—he positions 19th-century opera as the apotheosis of the older movement: "For a shining moment," he writes, opera "seized the torch from orality's failing hand." That is: For a century, grand opera rebuffed mistrust of venerable rhetorical traditions otherwise discarded as "artifice."
With high-toned orality and rhetoric in retreat, a crisis in "great-voiced" singing was self-evidently fore­ordained. Here Mr. Osborne has a formidable precursor: W.J. Henderson (1855-1937), the most prominent American vocal authority for nearly half a century. Because he started so young and ended so old, Henderson commanded a lofty view of vocal decline. In the Wagner world, he could remember the prodigious ­Albert Niemann, whom Wagner himself chose to create the role of Siegmund; he reviewed the bewildering advent of Jean de Reszke, legendary in his own time as Tristan and Siegfried; he heard Lauritz Melchior, the Met's reigning Heldentenor for two decades. Mr. ­Osborne picks up the thread—he, too, heard Melchior. He also frequently heard Jon Vickers, the last great-voiced Tristan.
Henderson wrote wonderfully about the singing voice. Mr. Osborne is more wonderful still. He can instantly evoke the frisson of Vickers's idiosyncratic instrument. Why are there no great-voiced Tristans today? Mr. Osborne's answer, incorporating early recordings not just of singers but of actors in ­several languages, references microphones and recording studios, changing styles of oratory and everyday speech, an unrefreshed repertoire, and newfangled performance priorities privileging directors' prerogatives over those of singing actors.
Mr. Osborne dedicates some 34 pages to the decline of operatic conducting and orchestral playing, highlighting James Levine's recently terminated Metropolitan Opera tenure. How Mr. Levine and his orchestra acquired such a commanding reputation is a question that deserves a book of its own. That Mr. Levine inherited an ­erratic pit ensemble, and fixed it, is undeniable. But the gifted Met orchestra of today lacks presence, depth of tone, kinetic energy. As Mr. Osborne observes, to encounter Valery Gergiev's Mariinsky orchestra in the same Metropolitan Opera pit is really all you need to know. I also retain dazzling memories of the throbbing and mellifluous Bolshoi orchestra from its 1975 visit to New York. As for Mr. Levine, the Osborne account cites chapter and verse: He was an opera conductor of high energy and competence who nonetheless failed adequately to articulate musical drama. I would add that the dynamics of ­harmonic tension-and-­release never sufficiently shaped structure, or clinched a Wagner climax, with Mr. Levine in the pit. But never mind.
It must be stressed that ­Opera as Opera is not a sour pedantic exercise. Mr. Osborne craves emotional surrender. And he lovingly documents exceptions that prove the rule. His fondest memories include a famous New York City Opera production from the 1960s: La Traviata as ­directed by Frank Corsaro (with whom Mr. Osborne subsequently studied). Corsaro and the soprano Patricia Brooks collaborated on a portrait of Verdi's Violetta saturated with fresh empathetic detail, including a daringly prolonged pause—dreamy, sinking into reverie—before the expostulation "È strano!" ("How strange!") just after the party ends in Act One. "This activity took a little over a minute . . . very long for an unaccompanied pantomime inserted between the numbers of a middle-period Verdi opera," Mr. Osborne writes. "More important than the mundane household activities [receiving a shawl, sitting down on a couch] . . . was the fact that we watched Violetta make a necessary but previously unremarked transition from her social persona to the private, emotionally charged state that generates her long, conflicted solo scene. How could we ever have tolerated the absurdity of Violetta showing out the last of the guests, turning around, taking a breath, and launching into the most intimate confessions of her soul?"
Mr. Osborne finds similar virtues in the singing and acting of the late mezzo-soprano Lorraine Hunt Lieberson and of the tenors Neil Shicoff and Jonas Kaufmann. None of these is a great-voiced singer (Mr. Osborne counter-offers Renata Tebaldi and Giovanni Martinelli). Rather, they are singing actors who ingeniously combine a "modern acting sensibility" derived from Konstantin Stanislavski and his legacy, with voices that are balanced, versatile and personal, if never galvanizingly voluminous.
The penultimate chapter of Opera as Opera is a 25-page set piece reviewing one of the Met's most admired productions of recent seasons: Borodin's Prince Igor as reconstituted in 2014 by the director Dmitri Tcherniakov. Mr. Osborne: "[It] sold out the house and generated an astoundingly acquiescent critical . . . response of a sort you'd expect from collaborationists greeting an occupying force. . . . That this takedown of a production and sadsack performance should stir not a whiff of dissent, not a scrap of controversy, is a mark of a dead artform."
Finally, there is an epilogue—"Dream On"—imagining a corrective opera company of the future. It is run by singers after the fashion of certain theatrical cooperatives, of which ­Chicago's Steppenwolf is the best-known American example.
Some people will dismiss Opera as Opera (without reading it) as an exercise in ­deluded nostalgia. Don't listen to them. Listen instead to the Metropolitan Opera broadcast of Verdi's Otello on Feb. 12, 1938. The cast includes Giovanni Martinelli, Lawrence Tibbett and Elisabeth Rethberg. The conductor is Ettore Panizza (to my ears, as great as Toscanini). If you prefer Wagner, Exhibit A is Siegfried on Jan. 30, 1937, with Melchior, Friedrich Schorr and Kirsten Flagstad, conducted by Artur Bodanzky. These imperishable readings document standards of singing and operatic orchestral performance unattainable today.
Conrad Osborne flings the gauntlet, relentlessly inquiring: What happened? What to do? It is hardly an exaggeration to suggest that the fate of 21st-century opera partly hinges on the fate of the bristling insights delineated and pondered in this singular mega-book.
[To sample those phenomenal 1937-38 Met broadcasts, go to the "historic recordings" linked to my book Classical Music in America: A History of Its Rise and Fall: here.  For more on Artur Bodanzky's Wagner, go here. For more on Ettore Panizza, go here and here. For more on James Levine: here. To purchase Opera as Opera, go to conradlosborne.com]