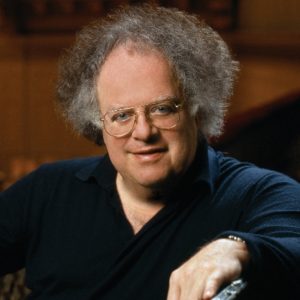 When a pianist plays the piano, when a violinist plays the violin, when a conductor conducts an orchestra, the performer channels music through a network of personal traits. This should be self-evident.
It has always seemed to me, for instance, that Artur Rubinstein was an exceptionally wholesome artist. Listen to Rubinstein's recordings of Chopin waltzes and you will discover (however subliminally) a broad emotional vocabulary at play – and a conscious application of specific emotional states to specific waltzes. The entire exercise is one of cultivated civility and worldly maturity. We are sampling the performer's persona.
I have two favorite studio recordings of Schubert's "Great" C major Symphony: Wilhelm Furtwangler with the Berlin Philharmonic and Josef Krips with the London Symphony. Back in the days when such things mattered, these were known readings. (As a young New York Times music critic, I once wrote an assessment of the Furtwangler performance. A reader wrote to state his preference for Krips, and explained why.)
Furtwangler's Schubert C major is epic and demonic. Krips's is warm and songful. In affect, these readings have little in common. They both deeply engage with the scope and pathos of a score that – as so often in Schubert – is uncannily polyvalent.
It is easy to trace the lineage of these readings. Furtwangler's feasts on Germanic Innerlichkeit, and also precepts of interpretation preached by Richard Wagner. A constant flux of tempo calibrates flow, structure, and climax. Krips's interpretation extols Viennese gemutlichkeit; Furtwanglerian interventions, in such a context, could only get in the way.
James Levine's high reputation as a musical interpreter has always seemed to me a frustrating mystery. Whether of Verdi or Wagner, his performances evinced no lineage. And his persona, so far as I could tell, remained a blank.
When he first arrived at the Met, he whipped the orchestra and chorus into shape and refreshed the repertoire. No doubt he was a facile musician. Even as a young man, he had evidently acquired a lot of repertoire and practical experience. His readings were typically intense, massive, and loud, sometimes to the point of brashness. In subsequent decades, he mellowed. But I never heard from Levine much evidence of emotional variety or depth. According to my experience, he had little capacity to organize a long stretch of music, or to powerfully shape a climax or pregnant phrase. He did not produce a sonic signature – as Furtwangler and Krips did; as Gergiev and Muti do. He did not possess an ear for color or texture.
If you listen to the Met broadcasts of Ettore Panizza and Artur Bodanzky – broadcasts I have written about in this space – you'll hear conducting (and orchestra playing) of a higher caliber. And Panizza and Bodanzky stood on the shoulders of giants: Seidl, Mahler, Toscanini. The early Met was a conductor's house.
Let me share a couple of vignettes.
In the 1980s I was artistic advisor to the Schubertiade at the 92nd Street Y. The central participant was the baritone Hermann Prey, invariably partnered by Leonard Hokanson. Hokanson had studied with Artur Schnabel. His Lieder accompaniments were highly shaped, highly inflected interpretations; I would call them "Schubertian" a la Schnabel. He and Prey worked seamlessly together. Then it happened that Prey was offered a Carnegie Hall recital, singing Schubert. He replaced Hokanson with James Levine. Levine and Prey also worked seamlessly together. But Levine's accompaniments, next to Hokanson's, were stiff and generic. The performances were forgettable.
A little before that, when I was a critic for the Times, I hung out at the home of a psychoanalyst who would rent an extra bedroom. His tenant, for a period of time, was a young man from within James Levine's inner circle. I was recklessly frank in sharing my poor opinion of Levine's performances. On one occasion, I suggested that Levine (then in his thirties) lacked sufficient life experience to conduct opera at the highest level. Opera is theater, after all. You don't entrust Hamlet to someone who doesn't know life. His quick response told me that this question had been asked and answered before – the answer being that breadth of "life experience" wasn't a valid consideration in the world of classical music performance.
I shared these views the other day with a member of the Met orchestra. He contrasted James Levine with conductors who command a "complete" concept of an opera. He mentioned Carlos Kleiber and Daniele Gatti. My Times Literary Supplement review of Gatti's Parsifal appeared in this space; it made the Levine Parsifal sound square and cumbersome. I did not hear Kleiber's Rosenkavalier at the Met. My friend remembers Kleiber instructing the orchestra that the music accompanying the Marschalin must shimmer like chiffon, creating a veil through which this character's fading beauty could be apprehended.
On youtube you can watch Kleiber rehearse the overture to Die Fledermaus — a supremely worldly operetta. After three notes of the first, teasing theme in the violins, he stops the orchestra to ask for a rendering "a little more dishonest."
There is a ripeness in that exhortation that my ears never detected in the performances of James Levine.