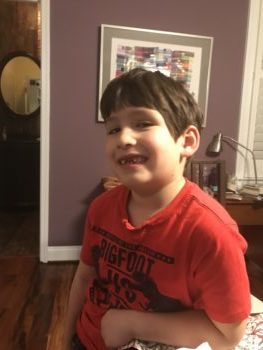 My son, Rafa, seven years old. And such taste in music.
It might have been a year ago that he fell in love with the Hamilton cast album. Went to sleep to it every night. Had his favorite songs, and some he didn't like.
And before that, Michael Jackson, especially "Thriller."
But now he blows me away. A recent favorite was "Feel It Still," by Portugal. The Man (the group's name punctuated just that way, and with no period after Man). New to me, and I loved the song from the moment he started going to sleep to it, putting it on repeat (him, not me) while he drifted off.
I find it deft and intriguing. With a marvelous ending, which seemed abrupt until I realized how carefully it's constructed (with, for instance, the relaxed emergence of the longest notes in the melody, and then a small rosette of extra sound after what I didn't know was going to be the final statement of the song's refrain).
Plus the lyrics, evoking things not quite said, like references to 1966 and 1986 (which turn out to be significant years for the band, reminding them of the civil rights movement in the US and the year they first heard hiphop).
Then I found out the song won a Grammy last year (for best pop duo or group performance), which seemed to ratify Rafa's taste.
And then…
A few nights ago he put something new on repeat. A strange, ingenious, surprising little song, with a clearly very young woman's voice, multiplied on itself with software, so it sounds feathered.
So intriguing! When the closing section doesn't follow on any linear way from what came before, Rafa called my attention to it, saying (in case I didn't hear what was going on) "That's part of the song."
And when the singer stops the music to say — simply, deadpan — "Duh!" (in a normal speaking voice), Rafa called my attention to that, too. And we both burst out laughing.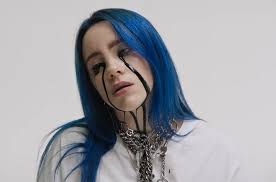 I wondered what this song was, who the singer was. "Bad Guy," by Billie Eilish. Whom the New York Times called "the fastest-rising pop star of the moment… part of a new generation of unlikely pop acts with D.I.Y. in their DNA…has amassed a powerful teen following by adhering only to her most specific, and often strangest, musical whims."
A teen herself, 17 years old, writes her songs with her 21 year-old brother, records then with him in their parents' home. They do everything you hear in the song.
I'd been eager to hear her. Rafa got to her before I did, and we both loved her song.
Self-directed kid
"How'd you find this?" I asked him. "I used Explore," he said, meaning that he used a browse function on my streaming service (Tidal), to find music he might like.
As I said, I'm blown away. Discerning taste! And developing ears.
Something else about "Feel It Still": How it pushes forward harmonically.
It's in C sharp minor. Or rather in the aeolian mode on C sharp, like a minor scale without a leading tone. (Many pop and rock songs are modal.)
No leading tone, no dominant chord. And yet one crucial part of the melody goes up from the root of the scale to the fifth degree, and back down again.
So how is that harmonized? There's a repeated bass line, going from C sharp to E to F sharp and back to C sharp. If you look up the chords of the song on the Internet, they're given as C sharp minor, E, and F sharp minor.
But in most of the song I don't hear chords. Just the melody and bass, Plus drums, and other instruments and sounds, all alive with resonance, so what we hear is anything but skeletal.
Still, the melody and bass do give us a skeleton of harmony. And what makes it move is the bass line, and above all the clash of F sharp in the bass with G sharp in the melody.
Can't have a dominant chord, and F sharp minor against the G sharp arc of the melody would be lame. But the pointed dissonance between G sharp and F sharp in the bass propels the song forward. Very deft musicmaking.