So, yesterday's post…about a delicious pop music reference in the Lifehacker blog, which — just so you know what a major production it is —  according to Wikipedia has a staff of 18 people, is updated 18 times a day, and has editions in four countries outside the US)…my point was that references to pop music in our culture are ubiquitous, and we in classical music have to make them ourselves. If we want to live in the same world as the new audience we'd like to find.
More evidence for that
Yesterday I was watching Ari Melber's show The Beat, which runs on MSNBC weekdays at 6 PM. MSNBC of course, is a major news and politics channel, which you wouldn't think had any pop music connection.
But Melber loves hiphop, and, not for the first time, quoted a hiphop lyrics to make a political point.
But that wasn't all…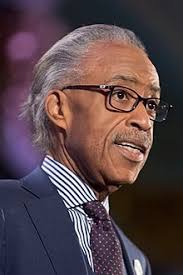 One of Melber's guests was Al Sharpton, a familiar political figure, a Baptist minister and longtime African-American activist, who among many other things has a weekend show on MSNBC.
Talk had turned to a hot new book by Chris Christie, about his time with Donald Trump. Trump had him over for dinner, Christie says, and without asking what Christie wanted, ordered the same food for both of them. Including scallops, which Christie can't eat.
Melber and his guests laughed at that, saying it shows a way some people wield power.
Which led to some teasing. Sharpton is well known to have been a great friend of James Brown, one of the legendary names in black music.
"Did James ever make you eat what he ate?" Melber asked, with a smile. After some affectionate sparring, Sharpton said, "Let's just say we often ate the same menu."
No need, in the outside world, to explain who James Brown was, or why it was fun to bring him up just then.
And that's not all…
Another big pop music fan is Paul Krugman, Nobel Prize-winning economist and New York Times columnist.
Though music isn't what his Times column is about, he used to post  at the paper about his favorite artists, and then created an independent blog called Friday Night Music, about the music he liked. Mostly indie bands and singer-songwriters. For instance, here.
Krugman, by the way, isn't a young guy. He's 65. And if he likes indie music, wouldn't plenty of older people in our prospective audience…(no need to state the obvious conclusion).
Again, the lesson we should learn — the world swims in a sea of pop music…references to it crop up everywhere, among people of all ages…