[contextly_auto_sidebar]
In my Juilliard course on the future of classical music, we've been looking at how classical music was in the past. Why? Because it was looser, more flexible, with the audience applauding during the music, and musicians improvising.
This can inspire us today. Not that everything from the past needs to come back, but studying the past can free us from preconceptions about classical music now. Nothing about our present tradition is written in stone. Things were very different when many of the great composers lived!
A question
One discussion that we had showed the difference between the past and the present. First, about preluding. Pianists in the 19th century improvised preludes to pieces that they played, or else transitions from one piece to another.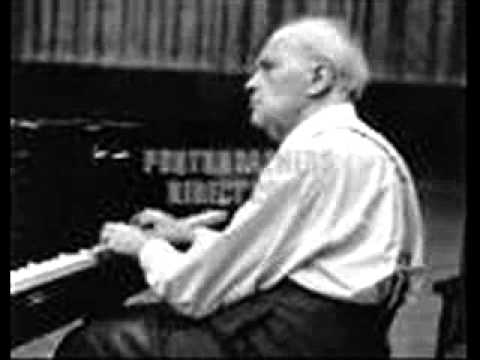 Some did it even in the 20th century. There's a lovely example from as late as 1969, when the great German pianist Wilhelm Backhaus improvised a prelude to a Schumann piece at what turned out to be the last recital he ever gave.
Here's a recording, which my students listened to. You hear an announcer say (in German) that Backhaus isn't feeling well, and will therefore not play the final piece on the program, Beethoven's Op. 111 sonata. Instead he'll play a Schumann piece.
So here's the question. Does improvising this prelude enhance the piece, or detract from it?
Is it something added to a composer's work, perhaps illegitimately? Or does it provide a lovely setting for the piece, the way a ring can be a lovely setting for a jewel?
I'd say the latter. And also that the preldue prepares the audiaence to listen, giving them time to take a breath or two before the composer's music starts, which then helps them pay attention more closely.
One thing I'm certain of, though. We don't need rules. We don't all have to do the same thing. Inspired by the past, and also by the culture outside classical music, maybe some classical musicians will want to improvise preludes. While others won't want to, preferring to play only what the composer wrote.
Both approaches, it seems to be, are legitimate. The first comes straight from classical music history. And the second comes from our more recent tradition, which has been with us for many decades, and is entirely honorable.
An important word for the future is freedom. Classical musicians should feel free to do music the way they want to do it, drawing on history, tradition, the wider culture, and their own instincts.
Of course some approaches will prove better than others — and some may be downright awful — but we shouldn't prejudge. Freedom can only make us more individual, more communicative, and more deeply artistic.
To see some of what I taught about classical music in the past, go here to see the class schedule, and scroll to February 10 and February 17. You'll see reading assignments, including a letter Mozart wrote, explaining how he structured a symphony to make the audience applaud (during the music).
You'll also find links to some wonderfully personal (or so I think) performances from the first half of the last century. They charmed my students, who were fascinatede to see how great musicians of the past broke the rules for performance taught in music schools today.