[contextly_auto_sidebar]
You might think — given my views on the future of classical music — that I'd welcome what I heard at the Kennedy Center Friday night, when the National Symphony played Ben Folds' Piano Concerto, with Folds himself as soloist.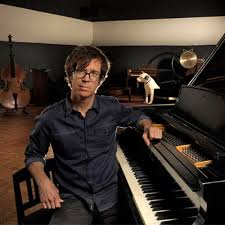 Because there it was. A piano concerto by an indie rock star. The concert hall full of younger people. You might think I'd tweet my excitement about an audience much younger than usual.
A simple fact
But I can't quite go there. First because — and this is just a simple fact, not a way of throwing cold water on the project — it's no gret achievement to get Ben Folds fans to come to a Ben Folds show. To quote GEICO, it's what they do.
I'm not saying you don't need any skill to make that happen. You have to produce the show, and get the word out. But once you've put your production and PR and marketing chops behind those tasks, getting his fans is a no-brainer. They hear it's Ben Folds, and they show up.
That's true of anything in pop. Pop fans don't just go out to hear big musical events. They go to hear artists they love. So Ben Folds fans might not come back to hear anything else. Which means that —  no matter how new and young the audience was — the Kennedy Center and the NSO didn't necessarily break new ground. Didn't establish themselves as a destination for a new audience, and maybe didn't even take much of a step toward doing that.
Such a simple thing
Similarly — to name only some pop-to-classical crossover things I've been at myself (there are many more) —the Miller Theater in New York didn't break new ground when Radiohead fans showed up to hear Christopher O'Riley play Radiohead songs on two piano recitals. They're Radiohead fans! And Chris had been a fixture on Radiohead sites.
And the Wordless Music series in New York may not have built an audience for contemporary orchestral music, when it formed an orchestra and, among other pieces, played something by Jonny Greenwood, Radiohead's lead guitarist. Two thousand people came, over two nights, but they came to hear Greenwood.
Same thing happens when an orchestra plays videogame music. It fills the hall, but these people don't come back for Beethoven.
Or, safely within the classical music world, at the Kennedy Center, the concert hall was full of new people a couple of seasons ago for a big Arvo Pärt concert, and also for Lang Lang. These were people who were younger than the normal classical music audience, and in other ways were just plain different. More like people you'd see out in the wider world, outside the classical music bubble.
But, again, they most likely weren't coming back for anything else.
Where this goes
All of which raises questions about just what Friday night's concert meant. It was part of a series called Declassified, in which (loosely speaking) classical music becomes less classical. As one step toward that, there was an afterparty Friday night, with dance music. Not needed, of course, for the Ben Folds fans, who would have come regardless.
Will afterparties — along with free drinks, and whatever other club-like promotions anyone might try — make the Kennedy Center a destination for a younger crowd?
Not by themselves. The shows themselves have to have some appeal. And so here's another problem. Apart from Ben Folds, this one — featuring orchestral selections before Ben Folds — was weak. Maybe even for the Folds fans, who cheered with notably less excitement after than the concerto than they had when Folds came onstage.
Here's my wife's very skeptical review. I agree with it. And I'll have more to say in further posts, since getting events like this right is so important for the future of big arts institutions.
It doesn't help that — as far as I can see — there isn't a page about Declassified on the Kennedy Center/National Symphony websites. (The two are joined, because the NSO isn't an independent organization, but instead is part of the Kennedy Center.)
The closest I could come, after spending time with Google, was what I linked above, a video introduction on a page with videos about other things. 
I did find a page where you can buy tickets for all National Symphony concerts, with the Declassified ones labelled, but not in any way standing out. I also found pages on separate Declassified events, like this one. But it's kind of crazy — unless I missed something — that I couldn't readily find a page about the series as a whole. Don't they want to promote it?