[contextly_auto_sidebar id="amHdFddmSmvtFkWm4UMiIY3aeUxt5hjV"]
I don't mean to pick on the Minnesota Orchestra. Or on anyone. But this is the time of year when symphony orchestras announce next year's season, and their press releases…are weak. The most basic fact about classical music today is that we need new listeners. But I can't see these press releases doing much to find those. Which to me is a serious problem. Can't we learn to talk about classical music, in a way that might make compelling, so we can people — especially people outside our world — reasons to go to our performances?
And I don't think the releases even work for those of us inside the gated city. They're so…
The Orchestra is joined throughout the year by many stellar guest soloists, including Grammy Award-winning violinist Hilary Hahn and violinists Jennifer Koh and Henning Kraggerud; pianists Inon Barnatan, Andreas Haefliger, Natasha Paremski, Jon Kimura Parker and Yevgeny Sudbin; cellist Arto Noras; violist Roberto Díaz, a former member of the Orchestra; soprano Amber Wagner; mezzos Kelley O'Connor and Lilli Paasikivi; and baritone Tommi Hakala. Two Orchestra musicians will be featured as soloist: Concertmaster Erin Keefe, who performs the Brahms Violin Concerto, and Principal Cello Anthony Ross, who plays Schumann's Cello Concerto in his first-ever concerto solo with the Orchestra under Stanislaw Skrowaczewski's direction. Other Orchestra members are featured in performances of Frank Martin's Concerto for Seven Winds, Timpani, Percussion and String Orchestra. In addition, the YL Male Voice Choir of Finland joins the Orchestra for a set of all-Finnish concerts.
…so unreadable. For anyone at all. That's from the Minnesota release, but could have come from nearly any orchestra.
And as for reaching new people:
THE BOSTON SYMPHONY ANNOUNCES THE 2015–16 SEASON!
SUBSCRIPTIONS ON SALE NOW!
INDIVIDUAL TICKETS ON SALE MONDAY, AUGUST 3!
I just sigh. Have I ever seen exclamation points less convincing than these? Who, exactly, are the readers who'll be so excited? And who — in April! — will circle August 3 on their calendars? No doubt in brightest red.
The BSO release at least has a vaguely spiffy layout, complete with graphics. And, for the most part, only short bursts of text, instead of the sea of unreadable verbiage other orchestras might throw at us.
But just read some of the text:
In 2015–16 Andris Nelsons joins forces with a compelling array of guest soloists, including pianists Evgeny Kissin in Tchaikovsky's Piano Concerto No. 1, Paul Lewis in Beethoven's Piano Concerto No. 3, Yefim Bronfman in Bartók's Piano Concerto No. 2, and Nikolai Lugansky in Rachmaninoff's Rhapsody on a Theme of Paganini.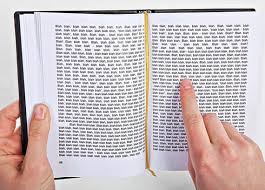 Who might read this? Hmm…maybe a media person, someone who doesn't yet care about classical music, but who's in a position to give the BSO some publicity? Will this make her care?
I'd guess not. I'd guess that these sentences — and especially their boldface names (which we almost always find in these press releases) — simply reinforce what our media heroine, who could be so useful to the BSO, already thinks: "I don't know anything about this." Or, to translate what I quoted into how a noninitiate might read it: "Blah, blah. Classical musicians are going to play classical music." Our media friend — or could-be friend — won't know the names, and she won't know the pieces. Why should she care?
But wait…
I'd love to have a quiet word with the people — at the orchestra, and at their publicity firm — who wrote the Minnesota release. Someone I'll guess, wanted to find some meaning in all the blah, and came up with this:
Several recurring themes are woven throughout the season, such as music that illuminates the links between Brahms and the Schumanns, including Brahms' Violin Concerto and Third Symphony, and Schumann's concertos for cello and piano.  Also notable will be music by composers associated with Vienna, among them Mahler, Bruckner and Beethoven; music from Nordic countries by Sibelius, Nielsen and contemporary composer Olli Kortekangas; expressions of nationalism in music, including de Falla's Three-Cornered Hat Suites and Stravinsky's Petrushka; and spiritual music ranging from Handel's Messiah and Brahms' German Requiem to Wagner's Parsifal and Mahler's Fourth Symphony.  The season also includes performances of three Bach Brandenburg Concertos, among the greatest Baroque masterpieces, to be followed in the 2016–17 season with the other three Brandenburg Concertos.
I'll give whoever this was credit for at least trying. But…
I just want to sigh. These aren't real themes. A real theme, something that really has force in an orchestra's season, would, to begin with, stand out in clear relief, if you read through the schedule, week by week. They'd also, you'd think, be something the programs (or other things the orchestra did) would highlight, maybe by putting music from a theme together on a single program, or on back to back programs. Or by having panel discussions, concerts of related chamber music, whatever.
But these themes don't do that. I read through the schedule, very patiently, week by week, and I don't think the themes — supposed themes — make any impression. What does stand out is a focus on Beethoven. Which no one could miss, since five programs in a row are devoted to him. That's a real emphasis on something it's clear the orchestra cares about.
But the themes?
Brahms and the Schumanns. A few Brahms pieces. A few Schumann pieces. (There are more in the season not mentioned in what I've quoted.) How do these "lluminate links" between the two men? I don't think anyone would come away from the Brahms Third and the Schumann Cello Concerto, saying, "Wow, Brahms and Schumann loved the same woman." Especially since there's not one program with Brahms and Schumann together. The Schumann piano concerto, in fact, shows up in quite a different context, on a program with the Falla suites and Ravel's Rhapsodie espagnole. Illuminating, just maybe, links no one knew of before, between Spain and German romanticism.
Vienna. Isn't every symphonic season a Vienna festival? You don't have to play Mahler and Bruckner. Just play Beethoven, Mozart, and Brahms. (As — in my softest whisper — every orchestra does).
Nordic countries. Osmo Vänskä, Minnesota's music director, is Finnish, and well known as a Nordic specialist. So Nordic music isn't a theme for this year. It's something he's always likely to do.
Nationalism. Play anything by composers from Europe who aren't French, Italian, or German, and you've got a nationalist theme. Play Dvořák. Play Smetana. Play Kodaly or Glinka. Do almost anything Russian. All of it music that might show up on your programs every year.
Spiritual music. Many orchestras do Messiah for Christmas, so they're well on their way to a spiritual theme. All they need is just about any other choral work from the 18th or 19tn centuries, and then an orchestra work that they can call spiritual. Like the Mahler Fourth, which of course shows up all the time. Or the Second, Third, Eighth, or Ninth, which aren't as common, but might be even more spiritual. If this makes a spiritual theme, than many orchestras have one without meaning to.
The Brandenburgs, I'll grant, are a theme. Or at least a worthy emphasis, maybe even more so if all six were being done.
A small suggestion
But to offer something constructive: If you want a spiritual theme that means something, you might program spiritual works that are very different from each other. Messiah, a Haydn mass, the Poulenc Gloria, and Stravinsky's Canticum Sacrum. And why not Bernstein's Mass? Five very different kinds of spirituality. Highlight these works in some way, by putting them (where possible) on the same program. Or by selling special tickets to hear all five, or by holding discussions. Work with a local chorus, which might sing Palestrina. And a theater company, which might do Jesus Christ Superstar.
And even the Brandenburgs could be more of a theme. Add concerti grossi by other Baroque composers. Corelli, whoever. Now the dash, the verve, the sheer invention that Bach brought to the form would stand out boldly.
It's overkill, though, to blame anyone because the themes in the press release aren't real themes. They weren't meant to be. I'd guess they were added after the programming was complete, by someone who wanted to make it more interesting than much of it really is. No blame in that, but we all can do better.