[contextly_auto_sidebar id="0CQQxamfgn9Hce92qXid56YFjNnmRCbN"]
WARNING: THIS BOOK CONTAINS STRONG LANGUAGE ABOUT CLASSICAL MUSIC.
***
Srini Kumar, genius sloganeer and counterculturalist, used to sell a bumper sticker that read "Destroy what bores you on sight." I suggest orchestras heed this advice. Why belabor it? Players are uncomfortable. Audiences are visually bored. Nobody knows what's going on. Can we all agree to move on? Okay. Enough.
The first quote comes from the Amazon page for a book by Will Roseliep, The Libertine's Guide to the Classical Music Revolution. 3.99, only for Kindle. It's also on a page from Will's website , on which he promotes the book.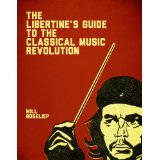 The second quote is from the book itself.
As you might guess, I like this book.
More quotes:
Classical music needs a street team. It needs to feel like the fledgling startup. It needs to marry young talent with marketing genius. It needs high visibility and zero pretension. Fuck being "relevant" or "contemporary," it needs to be the hottest ticket, a scene unto itself, a whole underclass of workers ready for the breakout moment. It requires hard work.
We need smaller orchestras, slimmed-down school curricula, reasonable expectations for audience interest, better financial standing for orchestras, less stuffiness in performance, a revitalized reputation, and [my emphasis] a seat at the table in the pop culture marketplace.
Which is exactly what I mean when — many times — I've said that classical music needs to join the contemporary world
Another quote:
Everyone who works on classical radio should be required to listen to Funkmaster Flex. Flex is a DJ on New York's Hot 97 who breaks young hip hop and R&B talent on his show. Like the best DJs he plays new songs many times in a shift. Sometimes once an hour. Flex talks over songs. He drops in bombs and sound effects. He brings in artists for wild interviews. He loves a good rumor, and isn't afraid to stir it up on Twitter.
Best of all, Funkmaster Flex is a showman. He'll play your song but not right away. Maybe he'll play a verse. Maybe he'll talk it up for an hour, tease the intro, then put it back on the shelf. It's magic. People want what he's got, and he knows it. Most classical stations are commercial free. That means almost unlimited time to say something, anything. And most say nothing at all.
Will is way ahead of me. I talk about a future in which classical music is part of popular culture. But Will goes further. He embodies that future. Except that for him it's not the future. It's the present — a present that he lives in, without worrying (at least in any visible way) about how many others do.
His book is a call to shake things up. In fewer than 100 pages, he makes suggestions — caring, sharp, and precise — for classical radio, classical recording, orchestral concerts, and conservatories. He's a producer for Boston Public Radio, so he knows media. And he's a cellist, a founding member of the Cambridge [MA] Philharmonic. So he knows music.
The quotes will tell you what the book is like. I won't bother for now with anyone who thinks it's outrageous. Let them build classical music's future their own way. But I'm just a bit concerned that even sympathetic professionals, reading Will, might think that he's an outsider. That he doesn't quite know how things really go, inside the biz.
But isn't that why they should read him? If Will's ideas don't seem practical to you (or aren't focused enough on how you think things really work) then adapt them! We should welcome anyone who tells us to listen to Funkmaster Flex. If there were a classical music show like it, I'd be listening. Of course it wouldn't offer what we like to think is the sacred classical music experience, listening to masterworks at full unbroken length, in rapt silence. But it wouldn't be meant to. (And whether — once classical music has been reborn, and takes its proper place in our culture — we really want the purest rapt experience…that's a question the future will answer. But for now, rapt and Funkmaster Flex can coexist.)
ADDED LATER: 
A simple thing I should have said: That the book is an exhilarating read. I may have implied that, or showed you by quoting so much, but still I should have said it.
And I'm getting some pushback on Facebook about Che Guevara on the cover. Not, someone said, a very 2015 statement. I might wonder at that, too, but other things are more important. First, the book! Not to be judged by its cover. And second, neither the commenter nor I know how the cover is playing out in the world. Maybe the image strikes a chord. As a child of the sixties — or more precisely, a young adult of the sixties — I'm surely not the one to judge. My own reaction to Che, formed way back then, and revised since, is more than a little old.
Will also has a weekly email, called Classical Music Dark Arts. He talks about classical music from his rest-of-the-culture view. Which means he sometimes talks about things that aren't classical music. And which then teaches a powerful lesson. Many of us think we have to stay firmly on message, and not digress into things that don't put classical music front and center. But I think Will proves that — at least for many people like him (and me) — the message is stronger if it breathes some outside air.
This is the second of three posts about unusual new classical music books. The first was Sarah Robinson's how-to guide about classical musicians playing in clubs, which I've already blogged about. The third will be Adam Tendler's 88×50: A Memoir of Sexual Discovery, Modern Music and The United States of America. A book that can't be pigeonholed, but might — in one of its many facets — be described like this: In our age of classical music entrepreneurship, you can, for real, build a career from something quixotic but newsworthy, like Tendler's tour of all 50 US states, playing a program of modern American piano music, sometimes for tiny audiences. But to really do it right, you have to bring all of yourself into it, and let your audience know all of yourself. Which is why sexual discovery belongs in the musical part of Tendler's story…