[contextly_auto_sidebar id="6Noc77JdO5a3lVHeCLT9sJZdKxTcDFSs"]
I use an app called TalkTo. Which, when I need it, is one of the most valuable apps I have on my iPhone. With it, I can text stores, to ask questions. Does the supermarket nearest me have a garlic press in stock right now?
An answer comes within five minutes. Invaluable! Once, out at our country place, I needed to buy a MacBook Air in a hurry. Ten minutes with TalkTo told me that I needed to drive an hour to an Apple Store, because neither of the Best Buys in the area, which were closer, could configure the computer as I wanted it.
Why am I telling you this? Because TalkTo is merging with a company called Path, and — as a registered TalkTo user — I got an email about the move with the subject line "Path and TalkTo sitting in a tree…"
I trust my American readers know the rhyme. For anyone who doesn't, here's what my mind instantly filled in:
Path and TalkTo sitting in a tree,
K-I-S-S-I-N-G. 
Though of course you wouldn't normally chant this about companies. You'd chant it if you're a kid — or you would have, 60 years ago, when I was one — and you think two other kids like each other.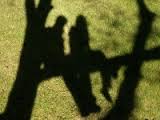 Sarah and Michael sitting in a tree,
K-I-S-S-I-N-G.
For me, that's so familiar that I feel silly typing it out. But since when do companies make business announcements that way? That's not the business world I grew up in. It's a completely new culture, one that's grown up, I'm going to guess, in the last decade. Brash, fun, ironic, playful. And not the least formal.
It's all over. I write my blog in WordPress, maybe the world's leading blogging platform. Meaning that it's not the least edgy or obscure. When I log on with my browser, I read "Howdy, Greg Sandow, high on the right of the WordPress window.
A little lower, to the left, I'll find quotes from "Hello, Dolly." Today it was "You're still glowin', you're still crowin'." I opened another WordPress window, and read, "So take her wrap, fellas." The software — used by businesses as well as individuals — is having fun with me.
If I want to send a newsletter, using MailChimp — absolutely central, standard newsletter software, widely used by businesses — I'm asked what kind of campaign I want to launch. Plain text, or "Regular ol' Campaign?"
And of course the platform is called MailChimp. Its logo is a cartoon chimp, wearing a hat.
This is the new culture. The culture of millennials, and also of people older than that. Brash, fun, ironic, playful. And not the least formal.
So here's a question. Are we ready for this in classical music? Do we understand that if we want to reach that fabled young audience, we have to join its culture, and talk this way, too?
[Clarification, added later: That question is most pointedly asked in the official classical music biz, so to speak — big institutions, plus anyone who does things in traditional style. These people will, very likely,  have trouble adapting. Younger people in the business, out on their own, are doing just fine.]
TalkTo is available for Android, too. Though now new users on all platforms will have to download the Path Talk messaging app, which, says TalkTo, will "soon" (sigh) "use the TalkTo service to support messaging millions of stores and restaurants in the US and Canada."
Howdy, Greg Sandow