[contextly_auto_sidebar id="ZzimVSUM4IMse9NvooQKbHWovZP4HIlJ"]
Exhibit A:
A question asked at a panel discussion on the future of classical music. I'm paraphrasing, but the questioner said we hadn't been talking about our subject. We'd been talking about ways that classical music could change. But then we're not talking about classical music. We're talking about the future of something else. What about the future of all the old ways of doing classical music, the ways classical music has been presented for much of the last century?
Exhibit B:
A comment posted on this blog, from someone who identified himself just as "Doug":
Want to quickly build resentment with the musicians and artistic staff? Just let the executive director "set out some changes in programming." Works everytime. Simple question: if the standards of symphonic music cannot "root the orchestra more deeply in its community" here's a suggestion: turn the hall into a Starbucks. That should even solve the financial situation.
Two statements, same thought. "Classical music" means, or ought to mean, the old standards. If we're not talking about their future, then we're not talking about — or maybe we're even killing — the future of classical music.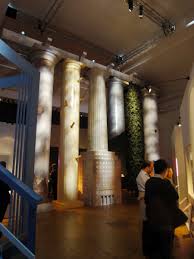 And of course there's an assumption buried in both exhibits, an assumption that the old ways not only should be preserved, but can be. Which is exactly the problem we face, when we look at classical music's future. The old ways don't work. That's why we're having our problems. That's why fewer people go to classical performances. That's why the audience has been aging, not just recently, but for the past 50 years.
What we have here is major culture change. Our culture changes. Classical music doesn't keep up with the change. And so it fades into the margins of our culture. The audience ages because, with each passing decade, starting in the late 1960s, people growing up find that classical music — as it's long been presented — doesn't speak to them. It doesn't reflect the world they live in. They don't see their lives enacted in it, or the lives and crises and triumphs evolving in the world around them.
For something very similar, look at the study of ancient languages. For centuries, many centuries, going back to the deep Middle Ages, educated people learned Latin and Ancient Greek. Their culture changed, but the role of antiquity in the culture stayed so much the same that the old languages and the classics written in them still spoke vividly.
But then in the 20th century that changed, and by 1950, if not earlier, Latin and Greek no longer seemed important. No longer were they taken for granted as a central part of culture. And so nobody had to learn them.
Classical music, I think, has gone through something similar. But the developments are newer, so it's not as clear to everyone that they're happening. Our world has been changing for many decades, evolving into what we see now, world dominated by popular culture and media, a world in which popular culture functions as art. Of course there's more, but that's one part of it.
But even as all this began to happen, still — at least until the 1960s — older classical classical pieces sounded current. Not many people rejected a musical diet largely built from them (which is what classical music traditionally offers). And younger people were drawn to them, which meant that the classical audience — an audience that came to performances to hear the standard works —  was quite a lot younger than it is now.
Why was that? This is a complex question, one I'd love to see someone explore. It would make a fine book, and an important one. What the book would likely show, I think, is that culture was changing, but even so — despite jazz, movies, radio, Broadway shows — it hadn't changed enough to leave old-style classical music behind. I wrote a blog post (too brief) about this, back in 2007.
So the old classical repertoire could seem current, even though it was old, because the cultural memes in it, or many of them, anyway, still were alive.
But now they're fading. That doesn't mean the old masterworks are dead, any more than Dostoyevsky is, or Rembrandt, or Eugene O'Neill, or classic films. We love and use the past. We just don't dine on it exclusively, or largely so, which is what the old classical music ways have taken for granted that we'll do.
That no longer works. Classical music has to change. Without abandoning its past (any more than theater companies have abandoned Chekhov and Shakespeare), classical music has to start living in the present. It has to become a contemporary art, one that looks and feels like the world around it. Of course this means doing a lot more music by current composers, but it means more than that. Even the performances of the great masterworks have to sound current.
What that means is a long story, for many more posts. But the goal, as I see it, is simple enough. When I go to a classical music performance, done in the old ways, featuring the masterworks of the classical canon, I feel like I've retreated from the world. But if I go to a new Quentin Tarantino movie (always a red-letter day for me, when Tarantino releases a new film), or I read a new Anne Carson translation of an ancient Greek play, or I watch Scandal or House of Cards, or keep working through The Wire, or when I read a new novel by David Mitchell or Zadie Smith or any of the current novelists I follow — when I do any of those things, I feel like I'm living in…well, the world I live in. Dealing with what goes on in it, and how I live in it.
I want that from classical music. I want to go (just for example) to the National Symphony here in Washington, and feel not the soothing presence of the past, but the bracing life of the present. When I/m able to do that, this is when we'll see classical music come roaring back to the center of our culture as a contemporary art.
Footnote:
A corollary to all of this. Many people in the classical music world think we can bring classical music back — create a new audience — with music education. The assumption here is that people don't listen to classical music because they're unfamiliar with it, or because they can't follow its complexities.
But if what I've been saying here is true, then music education — at least if it's rooted in the old ways of classical music — won't help. Because the problem isn't unfamiliarity, or complexity. It's that the music most strongly featured comes from another culture, and — at least as the classical mainstream performs it now — isn't speaking to our world. 
No music education class, no instrument petting zoos, no community outreach programs can change that. They can expose people to the music, but the exposure (except of course in a few cases) won't stick. The music still isn't speaking to our culture. 
Footnote two:
Some people, I'm sure, will rebut me, or try to, by saying that the classical masterworks have timeless value. But timeless value is a meaningless abstraction. Do we ever say what that timeless value is? If you read the standard kind of classical music program note, it talks about the value the masterwork in question had in its own time. 
Timeless value can't manifest itself timelessly. It has to come alive in the life of whatever time it's speaking to. If something in our culture stays alive for decade after decade, that's because its meaning can be reinvented, refocused to address the changing concerns of our evolving culture. 
Which is exactly what we're not doing, if we keep presenting the same classical masterworks in the same ways, in the same past-focused context.