[contextly_auto_sidebar id="D4QkkQ8dHwwS9FcJubCxxKtoo6o9Xy7x"]
Saturday mornings, when I was a kid, were spent at the San Francisco Conservatory of Music, with a rigorous schedule of what we called "Saturday Classes": theory, solfege, sight reading, music history, chamber music, composition, and more. This regimen started shortly after I started piano lessons at 4, and by the time I was 7 those classes had prepared me to write an opera based on Charlotte's Web, which got its first and only performance that year at the conservatory. And which was, by the way, the pinnacle of my career as a composer.
Saturday afternoons, when we got home, my sisters and I had a weekly ritual. We'd get out our "dress-up" from the vintage steamer trunk that housed a collection of my mother's 1960's party dresses and my grandmother's furs. And we'd go through my parents' record collection, and we'd dance around the living room. At those Saturday dance parties, we excavated the Beatles records, the Sinatra albums, Charles Aznavour, Barbara Streisand, Nat King Cole…and Billie Holiday. And I fell in love, with her dark eyes shaded by the white gardenia, with her wonderful, world-worn voice, and with what I knew, even then, to be the totally, startlingly distinctive qualities of mood and phrasing, line and color that she brought to even the simplest tune.
In my diary, the year I was 8, I made a careful list of all my favorite things: a little memorial, in perfect cursive, to the odd, time-warped child I was. My favorite song: Billie Holiday — "I Cover the Waterfront."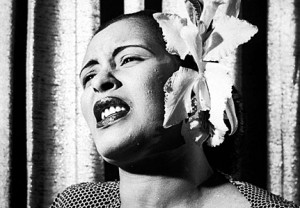 Billie Holiday, or Lady Day, as they called her:  icon, legend, one of the most innovative and distinctive musicians of any genre, ever. She was a brilliant, mesmerizing, self-destructive woman whose life swung from tragedy to triumph and back again. She died so young, at 44, used up by her demons. She burned bright, and she lives on. Her voice spoke volumes about hard living and heartache, and about improvising your way through it all. Even as a child, I heard her music and understood something profound about the love and loss and longing that were still far in my own future.
And now, years later, I'm living with Billie Holiday's music every day as I develop a new project called But Beautiful: Billie Holiday Remembered. 
My project
But Beautiful is a cycle of solo piano concert transcriptions, by my brilliant friend and colleague Jed Distler, of the songs most strongly associated with Lady Day: "God Bless the Child" (one of the few songs she wrote herself); "Good Morning Heartache," "What a Little Moonlight Can Do," "Violets for my Furs," and, of course, my old favorite "I Cover the Waterfront." 

I'm playing sad songs, and bittersweet songs. And powerful songs like "Strange Fruit," that most wrenching, most sorrowful, most audacious protest song — a condemnation of the lynching of African-Americans that was part of the violent racism that pervaded 1930s America. Watch Billie Holiday singing the song, and think about what it would have meant, would have cost, to do that in her day.
Many of these songs have been sung by dozens of great singers, from Sinatra  to Aretha Franklin, but we best remember Billie Holiday's inimitable versions. She brought to them her one-of-a-kind inflection and intention, a certain bold imprint that is audacious, unexpected and unbelievably strong.
Jed and I are hearing Billie sing as we translate these songs for the piano, using the range and color of the instrument to orchestrate the echo of her voice and its magic. To reinterpret these songs is a tremendous privilege, and also a challenge: to memorialize without imitating, to transform while preserving, to bring different media and different genres together in the place where pure artistry and human experience unite them…these are all part of the vision behind But Beautiful. And to bring musical traditions together, to create something in the overlapping center of a musical Venn diagram, in the good place that Duke Ellington described when he said "There are two kinds of music. Good music, and the other kind."
Here's a video I've made to show what But Beautifu will be. This is such a personal project, taking me back to those Saturday afternoons of my childhood but with the perspective of the woman and musician I've become in the meantime. My hope, if I do the project right, is to reflect my long, deep love of this music, and to acknowledge Billie Holiday, 100 years after her birth (she was born on April 7, in 1915) as the exceptional, unforgettable musician she was.
Most of all, I hope that But Beautiful can break through traditional delineations of genre to celebrate the range and diversity of our American musical tradition, a tradition that includes European concert music, jazz, the American Songbook, and on and on, a tradition that keeps evolving, absorbing the sounds of each successive generation to reflect our multifaceted complexity. American music is what it is because we are who we are. We come from so many different places and people, and our music is a synthesis of our complicated heritage, musical and personal.
My heritage
And about that heritage of mine:  On my bedside table I have two studio photographs from the 1930s. They're of my two grandmothers.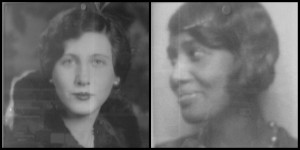 My grandmother Fay, one of seven sisters born to Jewish immigrants from the town of Belz in the Ukraine, grew up in Buffalo and then came out to California with my mother. She lived just a few blocks away from us throughout my childhood, but I wish I knew her story better.
And my Jamaican grandmother Ivy, who moved as a young woman to Harlem and died when my father was very small, and whose story is lost to family history and memory, except for the equation of nose and cheekbones that I see whenever I look in the mirror.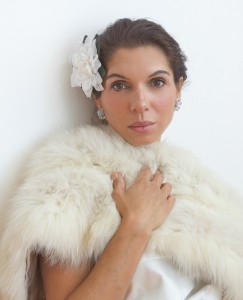 My own story of race and roots is captured in the faded portraits of these two beautiful women, looking out at me in the bloom of their youth, with the stylized hairdos of their era. There they are, framed quite literally inside the parameters of a time in which any relationship between them would have been beset with layers of impossibilities and prejudices. Looking back into their eyes, I see proof of how much change has come in two short generations, of how very recently their granddaughter's version of American life became possible.
My parents met at a sit-in in San Francisco in the mid-'60s, and they dreamed for their three girls of a "New World A-Comin", a future colorblind America in which race, finally, wouldn't matter. But of course it did. Growing up, I was well aware of the undercurrent of racial complexities and complexes that runs through our culture. I cried a river of happy tears the night Barack Obama was elected president, and I feel lucky to be part of the shifting tides of this still-new century. I think we're coming closer than ever to my parents' dream. I look at the myriad and unidentifiable hues and features of my kids' elementary school classmates, and I realize that, as with our American music, the amalgam that shapes our American faces has become such an intricate fusion that old boundaries and divisions are falling fast.
Back to the present
But this is now, and that was then. Looking back 100 years at Billie Holiday's short and troubled life, lived within the landscape of early 20th century American racial realities, I realize that can't begin to understand the scope of her personal and artistic struggles. But I know that what happiness and luck she did find, she found through her music. And finding your joy, your strength, your power in music is something I do know about. And I know, too, about commanding a room as a woman in a satin dress, pulling an audience in, making a listener fall in love with a piece of music the way I fell in love with Billie Holiday's songs when I was eight years old.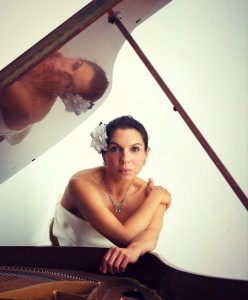 And this I know for sure: listening to Billie Holiday on Saturday afternoons with my sisters taught me just as much about making music as my conservatory classes on those Saturday mornings, as much as listening to Arthur Rubinstein's Chopin and Glenn Gould's Bach,  or listening to my teachers and mentors in San Francisco and Paris and Vienna and New York. All of my musical experience comes together to shape me into the musician I am today, just as my blended racial and cultural heritage makes me the person I am.
And as a musician, I know that what I learned from Billie Holiday is this: to make something completely personal when you make music. She once said "If I'm going to sing like someone else, then I don't need to sing at all." And she never did. I think that the magic of making music is this: to forget about all the definitions and rules you ever learned. To lean back against the launch pad of your past and your experience, and to look out into the future, and to make something that is completely your own — maybe something unexpected, something indefinable, perhaps complicated —  beautiful.
The world premiere of But Beautiful is scheduled for May 17 at the Mondavi Center for the Performing Arts, UC Davis. It's almost sold out! Click on the link for information and tickets.
And look for the album on Steinway & Sons Records in early 2015.