I'm continuing my posts about the classical music crisis, and I'm coming now to the crisis timeline, which will how and when the crisis developed, decade by decade. I started these posts by asking when the crisis began. Here are some answers, in three parts. First, two snapshots. Then, tomorrow, a savvy overview, written as a comment to my original post. And on Thursday a detailed timeline.
Two snapshots. First: a graph showing mentions of the word "orchestra," tracked year by year through every issue of Time magazine from its founding in 1923 to the present. This was emailed to me by Michael Di Mauro, who searched the Time website for mentions of orchestras, and graphed the result: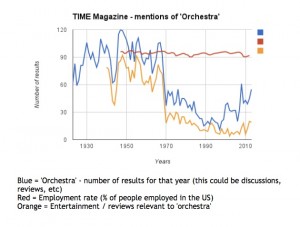 You can download this, if you'd like to see it more clearly. Could the meaning of it be any clearer? It shows classical music losing its force in American culture. The mentions of orchestras — in both articles and music reviews — fell by two-thirds in 1969, and continued to fall after that, picking up only in the past few years. But not by much, and for the most part only in articles, not reviews. It's easy to guess that the mentions were due to the current orchestra crisis — that orchestras, to Time, were newsworthy because they were failing, not because of the music they played.
Time, I should note — though currently just a ghost of its former self — was for decades one of America's top magazines, right up through the end of the last century. What it covered is one way to measure what Americans thought was important.
Which leads me to snapshot two: classical music on the cover of Time, as tallied two years ago by Yvonne Frindle, Publications Editor and Music Presentation Manager.for the Sydney Symphony, who's a reader of this blog. She presented this data on her own blog, in the form of a graphic, beautifully done, but too big to read easily here. You can download it. 
What it shows (just like Michael Di Mauro's graph) is what Yvonne calls "classical music's changing prominence in culture." Or rather its declining prominence. As Yvonne said in her blog, around three quarters of Time's classical music covers — from the start of the magazine in 1923 to 2011 — appeared before 1956. And there hasn't been one since 1986. (That last classical music cover, 27 years ago, showed Vladimir Horowitz.)
Many thanks to Michael and Yvonne for all the work they did to bring us this data. We're all in their debt.
The crisis series so far:
How long has the crisis been going on?
Why that question — how long the crisis has been with us — is hard for most of us to answer
Before the crisis — what classical music in the US was like before the crisis hit
Some thoughts on crisis skeptics
Portrait of the crisis — hitting all parts of the classical music business