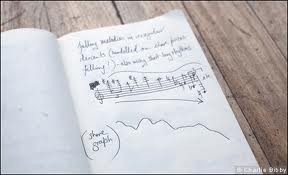 In my last crisis post, I said I'd talk more about crisis skeptics — those who don't believe there's a classical music crisis, or who think it's perpetual — and then lay out what I think the crisis is.
But no. Better to describe the crisis now. For one thing, people are waiting for me to do it. And it'll be easier to engage crisis skeptics once the shape of the crisis is clear.
The aging audience
So what is the classical music crisis? As I see it, the crisis is systemic. It hits almost every aspect of classical music. So maybe, in the past, orchestras had financial problems (though as we'll see in future posts, claims of that are greatly exaggerated). But opera companies didn't, chamber concerts continued to be held even in very small cities and towns, and, above all, classical music remained visible, popular, and central to our culture.
That's not the case now. For me, at the heart of the crisis is something much talked about, and very simple: the aging of the audience. Of, course, some people don't believe this is happening. A big piece in the New York Times a few years ago even said, with complete assurance, that studies of the audience age were never done in past generations, but that's not true. I know three studies of the age of the classical music audience in the US, one from 1937, one from 1955, and one published in 1966. And, from 1982 to the present, the National Endowment for the Arts has surveyed the American classical music audience, and shown it to be steadily aging.

So the aging has been going on for quite some time. I date it from the late 1960s or the early 1970s, which means it's been with us for more than 50 years.
And it's quite dramatic. The three studies I've mentioned show — at the different times and places in which they were done — an audience with a median age as low as 27 (in Michigan, in 1937), but no older than 38 (for all the performing arts, including classical music, in 1966). The 1955 study is the most detailed. In Minneapolis, half the people going to symphony concerts were under 35, and nearly a quarter of them were students.
And the aging audience is also a shrinking one. The NEA, ever since 1982, has reported a smaller and smaller percentage of American adults going to classical music performances. And, as time goes on, those who do go are increasingly concentrated in the older age groups (so that by now, the only group going as often as it did in the past are those over 65).
Which means that the audience is most definitely shrinking. Younger people aren't coming into it. In the 1980s, the NEA reported, the percentage of people under 30 in the classical music audience fell in half. And older people also aren't coming into the classical audience. If they were, we'd see a steady percentage of people in their 40s and 50s going to classical events, but we don't. That percentage is falling.
Of course, the population as a whole is growing, so the effects of this shrinkage aren't as strongly felt as they might be. With a growing population, the absolute numbers of people going to classical performances — even if their percentage is shrinking — isn't dropping so fast. So concert halls and opera houses, even if they're not as full as they used to be, aren't emptying out.
The population is also growing older, as a whole, and that gives some people hope. Could the aging of the classical audience simply reflect the aging of all of us? No. The classical audience — as the NEA has repeatedly said — is aging faster than the general population. Back in the '50s, the median age of the classical audience was much closer to the median age of the whole population than the age of the classical audience is now. Met Opera subscribers, Peter Gelb said a few years ago, are on the average 65 years old. That's way older than the population at large.
Why is it aging?
So what does this aging mean? Let's look at something else where the people involved are aging, something without the complexity of classical music, and that people don't get emotional about: model railroading. I once read that the age of model railroad hobbyists has been going up 10 years with each passing decade. That would mean, first, that just about no younger people — virtually none at all — are building model railroads. And that, therefore, the hobby will disappear as those who enjoy it now pass beyond active life.
And it's not hard to see why that's happening. Railroads were huge in the US during the 1940s. They were the dominant form of transportation, with all kinds of romance attached to them. When I was a kid in the '50s, every boy had electric trains. But as time passed, trains became less important, and less romantic. So people weren't as wild about them, and boys growing up in the decades after me didn't have electric trains, and hardly any of them, when they were older, built huge layouts, with detailed scale models of trains and stations from the Milwaukee Road (or some other favorite line).
That seems undeniable. So why shouldn't the same thing be happening in classical music? I'll agree that the picture is more complex. Younger people do learn classical instruments, and enough of them want to be professionals to keep our music schools open.
But these young people are outliers. Within their age group, they're exceptional. As I know, from teaching at Juilliard (and visiting other schools) for 17 years, young classical musicians will tell you that they may love classical music, but their friends don't. So the presence of young classical musicians in our world doesn't grow the classical audience. Your friends might go to your concerts, but they don't start going to the opera.
The aging of the classical audience, then, means — broadly speaking,  though less drastically — the same thing that the aging of model railroaders does: the retreat of this interest from the center of our culture. And a steady fall in the number of people who share it.
Consequences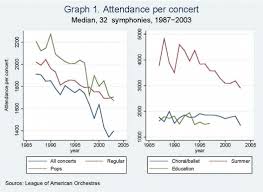 You can talk all you want about problems classical music might have had in the past. But we've never seen anything like what we've seen for the past 50 years, what the aging of the audience so clearly implies: Classical music (once more) becoming far less important in our culture —  — far less honored, far less popular, far less listened to — than it once was.
And now we see what a systemic crisis means.  Because from the aging and shrinking of the audience follows every other problem that we're having. Declining ticket sales. Declining funding. Performing arts centers (as the New York Times reported back at the start of the 1990s) booking fewer classical music events, because the audience for them was starting to fall.
Classical radio stations changing their formats to something more popular. Or, as we've seen in recent years, giving up commercial operation (because the profits are no longer there), and becoming public stations, seeking support from their listeners.
Classical record companies releasing fewer recordings. And  those they do release may not be, in any strict sense, commercial releases. They're privately funded, by donors, just like nonprofit enterprises. The Met Opera's 1980s Ring recording, for instance, depended at least in part on private funding, even though it was released on Deutsche Grammophon, perhaps the leading commercial classical label.
Classical record labels also release nonclassical records, alongside their classical ones. Some of these are crossover projects, collaborations between pop and classical musicians, or classical pieces by pop stars. But then Nonesuch Records evolved more notably, becoming, in effect, an art music label, in which only some of the art music they release is classical.
Two big classical distribution companies — companies that distribute classical records recorded by others — told me years ago that they'd started distributing world music alongside classical, as a hedge against classical record sales falling still more. The days of a financially sustainable classical record industry are largely over.
Some people would dissent from what I've said, saying that small classical labels have multiplied, offering many recordings, and that this shows that classical recording is healthy. But these small releases are almost all nonprofit. They depend on exactly the kind of classical music funding that's now endangered. So they don't change the conclusion I stated above — that the days of financially healthy classical recordings, finding commercial success because there was a large market for classical music — are over.
More signs of a crisis
There's less media coverage of classical music then there used to be. At the start of the '80s, when I began my career as a classical critic, just about all major magazines that covered the arts had classical music critics. Time and Newsweek did; they were titans inside the magazine world. I myself was classical music critic for Vanity Fair, when it first launched in the '80s. Does it have a classical music critic now? I once went through every copy of Time published in the '80s, and counted a reversal in the percentages of pieces about pop and classical music — around 2/3 classical in 1980, and by 1990 about 2/3 pop.
In the past few years, many newspapers have given up having fulltime classical critics.
So this is a sea change. And, looking back to past generations, a giant one. No more opera productions on Broadway. No more Amahl and the Night Visitors (and, later, Stravinsky's The Flood) commissioned and premiered on network TV. No more do we have 20 to 40 classical soloists who reliably could sell out a hall, as we did in the '80s. Now there are only five. (Or so people who present the soloists' concerts told my wife, Anne Midgette, for a piece she wrote for the Washington Post.)
No more does every city  want an orchestra and an opera company, to attract people who'll in turn be an attractive workforce for corporations, a reason for companies to relocate to the city. Now the cities want bikepaths, Whole Foods, diversity, a strong local band scene. No more do we have what Virgil Thomson called the "intellectual audience," when, in 1950, he described what it looked like in New York: up to date, hip (as we'd say; the word wasn't used back then), arts-oriented, but not interested in most classical performances, even though (and this is what we don't have right now) it would turn out in great numbers for something classical that struck it as brainy and new.
Nor do we have, as we used to, before perhaps 1970, orchestras without marketing or fundraising departments. They didn't need these departments, because they could sell tickets and raise money without — at least as compared to today — much organized effort.
(For more on what classical music was like before the crisis came, see my post on that.)
Where is this going?
So this, once more, is what a systemic crisis looks like. A general retreat of classical music, slamming into (once more) its visibility, its popularity, its importance to our culture, its ticket sales, and its financing.
The question we then have to ask is how long — if nothing changes — this can go on. How long it can go on, before classical music as we've known it for so many decades starts to be unsustainable. Before big classical music institutions can't pay for their operations, or at least not on the scale at which they presently function.
Maybe the current orchestra crisis shows us this danger starting to be real, meaning that it's hitting now, and isn't just something we project into the future. So many managements arguing with their musicians, over dividing a shrinking financial pie, the result (no matter how it plays out in each situation) of an overall drop in demand, and drop in funding (which of course is tied to the drop in demand), while expenses continue to rise.
This — everything I've described — is the crisis. Have we seen anything like it classical music before? I don't think so.
I began this discussion — in my first post on the crisis — by asking how long the crisis has been going on. What I've just written gives us one way to answer that. We could look at each part of the crisis that I've set forth, and ask when it began to be noticed.
I won't try to do this in any systematic way, just now. I'd need to do more research. But in my next crisis post, I'll offer some signposts — some memories, from myself and others, about when an assortment of crisis components first showed themselves. After that post, i'll say more about crisis skeptics.
The crisis series so far:
How long has the crisis been going on?
Why that question — how long the crisis has been with us — is hard for most of us to answer
Before the crisis — what classical music in the US was like before the crisis hit
Some thoughts on crisis skeptics