I'm grateful to everyone who answered me — here, on Facebook, and on Twitter — when in a blog post I asked how long the classical music crisis has been going on. And I'm also grateful for the lively discussion that followed.
When I asked the question (in the post I've linked to above), I said I thought we'd learn something from the inquiry. And that's certainly been true. Several people offered some detailed memories of when they saw the crisis hitting, often in the course of work they were doing in the classical music world. These people — in a future post I'll pass on what they said — are helping to outline what up to now has been a hidden history.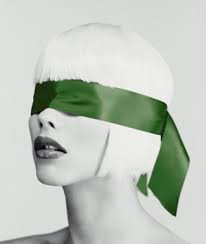 But what I think the responses most show — and it's a powerful lesson — is that we don't know how to talk about our crisis. Some people think it's been going on for ages, maybe perpetually, and some people don't think it's even real. I'll have responses to those thoughts, again in future posts, because I'm going to do a series of posts on the crisis, on what it is, why it's real, and how long (when we look at all the available information) it really has been going on.
But for now I want to say that we in classical music don't know how to talk about our crisis because the information we'd need to know what's going on isn't readily available. There are many reasons for this, but one of them is what I can only call a reluctance — or something like that — to gather information. You'd think, with all the talk of a crisis, that people in classical music would be hungry for data, would be demanding it, would be saying (for instance) let's gather and publish data on how many tickets are being sold to classical music events, now and in past years going back a couple of decades, so we can see if there's a decline, and if so,  how large it is.
But we don't do that. More on this in future posts, but to me it's almost shocking how little we know, and how little we seem to care that we know so little. It shows, I think, a striking immaturity in our industry, and an unwillingness to face what's really going on.
To show how little we know, let me make a comparison, one I fear I've made before, but will continue to make until I'm blue in the face. Or until my typing fingers turn blue.If we were talking not about classical music, but instead about American newspapers — another industry in crisis — we'd know exactly where we stood.
Everyone knows what the newspaper crisis is about. Fewer people are reading print newspapers, and fewer advertisers are advertising in them. Both these things mean a loss in revenue. Many readers have migrated to reading newspapers online, and newspapers have tried to make money from that, by charging for access and by selling online ads, but this revenue doesn't equal the money the industry used to make from print. So newspapers seem unsustainable, and have responded to these problems with extensive cutbacks, which if anything make the problem worse, because now the papers aren't as good as they used to be, giving people less reason to read them.
Details of these problems are readily available. Look, for instance, at the story that ran in the New York Times back in August when the Times sold the Boston Globe, which it had owned since 1993:
According to the Alliance for Audited Media, circulation at The Globe from Monday through Friday declined 38 percent in 2013 from 2003, to 245,572 from 402,423. Before the Times Company bought The Globe in 1993, it had a weekday circulation of 506,996.
As circulation declined, so did advertising. According to the second-quarter earnings statement released by the Times Company on Thursday, advertising revenue for the New England Media Group dropped 9.5 percent, to $44.4 million, compared with the same quarter in 2012.
If we had information like that about leading classical music institutions — big orchestras, for instance, or opera companies — we'd be talking very differently, and with much more confidence, about where our field is heading.
Long-term information about newspapers is easy to find. One thing I found, in two or three minutes online, was this graphic, showing the decline in newspaper readership since 1990: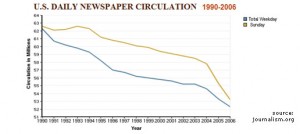 And I found a Washington Post article from 2009, in which I read this:
U.S. newspaper circulation has hit its lowest level in seven decades, as papers across the country lost 10.6 percent of their paying readers from April through September, compared with a year earlier.
The newest numbers on newspaper circulation, released Monday by the Audit Bureau of Circulations, paint a dismal picture for an industry already feeling the pressures of an advertising slump coupled with the worst business downturn since the Great Depression.
The ABC data estimate that 30.4 million Americans now pay to buy a newspaper Monday through Saturday, on average, and about 40 million do so on Sunday. These figures come from 379 of the nation's largest newspapers. In 1940, 41.1 million Americans bought a daily newspaper, according to the Newspaper Association of America.
Average daily circulation of all U.S. newspapers has been in decline since 1987 as papers have faced mounting competition for reader attention and advertising. Online, newspapers are still a success — but only in readership, not in profit. Ads on newspaper Internet sites sell for pennies on the dollar compared with ads in their ink-on-paper cousins.
The newspaper crisis is thoroughly quantified, and well understood. And transparent, since all the crucial data is easily available to anyone who wants it. Our crisis is none of those things.