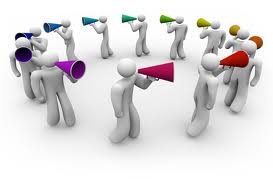 Here's a little story:
When the Seattle‐based Degenerate Art Ensemble travelled to New York for two performances at the New Museum, they were able to see [the effect of word of mouth publicity] firsthand. "We had a talk back at the end," explained [co-artistic director Joshua Kohl], "and we asked the audience: 'Who here came because they saw some press or publicity for the show?' And two hands went up. 'Who came here because they heard about this through the museum?' And one or two hands went up. 'Who came because someone you know…from Seattle got you to come and see the show?' And, boom, all the hands went up." This experience showed Kohl that word of mouth can be more powerful than paid advertising or media coverage.
The story comes from an important doctoral dissertation we'll be hearing more about on this blog — Sarah May Robinson's Chamber Music in Alternative Venues in the 21st-century U.S.: Investigating the Effect of New Venues on Concert Culture, Programming, and the Business of Classical Music. Sarah is a flutist, an experienced club performer, and codirector of Classical Revolution LA. And, I'm happy to say, a future guest blogger here.
Her dissertation is a thorough look — the first ever, I think — at what happens when classical musicians play in clubs, something we all know happens, but that most of us, I'll guess, don't really know much about. I certainly didn't. A conversation with Sarah was an eye-opener (she interviewed me for her dissertation, but I think I learned more than she did). And the dissertation opened my eyes even more.
(To see one example of how word of mouth can be mobilized, see Lara Downes's guest post here about how she built an audience when Christopher O'Riley played on a club series she founded.)