From Greg:
Some months ago, a flutist named Sarah Robinson asked if she could interview me for a doctoral dissertation about playing classical music in clubs. I was sure she'd know her subject, since she's the codirector of Classical Revolution: L.A., Classical Revolution being (as many of us know) an umbrella organization for musicians who play classical music in clubs, and this, of course, being its very active Los Angeles branch.
I told Sarah I'd be happy to talk to her, adding that I'd probably learn more from her than she'd learn from me. Which (at least from my point of view) turned out to be true. I remember telling her that, as I saw it, you couldn't make money playing in clubs. Wrong! She quickly corrected me. Maybe, she said, you couldn't make a full income from club gigs, but you could make a good part of an income that — as is true for many classical musicians — comes from many sources. 
When the dissertation was done, and Sarah kindly sent me a copy, I saw that I'd been even more wrong about the money than I'd thought. But that's only one of the many reasons why the dissertation — titled Chamber Music in Alternative Venues in the 21st Century U.S. — is essential reading for anyone interested in classical music's future. We talk a lot about playing in clubs, but how much do most of us know about it? If I'm at all typical, we don't know much. 
And so Sarah educates us, writing in great, thorough detail about the history of classical club performance (going back to past centuries), the current scene and how it developed, the venues, the finances, the aesthetics (that chapter is a bombshell), and much, much more. 
So it seemed natural that she should write a guest blog post here. Which now she's done, and I'm grateful to her. The first part, which follows, is about her own experience, and for the most part talks about things that aren't in her dissertation. The second part, describes the classical club scene more generally, and functions, if you like, as a quick, lively summary of what the dissertation says.
But even if you read these two posts, the dissertation still is essential. I'm happy that Sarah kindly is letting us download it, free, simply by going here. 
One last word. Sarah got her doctorate at the University of South Carolina, whose music school, under the leadership of its dean, Tayloe Harding, has a strong program in entrepreneurship. Which is why, as Sarah herself says, she — getting a doctorate in flute performance — could write a thesis that wasn't about the flute. Bravo to the school, and brava to Sarah. 
Enough from me. Here's Sarah's post:
I stumbled into the classical club scene while visiting my hometown of Cincinnati in 2009. A friend who worked as a bartender there told me I had to check out Classical Revolution Cincinnati. It changed the course of my career.
I went down to the Blue Wisp Jazz Club with Phil Popham, a founding member of our chamber ensemble, Helix Collective. There we saw chorus members of the Cincinnati Opera giving a fun, bawdy, rowdy show with performers planted at the bar and around the club. Their performance, because it was so engaging, easily caught the audience's attention, even over food, drinks, the occasional side conversation and people moving around. Phil and I knew we wanted to perform there with Helix Collective, and we also knew that to succeed in the club we had to change everything about our concert performances.
"You've got to have schtick"
While developing our program, Phil and I had the pleasure of performing with the great Vegas vocalist and entertainer, Steve Lippia. We performed as members of the West Michigan Symphony with Lippia as the soloist on a pops performance called "Simply Swingin' with Sinatra and Friends." Lippia, who developed his show in nightclubs, was one of the best storytellers I've ever had the pleasure to see on stage. For each number he sang, he gave the audience insight through touching and hilarious stories.
When we asked his advice on our first club performance he told us, "you've got to have schtick. Everybody loves schtick." The benefits of making a concert entertaining with extramusical elements were plain to see in Lippia's performance. The crowd was laughing, enthusiastic, fully engaged, smiling, and everyone had a great time. Why not use these techniques that work so well for songs with classical pieces? We can highlight what is funny, charming, quirky, interesting and even tragic about music with acting or stories that are both informative and entertaining.
So we took our standard classical program and tore it apart. We played every movement as a separate entity and provided each one with an unforgettable introduction. To share a little about our life as a traveling, low-budget chamber ensemble, we told our audience about the time a swarm of roaches overtook the bed of our pianist, Meghan Schaut, in a Texas motel. We played a piece by William Grant Still called Miniatures, a trio where each movement is based on a different folk song from the Americas. We taught the audience two of the songs, "I Ride an Old Paint" and "Adolorido" and had them sing together before we played. There is nothing like slightly drunk people singing with wild abandon to liven up a classical show!
For the movement "Yaraví," which is a Peruvian song about the heartbreak of a missing loved one, Phil and I played the song as a duet from opposite sides of the club. We also performed a work of Phil's called The Pharmacy, in which each movement features a different prescription or over-the-counter drug. The final movement, "Dextroamphetamines," shows how these drugs can be used to cure social anxiety. To simulate this effect, each member of the ensemble downed a shot before striking out into the movement! The audience was laughing, yelling, singing and, well, you just know it when you have it right. The distractions of a club environment were no match for a fantastic show. Now we knew how to hook an audience in a club using classical music. 
The World's First Classical Dance Club
Our next project was to develop a program of new music specifically written for the club setting. We called the show World Dance Club. We wanted music that had a rock and hiphop aesthetic, but still had the challenge and drama of classical. The first thing we did was to add a drumset. That's perfect not only for adding the rhythmic drive of pop but also for imitating a wide range of world percussion instruments. Next we chose dances from across the globe, and collaborated with a group of talented composers to form a style that crossbreeds virtuosic classical music, high-energy pop, and a range of world styles. We call the genre Club Classical.
Mark Weiser, a film, television and concert music composer based in Los Angeles, wrote us a set of Bollywood dances. These dances cross music in a Bollywood style with hiphop and would be the perfect soundtrack to a modern Bollywood film, one that's complete with love story and dance parties. Phil wrote a set of pieces based on renaissance dances from Italy, France and Germany. One of the pieces is a rock ballad based on a passacaglia by Bieber (that would be Heinrich, the 18th century composer, not Justin) about a virgin resisting temptation. For the last movement, Phil took three tambourins (a tambourin is a dance in a quick two-meter), by Rameau. He wove them together into an all-out, hard-pounding movement that became an epic rock song titled "Ram-Tam, Thank You, Ma'am."
We also have a Latin fusion tune, "Me Quema," which we borrowed from a local Los Angeles-based band, the Berger / Sanchez Project. We met these fabulous musicians when they provided live sound engineering for a Classical Revolution: L.A.  event at the popular Hollywood band venue, Genghis Cohen. They were kind enough to allow us to adapt their song for our group and add our own classical flair.
Serban Nichifor, a Romanian composer who wrote a pretty badass Bluegrass tune for his opera, Tom and Huck, happily allowed us to reimagine the work. Finally, the accomplished composer Stephen Dankner let us to arrange three of his dances. The dance we titled "Klezmer" is based on Klezmer Fantasy, a piece for solo cello and orchestra. Dankner originally wrote that work for Matt Haimovitz, one of the first performers to play classical music in clubs. The result of all this is a flexible, high-energy program that is perfect for the rowdy club setting.
Through our performances and experimentation in clubs, the program evolved into a fully interactive show. Before we play each song, we teach the audience the steps for dancing along with the music. We have them put their arms around each other in a circle to dance the bulgar during our klezmer tune. We have had, I kid you not, an entire club, full of hipsters squaredancing to bluegrass!
For the Bollywood dances, we recreate the scene that appears in every Bollywood movie, where all the guests at a party inexplicably break out into a choreographed dance. We give the audience an easy-to-follow but saucy Bollywood routine.
I also believe that everyone secretly wants to know how to salsa dance. So we teach a simplified version, where you step right and then left (end of dance lesson), so absolutely everyone can dance to "Me Quema." Everyone is out of their seats, dancing, laughing, bumping into each other and having a great time. It's the world's first classical dance party. (You can hear the music here).
You might be wondering if this music really could be classical. Why isn't Helix Collective some kind of klezmer/bollywood/salsa/bluegrass band? Here's the answer. We are a classical group because our music has the harmonic and contrapuntal complexity of classical music. We use classical forms in the World Dance Club program including a fugue, a rondo, and a theme with variations. Even though we dance to this music, it can also stand on its own for active listening.
We play classical instruments, flute, oboe and piano, and base much of our music on classical dances, from the renaissance up to 19th century waltzes. Besides, classical music has always been a melting pot, mixing tunes from the street with techniques from the academy. When classical music functions as a living art form, it sucks up influences like an aesthetic tornado.
Tomorrow: part two of this post, in which Sarah gives a detailed overview of classical musicians playing in clubs, drawing on what she wrote in her dissertation. Essential reading!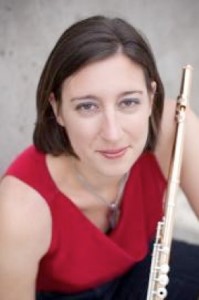 Sarah Robinson is flutist and co-founder for the world/classical/rock group Helix Collective and director of Classical Revolution: L.A. Now entering its third year, Classical Revolution: L.A. hosts a dizzying array of classical and crossover artists at clubs around the city for regularly packed houses. As Greg said, she's happy to make her dissertation, Chamber Music in Alternative Venues in the 21st Century U.S.,  available as a free download.