"I don't know many other art forms where applause is considered a negative."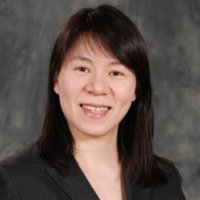 That was a one-liner fired off by Bo Young Lee (in the photo), a diversity consultant, at a League of American Orchestras conference session called "Developing Cross-Cultural Competency." Of course she was talking about the rules of classical music applause. And how, if we follow them, we actually suppress the excitement of our audience.
Lee is senior vice president, Global Diversity & Inclusion Lead, at Marsh, Inc., and she'd be a breath of fresh air anywhere. She speaks out, saying difficult things in cheerful plain English. For instance this:
"If you want to reach out to a Latino audience, maybe you'll play Latin American composers. But if you do it just once, you're pandering." Oof! She has the gift of saying things like that without sounding confrontational, but how many classical music groups do exactly what she's describing? Back in the '90s I wrote a long piece about African-Americans and classical music, and several people I talked to in New York, from the black community, made exactly that point, about performances the groups involved surely were proud of. Performances that did reach the black community — and then had no followup, none at all.
Lee says that she herself  is a diversity conundrum, since she's an Asian woman whose manner is entirely white. White people may not know what to make of her, since she looks Asian but doesn't act Asian. And the biggest trouble she has, she says, comes from other Asians, who truly don't know what to make of her.
If you think that what I just wrote — which is exactly what she said — trades in stereotypes, she had an answer for that. A stereotype, she said, is something you expect (so wrongly) to be true of every member of an ethnic group. With no exceptions. You're looking for trouble if you think stereotypically.
But she contrasted that with what she called archetypes — traits that really are prevalent within any ethnic group, traits you're not wrong to look (or look out) for, but which of course don't show up in every individual. When I lived in LA, at the end of the '80s, at the height of the hard rock/metal boom, I learned that the most dangerous Angelenos on the road were people driving pickups with bumper stickers from the hard rock radio station, KNAC. Heedless drivers! A stereotype? Not if I allow for exceptions. But as a general guide to which drivers you'd want to avoid, this worked really well. Not all KNAC listeners were dangerous, if they showed up in the lane just right of you. But more of them than chance would allow would suddenly veer to the left. (Full disclosure: I had a KNAC bumper sticker  myself, on my Honda Prelude. Which wasn't at all a hard rock car, so I guess I was my own archetype.)
I'm stressing all this to lead up to Lee's most powerful comments. She's a diversity consultant to the League, and, she said, when she visits the League's office, she's struck by the League's culture, which she figures — not at all wrongly — must reflect the culture of the orchestras the League represents.
How'd she describe that culture? "White, low affect, respectful." And a culture like that, she said, may well have trouble with Latinos and African-Americans, because their cultures are far more expressive — more outgoing, less deferential — than white culture is. You can see that (or hear it on recordings) in gospel music. The congregation calls out to the singers. I used to see it when, sometimes, I'd go to the movies and find myself in a largely black audience. People would shout at the screen. Most memorably at Prince's terrible film Graffiti Bridge. When the female lead — insufferably angelic — got mashed by a truck, someone yelled, "About time!"
So orchestras trying to reach people of color might find that their new target audience doesn't feel at home. Even time, Lee said, can be a problem. When someone from white culture says a concert starts at eight PM, that's when it starts. But in non-white cultures, maybe not. Maybe an announced eight PM start means anywhere from eight to a quarter to nine. 
I used to see that, too (or a version of it), when I was a pop music critic. The pop shows I went to never started at their announced time. White groups, black groups, whatever — in the pop music culture (and its assorted rock, hiphop, R&B and other subcultures) time follows what Lee would call a not-white model. Which shows, by the way, that other models work. Put aside for a moment difficult questions about overtime pay, which musicians' contracts often say starts at a given hour. If the start time of a concert isn't certain, an orchestra risks paying overtime, making concerts far more expensive than they are now. 
But, as I said, leave that aside. (There's surely a solution.) People trickle in bit by bit to pop shows, mybe starting at the announced time for the performance, or earlier, when the doors open. That works. They talk, shop at the concession booths, buy food, hang out. Why wouldn't that work with orchestras? Might give a chance to sell more at the symphony store, or to have musicians talking from the stage. Or to have an opening act, as pop shows do. (And which often isn't heard by much of the main crowd.)
But time, of course, is only one issue. Lee's bottom line was simple but profound. If we want people who aren't white to go in any large numbers to classical concerts, we have to diversify the culture those concerts display. Which doesn't just mean playing Latin American (or African-American) composers. It means presenting a not wholly white — not wholly low affect and respectful — face. With, maybe, applause or shouts during the music, which Mozart and Handel wouldn't have found at all uncomfortable.
This is a hard lesson for classical music people to learn, especially those of us who may have imagined that our art — and, by extension, the way we present it — transcends culture, class, and ethnicity.