What we want to do is to show people that "classical" music is a living, vibrant tradition that is far from being the museum art of dead men played incredibly formally by people dressed very uncomfortably.
That's a statement by Armano Bayolo, director of the Great Noise Ensemble, which might be Washington, DC's leading new music group. It's printed in the program book for the concert they gave a week ago.
And this is the first of my Friday Posts, in which I'll pass on things that I've found out about, mostly things that show how quickly — widely, deeply — classical music is changing. I can't do full blog posts on everything that reaches me, but I think it'll be helpful to pass along as much of it as possible.
And I'll add some other things that interest me. The blog, as I've been writing it, reflects so little that I do, learn, think about. I'd like to fix that.
Something irresistible

A Turkish youth orchestra rehearsing the end of the William Tell overture, with unbounded joy. And not exactly sitting still. Some of them started playing their instruments just four months ago, which makes the quality astounding. Much credit to their conductor, who, I'm told comes from Sistema Guatemala, which I didn't know existed (much less that it was spreading itself into Europe). Many thanks to my Swiss friend Etienne Abelin for tell me about this! Deeply touching


Deeply touching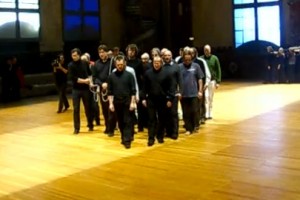 Something else Etienne told me about — the "Human Requiem," a Berlin performance of the Brahms Requiem, in which the chorus (accompanied by two pianos) sang from memory, while moving slowly around the performance space. Sometimes the singers moved individually, sometimes they moved in groups. The audience, too, was free to move. The effect, I'm told, could be overwhelming; the voices had an almost physical impact. Here's part of a rehearsal, in which some of that impact really does come across. And here's a review of the performance, skeptical in part, but also testifying to the power of what happened.
Amazing animation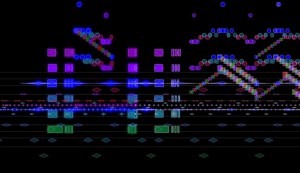 From Stephen Malinowski, a truly amazing — and I say this as a very serious musician — animation of Stravinsky's Rite of Spring. (First part, second part.) With bright, sharp dabs of color showing the shape of the music, as you listen. (Much livelier than what comes across in the bit I've reproduced here.) The piece comes to life before your eyes. It's like score reading for people who don't read scores, though in many ways it's better than reading the score. Reading the score gives you musical information; Malinowski gives the impact of the music. I learned things I hadn't quite been aware of — the persistence, in just about every melodic line, of something like the contours of the opening bassoon solo. And the persistence, too, of the crunch! offbeats in the first fast section of the piece, so famous in themselves, but also echoed by sudden jabs throughout the score.
Such a contrast, I have to say, to a Beethoven Ninth iPhone and iPad app from Deutsche Grammophon, with three attempts to visualize the score, all feeble. A truncated view of the score is almost impossible to follow. A view of notes in the piece, represented by horizontal bars, tells you almost nothing. A view of sections of the orchestra — dots lighting up when musicians sitting in each place play — is blah, and rather than enhance what you hear, simply echoes it. Maybe good for people who don't know the sound of strings from trombones (and, of course, they need to be served), but not useful beyond that.
What you do get, if you pay $7.99 for the full version, is four very different recordings of the piece, a nice selection: Ferenc Frscay, Bernstein, Karajan, and John Eliot Gardiner. Not to sneeze at!
But the Malinowski animation is sheer magic. The performance is synthesized, expertly, with samples, much as orchestral-sounding TV scores are generated. Maybe some people will object to that, but again, it's an expert job, and didn't bother me.
Seattle singalong
The Seattle Opera publicized its annual Ring cycle with a Wagner singalong two days ago.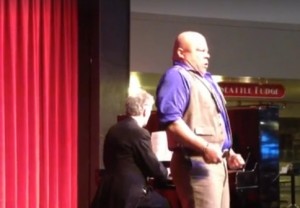 From an email press release:
All ages, voice types, and shower singers welcome!
(Want to just watch?  That's ok too!)
Join Seattle Opera for a community sing-along on the occasion of Richard Wagner's 200th birthday.  Enter a contest for best Ring character costume and/or give your best (or most creative) rendition of Brunnhilde's "Hojotoho" war cry — judges will award prizes, both men and women are encouraged to join the fun.
Admission is FREE, and yes, there will be cake!
Here's a story about this from the Seattle Times website, including video (ineffable) of a Brunnhilde contestant.
And a page from the Seattle Opera website, introducing the choral singalong for those who might want to join it.
Very human artist bio
Musicians' bios, as printed in classical music program books and publicity, are mostly unreadable, long lists of blank achievements, with nothing about what kind of person — or even what kind of artist — the musician is. But here's a big exception: William Eddins, music director of the Edmonton Symphony, headlines himself on his website as "Conductor, pianist, and really good cook."
With a bio to match:
Bill has many non-musical hobbies including: cooking, eating, discussing food, and planning dinner parties. He is also quite fond of biking, tennis, reading, and pinball. Unfortunately, due to pianistic paranoia his days in the martial arts are long over.
His bio on the orchestra's website is more restrained, but still very human.
The Cliburn loosens up
The irrepressible pianist/entrepreneur Jade Simmons hosts all kinds of online things for this year's Cliburn competition — informal interviews with contestants, tours of Fort Worth fashion and nightspots, reactions from people in the audience after contestants play. This is no small thing — a major relaxtion, major explosion in how an established classical music institution presents itself. Bringing it right into the world we all live in.
That's it for this week. A lot to write about! And this was only a selection. More in weeks to come, and if you've got something you'd like me to mention, let me know.