When I walked onstage at Yoshi's San Francisco last Wednesday night, it was with a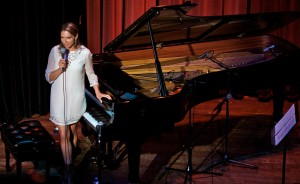 completely new version of butterflies in the stomach. This time, after a lifetime of going onstage as a concert pianist, I was going on as a concert presenter, welcoming the audience as Artistic Director to the very first program on my new series The Artist Sessions. I was launching the series with the West Coast release party for my new CD Exiles' Cafe, and I'd invited the genre-bending Quartet San Francisco as my guests, along with a co-host, Rik Malone from SF's Classical radio station KDFC. It was going to be an evening of celebration, conversation, and exploration – in this case, a musical searching into a kaleidoscopic range of time and place, through music of exile and diaspora.
My idea for the Sessions came out of a lot of thinking over the last few years, about all the issues we explore here on Greg's blog. Lots of thinking about the present and future of the art, about putting some ideas to the test, building something new, creating the kind of concert experience where real engagement, on a personal, human level, can bring artists and audiences together in a game-changing way. I've been out on the front lines for some time, talking the talk about new and better ways to make music happen. Next step: walk the walk.
Late one night last fall I was talking with my great good friend Christopher O'Riley about these ideas, and my plans to find a venue in SF to give them a try. He suggested Yoshi's, where we'd both played in the past and had appreciated the unbeatable combination of a magnificent Hamburg Steinway, swanky room and excellent cocktails. So I asked my old SF Symphony Youth Orchestra buddy and fabulous trumpet player Chris Grady, who knows his way around Yoshi's as a frequent performer with various jazz groups, to get me a meeting. I pitched my idea, we agreed to move forward, and I became, suddenly, a concert promoter. And then began months of planning, building, and organizing. Talking to my friends, curating programs, working with the media, booking artists and dates. And understanding, at a completely new level, just what is involved in presenting music, after all.
These last months, I've thought really hard and deep about the structures of relationships and community. As we discuss often in this space, there are many different audiences for music, and part of the puzzle of presenting is defining the audience you want to reach, and how. In the case of The Artist Sessions, I wanted to find a mixed audience: people who go to concerts regularly and people who don't. I wanted to seek out the people who support music and art in the city, and would be excited about the different style and content that the series would be offering, and I also wanted to reach people who are curious and adventurous but not yet initiated –  the people who direct their entertainment/culture selections into other channels: food, art, film, fashion – and could be drawn in by a resonant aesthetic to try something new, and, hopefully, to love it.
I guess my search was directed in large part towards an audience of my own peers. What I see from the stage, night after night in concert halls all over the country, is a real absence of people who look like me out in the audience. I mean people in their 30s and 40s, with busy careers, young kids, limited opportunities for nights out and plenty of competition for their fun money. And I get why they (we) aren't there. We who are in the thick of things with developing careers and raising families are overworked and overwhelmed. We  feel that our nights out are limited by many things, and when we do get to go out, we would like to have a really good time I believe absolutely that classical music needs to step up its game and offer its audiences not only transcendent art, but also a really good time. Tall order much?
As I waited in the wings on Wednesday I was a little terrified. I was feeling all the anxiety that comes with accountability, and all the expectancy that comes with having put in a lot of hard work. And when I walked out onstage and saw the people sitting out front, it was a moment of exhilaration and blessed relief.  The audience–about 100 ticket holders and some invited friends and family–was made up of a beautiful range of ages and faces, exactly that mix I had hoped for. The usual suspects from the concert circuit around town, but many brand new faces too. There was a full-out energy flowing back my way.  The room felt great, and I was so happy that we were all there together.
It was a pretty wonderful night. Here's a review.
When we as artists talk about the future, when we talk about building our audience and increasing our opportunities, I think we need to recognize two things:
1)    The job of building that audience is our job. I hear musicians complaining, so often and so loud, about the state of the art. But we can take an active role in addressing this, both when we're onstage and when we're off.
2)    The job is a hard job. I think that many musicians believe that concert presenters have access to mysterious resources and powers. Really, they don't have any magic. Ultimately, they have the same basic tools as everyone else: the courage of conviction and the power of persuasion. How they use those tools, how we all use them, is at the heart of the matter.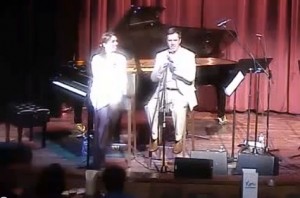 Here I am, talking with Classical KDFC's Rik Malone about my vision for the Artist Sessions, at last Wednesday's launch. (You can watch us on video.) 
***
Back to what I did behind the scenes, before that. Basically, I called everyone I knew. I started with my inner circle – got my family and close friends to swear blood oaths that they would come to the show, and would try to get their friends out too. Then I called my music colleagues around the Bay Area to get their support, advice and ideas. I brainstormed with the staff at KDFC — the station had sponsored a classical series at Yoshi's a couple of years ago, with great success, and they were enthusiastic about getting involved with this new venture. I made personal calls to my friends in the media, the bloggers and writers who have their fingers always on the local musical pulse. I was fortunate that my new record was in its release phase during this time, so I had a lot of support from my label's PR team, and I was able to leverage some of the visibility the record was getting in the press and media all around the country to bring attention to the series. But, above all, I just talked to people, over coffee, over drinks, over the phone…
Our easy access to social media is one thing. It's kind of great to be able to send a Facebook invite to thousands of people, or retweet a great review. Our circles get wider and wider. But our messages get diluted as well, precisely because of the ease of their dissemination. Marketing as a group message is just that, and we all know it when we see it. We need that kind of marketing, obviously, and we need to do it well. We need to put the information out into the world so it's there for the seeing and hearing, and we need to do that in the most creative, interesting, attractive, informative ways possible.
But still, there's nothing that replaces the immediacy of a personal suggestion that comes with some individual caring and effort. And I think this is a simple, obvious answer
to our questions about building audiences too. Word of mouth. If everyone who came to Wednesday's Artist Sessions launch invites two friends to the next Session, that's about 300 people next time. If, in turn, those 300 people each bring two friends next time, well, you see where this goes. It's really easy to do, and I think we're all guilty of not doing it. When I need a new babysitter or hair stylist, or a recommendation about a movie, a restaurant, a book – I ask a friend. You do too. We trust our friends, and they trust us. So if we care about music, out here on the front lines, we need to mine that trust and share information. We need to walk the walk.
Try this: the next time you go to a great concert, text two friends on your way home. Tell them about it. Tell them why you loved it, and why you think they would too. Look up the next concert on the series, or the next appearance by that artist. Find a bar nearby. Invite your friends to meet you for a drink and go with you to that next concert.
By the way, I recommend The Artist Sessions in San Francisco! May 29, Chris O'Riley with the West Coast launch of his new album O'Riley's Liszt. Please come. Please bring a friend. Walk the walk.