Here's a solution to the Met Opera's financial woes: Open a gambling casino in the opera house.
Cue howls of outrage. But opera was in fact funded that way in 19th century Italy. That's one thing I've learned from a book called Bel Canto Bully (not a great title), a biography of Domenico Barbaja, the leading 19th century Italian opera impresario, written by Philip Eisenbeiss, and about to be published.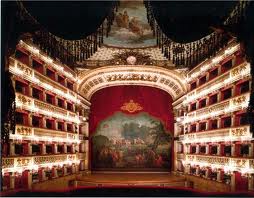 I knew Barbaja's name, as many serious opera fans might, because he ran the San Carlo opera house — the grandest in Italy — in Naples. And made Rossini a superstar by giving him a contract to write spectacular operas. So Barbaja will be mentioned in any biography of Rossini, and in most program or liner notes for any of his Naples  operas (Elisabetta, for instance, or Mosè, Armida, or Otello).
I also knew, from extensive reading, that opera in Italy back then was private enterprise. Opera houses were owned either by private individuals or by local royalty (Italy was divided into many small states), but in either case the building would be rented to entrepreneurs — impresarios — who'd pay for and produce the operas, hoping to make a profit. Which they'd better make, because opera house owner was guaranteed a share, with no excuses allowed if the profit wasn't made.
But now the book educated me. Impresarios often didn't make a profit. They'd crash and burn, either because they weren't good at running things, or because the enterprise was so expensive that profit wasn't likely. So they'd flee town, or maybe get thrown in jail.
How to fix that? Gambling! Set up gambling in the opera house, as many hours as possible each day and night — even (especially!) during performances — and now the money might pour in. Performance nights were the best time to offer gambling, because people were in the opera house, and, according to the custom of the time, didn't listen from beginning to end, but rather talked, and visited with friends, And wandered out to gamble.
Barbaja was the king of this arrangement. He first got the gambling concession for the Teatro di San Carlo in Naples, and then proposed he run the operas, too, which he did with fabulous results, both musically and on the bottom line.
Engaging Rossini was one of his coups. But Rossini was no fool. He demanded (beyond the large fees that he was paid) a share of the profits, which included the profits from gambling! He was all of 22 years old, but wise in the ways of the world. He'd made money from his early operas, and — on top of his fees, and his cut of the profits — invested some of it in Barbaja's double enterprise. So now he had three Barbaja income streams.
I call this a hidden history because we're not taught it in music school. There's still a sense that classical music is somehow sacrosanct, and we read that notion back into the past, when it had no truth at all. Time to revise those music history courses! Especially now that we're teaching entrepreneurship in music schools. Let's tell students how entrepreneurial — how wildly entrepreneurial — classical music used to be.
And if the Met won't fund itself with gambling, every time they put Rossini on their stage, he's laughing at them.
For those without a sense of humor: I know very well that gambling raises moral questions, and legal questions, too, not to mention questions involving real estate. Where would the Met put its new casino? Where in the opera house would there be room enough? 
But let's not forget that gambling — I'll never call it "gaming," its euphemistic marketing mame — has spread throughout the US, and that lotteries are an important source of state government revenue. And let's also not forget that nonprofit arts institutions are, more and more, going down profit-making paths to fund themselves. And that casinos in Las Vegas and Atlantic City have been in the performance biz for years, offering glittering shows by superstars. Pavarotti sang in Atlantic City. So is gambling at the Met really so far-fetched?