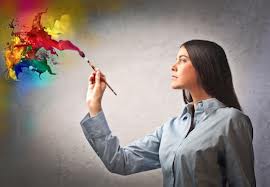 Not long ago, I was talking to students at a major music school about performances from the past, like the ones from the 1920s through the 1950s that I assign in my Juilliard course on the future of classical music. (If you'd like to see them, follow the link, and scroll to the assignment for February 27.)
The students loved these recordings, and some had heard one of them before. They kept saying how much personality those old musicians had, and how they all just seemed to "go for it" (as the students expressed it) — to put all of themselves into the music, so it came vividly alive. 
Which led to a discussion about individual, imaginative performances, and whether students are encouraged to give these themselves. "Suppose your school gave a prize each year for the most imaginative performance of a standard repertoire piece," I asked. "What would that be like?"
And the students burst out laughing! The idea just seemed inconceivable. Which, I want to stress, isn't a critique of their schools, but of almost all music schools, including Juilliard, where I teach. No school, to my knowledge, offers a prize like that.
And students — for the most part — aren't encouraged to be creative. Instead, they're expected to do what their teachers expect. (I'm talking about instrumental and vocal teachers, studio faculty, as they're called. Classroom faculty, who teach academic courses, would tend to have rules of their own.) Some teachers, of course, invite personal expression, and — as in one memorable story one Juilliard student told about her own teacher — get excited about student performances that jump way out of any normal box.
But most , it's safe to say, aren't like that. So the students (as I heard from the ones I was talking to, and have heard many times at Juilliard) know that they're better off being cautious. They often need to be cautious with their teachers, and certainly have to be their school juries (where they're judged by a group of faculty members), when they audition for orchestra jobs, and when they enter competitions. Just about everyone in classical music knows that competitions favor people who don't take many chances. Because if you do something unique, there's always a chance that one of the judges won't like it, and then you have no chance of winning.
So this is one problem that music schools have, the first I'll stress in this series of posts. Music schools don't encourage creativity. Their administrations don't fly a flag that says, "Let's see what new things our students can do." I'm not saying that their teaching might not be on a high level, but mostly it's on a high level of doing what the rest of the classical music world does, making music the way your teachers, your chamber music coaches, and the conductors you play for expect it to be made. 
Which of course might happen in any field. College football players mostly learn orthodox football. Medical students, I'd imagine, learn orthodox medicine. But art students, I'm going to guess, are doing varied, original things, because that's what they see in the art world. Dance students at Juilliard are taught how to found and run their own dance companies, because that's what many choreographers do.
And business students  —now that it's orthodox wisdom in business that you can't be orthodox, because the world is changing too fast — are (from what I've heard) encouraged to break out of the box, and do new things. Which I'd think would be a good model for classical music, because classical music, too, is changing, and (as I hope we all know) badly needs to change even more, because it's drifted so far from a culture that no longer may want to support it. 
(And to look ahead, just for a moment, here are the other two ways in which music schools need to change. They need to encourage entrepreneurship. Which many of them are doing, but they need to do it still more. And they need to break down internal boundaries, so that, just for instance, instrumental students learn how singers think, and everyone works with the student composers.
Back to creativity. I'm not saying that students should blindly jump off the deep end — that they should throw out tradition, style, and technique, ignore what's written in the scores they play, and just do whatever comes into their heads. Anyone who understands art knows that art needs discipline. And the discipline of classical music is one reason it's valuable, one reason why I want it to survive. Playing a great composer's score, walking in a composer's footsteps, recreating a composer's flow of feeling and ideas — that's a deep, lifelong study, no small thing, never to be taken lightly.
But at the same time you have to be yourself. No two people — and certainly no two great musicians — recreate scores the same way. The greatest musicians recreate them unforgettably, in ways no one else could possibly do.
And a completely objective performance of a score is impossible in any case. How could you even define such a thing? You could say you should do everything the written score says, but markings in a score are subject to interpretation. How loud is a forte? Do we make every passage marked forte equally loud? Every crescendo equally strong? Any performance of any piece mixes the composer's spirit with the performer's, and that's how it should be, how it has to be.
Not to mention that, as I said, classical music is changing. And that the culture outside it offers an entirely new world of spirit and ideas. And that any school that teaches historically informed performance already offers an alternative to the standard classical tradition, which means that it already offers a kind of alternative — indie — classical music. So looking only at that, students already are (implicitly, anyway) asked to take a position. Standard performance? Historically informed performance? A mixture of both? Where does each student stand?
All this should be talked about. A music school should celebrate choices, imagination, and artistic initiative. And should make it known — through statements and action by its administration — that students are welcome and in fact are encouraged to ask themselves how they want to play, and (when it's appropriate, which among other things means when they and their teachers are comfortable with this)  to go for it — to bring music vividly alive, in their own original way.
(Maybe they even should do this, sometimes, when their teachers may not be so comfortable with it. Because schools may need to encourage their faculty, too, to make more room for creativity. But this is a tricky issue, as I'll say — with sympathy for the faculty — in my next post. Schools still need to keep going, to teach the tradition, to honor the teachers they now have.)
But how do we do this? How do we foster creativity — celebrate the students who already are creativity, and encourage the others to be — without turning the school upside down?
I have lots of ideas. They'll be in my next post in this series, coming shortly.