Time to go on with our mavericks posts, in which I and many readers listed people and groups doing new things in classical music.
And on that tip, I've started to create a mavericks document in our Resource sidebar, which you'll find if you look on the right of the blog site, and scroll down. You'll see that we now have various things there — Nathan Shirley's guest post about good classical music videos, for instance, and a summary of my research about how young the classical music audience was in the past. I want to turn Resources into an archive of ideas and information, and a list of people and groups doing new things would be a crucial part of that. No list like that can be found anywhere, as far as I know. I've started things off, by putting my first mavericks post in Resources, with links to all the other ones. But I hope the list will grow mightily. 
So one amazing project — I should have mentioned it earlier — is A Toronto Symphony: Concerto for Composer and City.
You could say the Toronto Symphony commissioned Tod Machover to write this piece for them, but everyone in Toronto has been invited to participate, as the orchestra's website explains:
Thousands of Torontonians participated in the work, and collaboration took place by blog and e-mail, via Skype and smartphone, using audio and video recording and streaming, and through numerous face-to-face meetings and music-making sessions in Toronto. In addition, collaborators used Media Scores and Constellation web music apps (developed at the MIT Media Lab [where Tod works and teaches] specifically for this project) as well as the MIT Media Lab's Hyperscore graphic composing software to let anyone create original material or make their personal versions of Machover's work.
Having composed a chord progression and core melodies that would help provide unity and a sense of "family resemblance" to all the assembled materials, Machover outlined three modes of interaction: musical material from the community; music made by Machover and sent to everyone for comment and modification; and music that Machover and collaborators would shape together live.
When Tod and I were both speaking at the University of Missouri last fall, I talked to him about this project, and saw a video about it. It's the real thing — a true collaboration between Tod and countless others, made possible not just by Tod's software and understanding of how to compose a collaborative piece, but also by how warmly welcoming he is personally. I can't believe that anyone who spends time with him could resist the chance to work with him.
The piece premieres March 9. I wish I could be there.
And then there's the Orchestra of the Age of Enlightenment, in London.
A few years ago, they launched a spirited search for what I might, tongue in cheek, call spokesmodels — members of their audience who don't look like stereotyped classical music listeners, and who'd represent the orchestra to the world. You can watch the video they made to kick off their campaign. The URL they originally had for the video tells half the story: "Fancy starring in our next marketing campaign?"
I assign this video in my Juilliard course on the future of classical music, and I've been in touch with the OAE to see how the campaign went. They think it's a great success. They chose eight people, and used them, just for instance, on last years's season brochure. Here's the front cover, and the first inside page: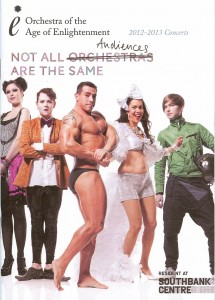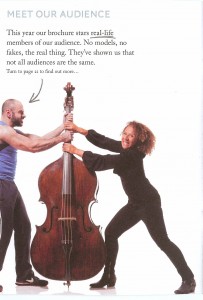 Photos of the audience members, often shown with members of the orchestra, run all through the brochure.
And why this isn't frivolous — the OAE really does have a large young audience. They do late-night concerts, branded as "The Night Shift," and they told me they get big crowds for them — up to a thousand people when they do Night Shift events in their regular hall. And of course fewer when they do them in clubs. They do about 10 a year, four in their big hall, starting at 10 PM, after their regular concerts, which start at seven. The program is the same.
This sounds like a big success to me, though of course I'd love to see it for myself. One big reason that it works: They're very smart about their branding. They don't brand the late-night concerts as the OAE. They brand them as the Night Shift. Of course people know that the Night Shift is an OAE project, but — whether they're going to the concert hall, or a club — the Night Shift is what they'd call it.
So the audience photos, and the campaign to find the people in them — this makes perfect sense, because it's about concerts where people who look like this really do show up. Which of course underlines the truth of the OAE's trademark: "Not all orchestras are the same," reconfigured for this marketing campaign as "Not all audiences are the same."
And now look — I thought I'd talk about many more mavericks, but I've gone on long enough. I'll continue this series, and readers are warmly invited to (as so many of you did before) contribute mavericks of their own.
Other posts in this series:
"Breaking the mold" (about Ad Hoc, a chamber ensemble that describes its performances as jams)
"Mavericks nominations" (the first group of readers' suggestions)
"More Mavericks" (more readers' suggestions)
"Path-breaking piano curriculum"(about a truly astounding program at a Canadian university)
"Mavericks — continuing" (still more from readers)
"We personalize what music is" (about the River Oaks Chamber Orchestra, which is breaking 
"A lot of mavericks" (final nominations from readers — who suggested more than 50 people and groups)
"Final mavericks — Jade Simmons and a Go-Go symphony" (final only for 2012, because we'll resume this in 2013)