[From Greg: I'm delighted to introduce another guest blogger, composer and — is this the right word? — mentor Alex Shapiro. I call her a mentor, because she's very active working with ASCAP's Composer Career Workshop, helping young composers develop careers. Which she's eminently qualified to do, because her own career is so successful, and so individual. But somehow "mentor" seems too conventional, too hierarchical. She may teach, and teach things that people need to know. But I'm going to guess that she inspires the people she works with, as much as she teaches them. I hope her post will show why.]
The concert hall lights dimmed, revealing the glow of muted smart phones as they received tweets with videos, photos and text about the piece that had just begun. The composer's smile filled a large screen mounted above the musicians on stage, and the waves of a teal-blue sea two thousand miles west of the audience rolled behind her.
It was these very waters that had inspired the music, she'd explained moments earlier to listeners in the venue, and also around the world via the live stream of the performance. The inspiration was palpable: sounds that once existed only in her mind were now launched into the air, as everyone gazed in real time at the undulating place where the notes were born. The music had come full circle, and technology enabled a very human, global, and profound connectivity.
This happy collision of nature and machines is my reality as a composer, thanks to peers and collaborators who embrace any opportunity to widen the path for art. We're not mavericks, we're just fulfilling our job description as creative people, by using the tools of the day to engage musicians and audiences. And sometimes, even doing it from unexpected places a tad off the beaten path, as you can see here.
High school band director Peter Guenther got his students in Owatonna, MN involved in designing a multimedia lighting presentation of my electroacoustic wind band piece PAPER CUT, in which I use printer paper as a percussion instrument. By posting his band's unique black light performance on YouTube, Peter's creativity unexpectedly inspired many ensembles in the U.S. and around the world to follow suit.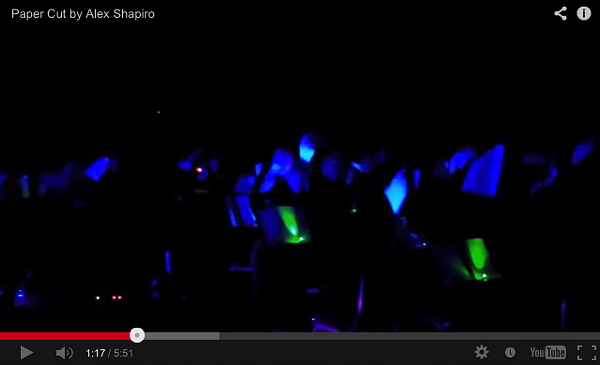 Had desktop computers and the internet not come along, my life as a composer would look entirely different. This isn't a shocking declaration; I'd guess that plenty of my peers would say the same. But the reason it's an especially true statement for me, is because after a very long time residing in Los Angeles, six years ago I chose to live and work in an unusually rural and remote place: San Juan Island, which floats gracefully off the northern Washington State coast. From birth to age 21 I lived on another island: Manhattan. The one I'm on now only sports 6,894 residents, and has neither a bridge nor a single traffic light. It does not, however, lack for whales, Bald Eagles, foxes, Dungeness crab, Black-tailed deer, sea lions, and one blissed-out composer, who regularly chronicles their adventures on her photo-blog.
Ken Thompson is a band director at Bowling Green State University, and recently conducted a live, "eco-tweeting" concert of my electroacoustic wind symphony about the sea, IMMERSION, during which every 30 seconds the audience received tweets that linked to photos, videos and info about the environment and sustainability. I participated in the live-tweeting from my home, with links to some of my blog posts that feature my own photos of the whales and sea life surrounding me.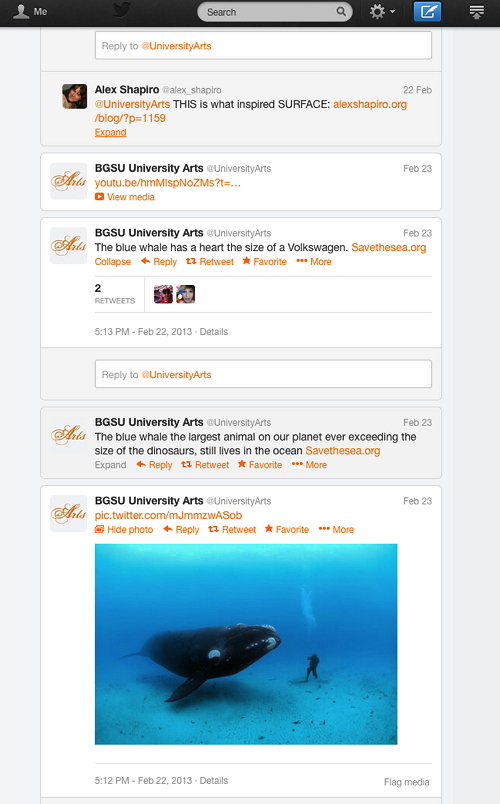 Returning home to southern California in 2003 after a brief, inspiring residency at the wooded MacDowell Colony in New Hampshire, I slid back into the neurotic pace of the traffic-clogged city and wondered: if I was so happy and productive at MacDowell, in a cabin in the middle of nowhere, why shouldn't my daily life look like that? It dawned on me that as a non-performing composer with an already-established web presence, I could live anywhere with a broadband connection. Three years later, that visualization became my reality. Goodbye, high cost of living on an artist's income in a sprawling metropolis. Hello, whales. And howdy, Skype, Google Hangouts, Facebook, Twitter, YouTube, and any other social media tools that join forces with my website and blog.
You don't need the connectivity of a bridge or a freeway to make your living as a composer. You need the connectivity of YOU, wherever you can manifest your you-ness.
When Chicago's Fifth House Ensemble premiered a chamber sextet of mine about love, they used Twitter to create characters with little dramas that audiences were able to follow days before arriving at the concert venues– and also after. By the time people were in their seats, the drama continued in live tweets projected on a screen, accompanying the music and turning the concert into a charming soap opera.
You know what composers sell? Their heart. And it's wrapped in this fantastic packaging called their music. So, whether from the center of London or the edge of the Salish Sea, you reach out, and your essence, every bit as much as your music, becomes the draw for others to explore your work. Me? I participate on people's blogs with comments that do their best to propel the conversation, and maybe even make someone laugh. I set up Google Alerts to learn of performances and broadcasts of my music which I hadn't known about, and then take a moment to drop the performers and DJs an appreciative email. Similarly, I often send a short hello to those who buy my scores, because while the music is duplicable, the connection to its composer is not.
I use Facebook to be supportive of my colleagues, or post photos (and admittedly, insufferable puns) that might crack a smile. None of this is about promoting my work; it's about trying to be a positive musical citizen, and taking a very genuine interest in others. And yet everything I describe here has led to significant income from my music (ok, maybe not the puns). I'd love to see every composer be rewarded even more than I've been.
Miller Asbill is a conductor at North Carolina's Brevard College who can't contain his excitement about engaging listeners and younger musicians via every kind of social media. For a recent concert he had me and my colleagues Jonathan Newman and Steven Bryant join a Google Hangout together and introduce our pieces to the audience. That particular evening, I was in a hotel room in NYC and the internet went down shortly before the concert began. It booted back up again just 8 minutes before the downbeat. Sometimes, new media = adrenaline rush!
We may think we're in the music-making business, but really, we're in the relationship-making business. Meaningful connections can be established anywhere we choose to initiate them, and much of the time we don't even have to get dressed if we don't feel like it (at least, not from the waist down).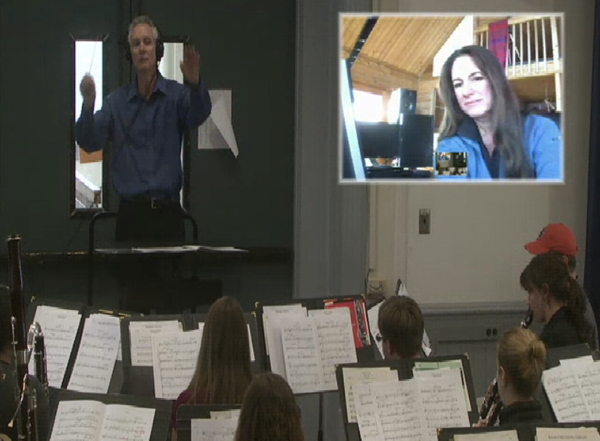 I've coined the term Skypehearsals for the real-time coaching sessions I do, as seen in the photo here. Until the day everyone has lightning-fast connectivity, the sound quality is somewhat compromised, but the interactions are still fantastic for generating an affinity between the musicians, the notes on their stands, and from where– and whom!– all that music began. When I swivel my webcam and show them the expanse of sea, islands and mountains at my toes, the most beautiful sound of all is hearing the sighs of 80 instrumentalists, often sitting somewhere in the Midwest. I'm convinced that this is the best place from which we make music: a shared sense of awe.
A quote I love from Alvin Toffler has been making the rounds on Facebook recently: "The illiterate of the 21st century will not be those who cannot read and write, but those who cannot learn, unlearn, and relearn." Along with all the new ways for music-makers to reach their audiences, comes an evolving vision of what that relationship has the potential to be. My e-nthusiasm knows no bounds: there's never been a more wonderful time to be an artist.
Composer Alex Shapiro depends upon electricity for her career. Countless examples of how she uses it, along with her photographs of where she loves using it the most, can be found on her website, and her blog, Notes from the Kelp.