Even while classical music changes — see my last post — it keeps showing why it needs to change. Case in point: the cover of a CD that came in the mail: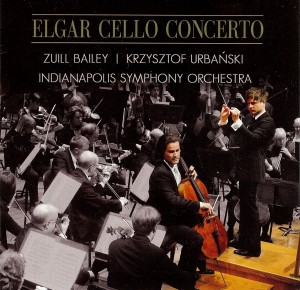 Ugly! And completely unconvincing, if we're supposed to believe this recording is anything we'd want to hear. The conductor looks like he's a stiff 14 year-old. The cellist looks blah. The, um, artistic device of putting the orchestra in black and white while the conductor and soloist are in color doesn't work, because the conductor and soloist don't stand out enough. (And what are the Indianapolis musicians. Chopped liver? This is unfair to them.)
So just to be clear…I don't mean to single out Telarc, which released the CD, or the conductor, or the cellist, or the Indianapolis Symphony. I'm not saying this is a bad CD. The cellist, whom I've heard, is very fine, and (as you'd never guess from his photo) makes a big impression on audiences.
Nor am I saying that this cover is worse than other classical CD covers. Which is in fact my point. Classical CD covers are fairly uniformly terrible. And often dumb. Maybe the dumbest in recent memory was a CD titled Notable Women, whose cover photo showed two women and a man. Yes, they were the musicians playing on the CD, so that's why they were on the cover, and the music they were playing was written by women, hence the title. So everything made a literal-minded kind of sense, but — or so it seemed — nobody stopped to think that the title and photo set up a very silly contradiction.
And that's what I want to suggest here. That nobody thinks about these things in the most important way they should be thought of, as a communication sent out by the record company and the artists, aimed at people who might want to buy the recording. Nobody making the CD — or so it seems to me — feels the presence of a market, of an active connection between the recording and people out in the world who might be made to care about it.
And that, I think, is that, deep in their hearts, the people making the record and running the record company don't believe the anyone really cares. Yes, the orchestra can use the recording in its PR work, and surely the cellist has a few fans. And maybe, just maybe, someone in the media — at the Indianapolis newspaper, at NPR, at a classical music magazine — might say a few words, sparking (let's guess) 10 or 20 sales. (Remember that the top-selling classical CDs sell just a few hundred copies in their biggest week. Anything not at the top of the classical charts is down in double digits — on a good week.)
Now, I know that we don't have record stores any more, so people aren't going to browse displays, and be hooked by a striking CD cover photo. And I know that (as I've just said) classical recordings really don't sell many copies, so it might seem like there isn't any market to feel a connection with.
But that's failure talk. One reason there isn't any market is that hardly anyone is going out to develop one. The problem isn't really the CD cover. That's just the symptom. The problem is that there really isn't any marketing strategy that could make a difference, any exuberant determination to change the world, and create a market for classical recordings. Or, maybe more to the point, for a particular classical recording.
The CD cover demonstrates how true this is. Because if nobody who wanted to create excitement — as a step toward developing a market — would ever release an album that looked like this. Even if we don't have record stores, the graphic treatment of any product (in its design and marketing) are crucial in our world today.
To erase the big fail here, Telarc, Bailey, and the Indianapolis Symphony should take one of my branding workshops. Seriously! I don't say that just to toot my horn, but because the kind of exercise we do in these workshops would really have helped. I'll explain that in my next post.