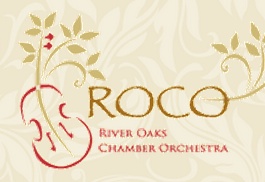 Another maverick, one I've known about for years: The 40-musician River Oaks Chamber Orchestra, in Houston, founded in 2005. This has to be one of the most stunning entrepreneurial triumphs in classical music, since its founder, Alecia Lawyer, created it from nothing, using social contacts at her church and in Houston generally to lay a foundation.
And then finding the best musicians she could, from Houston and elsewhere. And then building a large, stable audience. And then making an impact on the city. She was (as I just learned from ROCO's website) given a "Gutsy Gal" award from Houston Woman magazine. ROCO's performances have been broadcast on Houston public radio.
And the day of her very first performance was (something else I learned from the website) proclaimed "ROCO Day" by the mayor. Of course that meant Alecia had more contacts than most of us, right from the start. But a mayoral proclamation won't guarantee success. That she built on her own. We've talked about many maverick groups here, and I have many favorites of my own. But have any of them made the impact on their town that ROCO has?
Something else. When I first heard them play, on their website some years ago (their performance of the L'italiana in Algerí overture), they sounded so good I almost believed Alecia had slotted in a recording by a famous orchestra. Not so. I heard CDs of them, and they were good. Maybe not as spectacularly good as I'd thought at that moment, but good. (Though, full disclosure, I haven't heard them recently, and there don't seem to be recordings on their website right now.)
What they do, as they say on their site, is provide "a uniquely personal classical musical experience for concert-goers." These aren't just words. Here are some of their programs, again from their site:
ROCOrooters
ROCOrooters is a music education and childcare program that runs concurrent with and after the 5pm concerts. Professional music education and childcare professionals provide an enjoyable, enriching experience for kids while their parents enjoy the concert and dinner out afterward.
[When I told the marketing director of one of our big orchestras that ROCO offered childcare, he just about turned green with envy. Though of course it's easier for ROCO to do it than it would for an orchestra playing in a huge hall. ROCO performs in a church, which — I'm guessing — already has insurance for childcare, and certainly has appropriate rooms for it.]
ROCOco "Music Tastings"
Fine wine, great music, and good company come together as "ROCO Company," or ROCOco." These events, typically held in wine cellars or tasting rooms, pair music with wine or "beer and brass" in an intimate, interactive setting.
Salon Concerts
Salon concerts feature a small chamber group of up to 5 musicians in private homes or intimate settings. Patrons and sponsors view these as a great way to meet, mingle with the musicians while entertaining guests.
Community Outreach and Collaborations
ROCO is dedicated to working with organizations that serve the community, as it had done with its food drive with the Houston Food Bank and HSPVA, by partnering with Nehemiah Center for ROCOrooters, through active participation in the FreshArts Coalition, and by conducting master classes with Houston area schools enable music students to learn from ROCO musicians.
I've talked to Alecia in the past, on the phone and in person. But I wanted an update. Here's what she told me by email. As she says at the end, she's speaking at universities about entrepreneurship in the arts. And no surprise. She's the poster child for it.
Yes, we are doing great!
We still have ROCOrooter, a program for kids 10 and under, that runs in tandem with and after our 5pm concerts on Saturdays.  They go to a different part of the church, are separated by age and given a music lesson on one piece on the program.  They come into the balcony for that piece to hear it live.  The orchestra waves from the stage and the audience applauds them. Then they go and debrief with the teacher about it.  Then they stay for pizza and movies until 10 so parents get a three-hour date night (sounds good to you and Anne, right?).
[How brilliant is that? Childcare not just during the concert, but afterwards, so parents can go to the concert, and then head out on their own. Certainly does sound good to me. Too bad the DC groups Anne reviews don't offer this! I'm sure we'd jump on it. And talk about offering a "uniquely personal" concert experience! Those aren't just words.
[And for those who might not know, Anne is my wife, Anne Midgette, chief classical music critic for the Washington Post.]
I asked Alecia if her ticket sales were still strong.
Yes!  But we fully embraced the patron model from the St. Paul Chamber Orchestra.  If a patron gives a certain amount, they get tickets to our main concerts.  So while earned revenue is purposefully low at 15%, donated is large at 85%.  We create a community of investors in our product.
We also have great foundation support and are now getting good corporate.  [Check out the supporters' logos on ROCO's website.] It takes time for them to know you around for the long haul.  I tell funders that I have my plot picked out here in Houston.  My biggest pet peeve is musicians starting groups and expecting support when they are not involved in, nor do they love the town they are in.
Seems to me [I emailed to her] that you've created a different relationship with your musicians, by bringing them in from all over. No question that they think they're valued, if that's what you do.
 Yes, they are valued.  We pay them for their time.  Pension, limited pressings, etc.  We feed them all of the time!  We even have a group of ladies that make cookies for the musicians.
Half of the orchestra does not live in Houston.  This orchestra was based upon people I knew in Juilliard and festivals through my years in the music biz.  Our principals are our soloists, since many of them tour the world soloing, anyway!
The concept is that we personalize what music is.  Music is the language we speak musician to audience member, not an entity like many people talk about it. The audience gets to know individual musicians through when we present them in solo recital or chamber groups.  Slowly, as the audience grows with you, they know more and more people on the stage. At our concerts, the house lights are always up so they can read the program. We tell gig stories about funny things that happened to each of us.  I did a Mafia wedding in Long island (I am pretty sure!). Our drummer studied drumming in Ghana behind a hut on a scholarship.
We do simple things that awaken the curiosity of everyone.  Our programs are not listed in the order we'll play the pieces in, but in alphabetical order.  [So no one knows which piece is coming next.] We usually have  a surprise piece not listed.  The conductor and sometimes the soloist and always the composer act as MC and guide the audience through the concert.  We put pronunciation guides for composers names so people don't feel stupid.  Many people even say Mozart wrong(without the t sound) and WHY SHOULD THEY KNOW AHEAD OF TIME!!!  We also put timings of pieces so if you hate a piece, you know how much longer you have to listen to it!  [Great idea.] I really believe the reason our audiences are so receptive too new music is this shake-up of the formula for concerts.  They don't know ahead of time when that "scary never heard of" piece is coming.
We have done 34 World Premiere/Commissions in these 8 years, 15 of which were for our special Day of the dead concert for a trio from ROCO and singer.  The others were for the full 40 piece group.
Every musician should have to spend time in management to know and REALLY appreciate that every dollar they earn is actually a dollar donated for the love of what they do.  There is no earned income in our field.  The donations we get show appreciation and respect for the gift of music that is brought to life by a live musician, which reinforces the value of the musician as a person.
 You may not know that I speak of this as a LEGO model orchestra.  We build our 40-piece group four times a year with repeat performances, then break pieces off like the string quartet and brass quintet and give them their own concert series under the ROCO umbrella.
We also do a Peter and the Wolf at the Houston Zoo that is free and in partnershp with Interactive Theater company.  We don't do many purely kids shows.  Kids can even come to our 'adult' ones, because they are short and engaging.
I know there is more, but I hope this gives a snapshot of what is going on.  I have been traveling around to universities speaking on entrepreneurialism in the Arts and doing some individual consulting with the students on their own projects.  Am in the throes of helping a Rice graduate here start a group in one of the outskirts of Houston.  I do think this model will be sustainable.
To say that ROCO should be better known outside Houston — that's an understatement. Thanks, Alecia, for what you wrote!
Other posts in this series:
"Breaking the mold" (about Ad Hoc, a chamber ensemble that describes its performances as jams)
"Mavericks nominations" (the first group of readers' suggestions)
"More Mavericks" (more readers' suggestions)
"Path-breaking piano curriculum" (about a truly astounding program at a Canadian university)
"Mavericks — continuing" (still more from readers)
"A lot of mavericks" (final nominations from readers — who suggested more than 50 people and groups)
"Final mavericks — Jade Simmons and a Go-Go symphony" (final only for 2012, because we'll resume this in 2013)
"Still more mavericks" (resuming in 2013, with marvelous things from two major institutions, the Toronto Symphony and the Orchestra of the Age of Enlightenment)