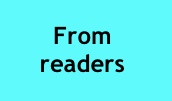 More classical music mavericks, as submitted by readers:
From Geoffrey Jones:
The Artists in Residence program at Strathmore [a major concert hall, between Washington, DC and Baltimore], some of them are breaking molds and have huge talents.
Three suggestions from Brett Amacher:
I think this is a great example of how to "reach outside the classical music bubble": 'The Speedbumps at the Canton Symphony' did that very well, imo (details on the blog post below).
http://www.callumndad.com/?p=361
Tonhalle Orchester Zurich's "tonhalleLATE"… with David Zinman
Ensemble HD, a group of Cleveland Orchestra musicians & friends who play regularly at a corner bar called the Happy Dog. They're working on a live double vinyl album release for May 2013, and the orchestra (TCO) has announced a residency in the bar's neighborhood that month. The group doesn't play "crossover" rep there; the album will feature Beethoven, Pärt, Britten, Bolcom, Crumb, Ravel, Shostakovich, and Piazzolla.
http://www.cleveland.com/musicdance/index.ssf/2012/11/hot_dogs_tater_tots_and_vinyl.html
From Ross Monroe Winter:
[This is the Atlantic Chamber Ensemble, based in Richmond, VA. On their website, they say: "Our vision is a series of chamber music events where musicians and audience alike, come into contact with the art, with each other, and with themselves in meaningful and sometimes surprising ways." Ross is one of their violinists. As I've said before, there's absolutely no problem with naming yourself here. If you don't tell the world what you're doing, who will?]
From Jeff Prillaman:
He mentions "the performance/application focus of Da Capo Institute and our outreach across normally insular channels.. churches, schools, private teachers, and teaching artist performers.. I think we are doing some innovative stuff with inclusionary music ed that might interest you as well.. not sure it is "maverick" but we are striving for that someday."
[Jeff is one of their founders. They, too, are based in Richmond.]
From Curtis Perry:
I think Owen Pallett kind of fits in with this kind of not fitting in.
[Nicely put! Pallett is a Canadian violinist, composer, keyboard player, and singer.  You could call him an indie pop artist, but he's had commissions from the Toronto Symphony, Bang on a Can, and other classical groups. From Wikipedia: "Pallett has been noted for his live performances, wherein he plays the violin into a loop pedal, a technique also used by musicians such as Andrew Bird, Jeremy Larson, Emily Wells and Zoë Keating. Pallett uses Max/MSP and SooperLooper to do multi-phonic looping, which sends his violin signal to amplifiers across the stage."]
From Tod Bowermaster:
You should check out SoundExChange, a group run by Eastman students that does outside-the-box performances at the U. Of Rochester.
[From their website: "Sound ExChange is an organization that responds creatively to the following question: how can live instrumental music thrive in contemporary culture? Sound ExChange explores alternative ways of presenting all genres of music with the hope of enhancing the traditional concert experience and engaging all audiences. We believe music is not only relevant to society; it is essential to our well-being. This ensemble is dedicated to exploring what the current generation of musicians can do to contribute to the vitality of orchestral and chamber music."]
From Rick Robinson:
I'm really inspired by San Francisco violist Charith Premawardhana who immediately recognized the potential for a concert at the Revolution Cafe in the Mission district to reach an audience resistent to the establishment culture. Six years later Classical Revolution has at least 35 established, volunteer chapters worldwide in bars, clubs, cafes and restaurants, which has allowed each of us to experiment with what I call New Classical, presentation formats that make the difference for curious music lovers. Now if we can only secure funding to professionalize the movement.
[Classical Revolution is a major movement, and describes itself this way: "Classical Revolution is an organization of musicians dedicated to performing high-quality chamber music in non-traditional settings." Charith is its founder.]
In a comment here, to an earlier post in this series, Charith offered some terrific stuff about what Classical Revolution has done:
The fact is that the majority of the over 800 "concerts" we've presented through Classical Rev in San Francisco over the past 6 years are weekly (ad-hoc) chamber music reading sessions / classical open mic sessions at our home venue, Revolution Cafe, where we have now presented over 300 such "jam" events.
The musicians we draw are well seasoned chamber musicians who are conservatory trained or "home-schooled" high level amateur players, as well as professional symphony musicians and international concert soloists.
The common thread between these musicians is that they are passionate about chamber music and see the merit involved with making music in an atmosphere that is fun, casual, and welcoming to the uninitiated listener.
They are happy to play in this kind of environment for usually no more than a travel stipend and free drinks.
For the musicians, it feels much more like a social outing than a gig.
Due to the exposure we gained through public performances in our first year, and thanks to feature write-ups in such publications as the SF Chronicle, Strings Magazine, and the NY Times, we have been able to continue to reach more people to attend our events, play at our events, and start their own Classical Revolution chapters in other cities.
The other fortunate side effect is that we began receiving invitations to put on programmed (and rehearsed, and paid) concerts at clubs, galleries, museums, and private events.
What you described, Greg, is pretty much the evolution that took place with our organization.
We started by presenting reading sessions in a cafe, which led to performance invitations in galleries and small clubs, and now we are presenting in major clubs, museums, and concert series' in the Bay Area and around Northern California.
This is pretty similar to how a rock band would approach building a name – start in small clubs, build a fan base, and expand to larger venues and other exciting opportunities.
This past Tuesday our ensemble in residence, the Musical Art Quintet, performed at Yoshi's Jazz Club (the most prominent "jazz" venue in SF), where we received about 150 paying audience on a Tuesday night for a chamber music concert, most of which were people we did NOT personally know.
We were given a respectable $$$$ guarantee from the venue and were able to pay our quintet and the other group who performed, led by Matthew Stewart, a colleague of mine from SF Conservatory whose classical guitar training has led to a successful singer / songwriter career.
After a successful fundraiser and recent support from some new individual donors, we are now at the point now that we are able to guarantee decent payment for our musicians, supplementing payment from venues, which is typically pretty low, while our organizers are still working mostly as volunteers.
I am motivated primarily by getting music happening in more places and reaching new audiences as well as supporting the music community, thus the big bulk of our fundraising efforts have gone towards paying artist fees.
As we build our budget, we will be able to support our staff so that we can continue to do more and better programming, while keeping the spirit of performing for audiences with the unbridled enthusiasm and joy that has become the hallmark of our organization.
In terms of in-reach, we are not specifically trying to get people to come to concert halls.
I feel that the club is a suitable alternative that meets the desires of the alternative audience that is out there who has yet to realize, or has recently realized, how much they like classical music!
There's nothing inherently wrong with the concert hall setting, except that the institutions have a tendency to create an alienating effect between musicians and audiences (and management!).
We're trying to put on concerts of great music with low overhead and high impact, reaching the audience on their own terms / level, and creating new connections that will continue to bear fruit over the years.
There are many young musicians working in these areas right now. I feel that the DIY approach has become necessary because there are so many super-talented young musicians continuing to come out of conservatories with fewer and fewer opportunities to perform in the more traditional institutions.
I know at least 2 people (who happen to be Classical Revolution directors in their home cities) who are currently working on dissertations focused on the topic of presenting classical music in alternative venues.
Other posts in this series:
"Breaking the mold" (about Ad Hoc, a chamber ensemble that describes its performances as jams)
"Mavericks nominations" (the first group of readers' suggestions)
"More Mavericks" (more readers' suggestions)
"Path-breaking piano curriculum" (about a truly astounding program at a Canadian university)
"We personalize what music is" (about the River Oaks Chamber Orchestra, which is breaking 
"A lot of mavericks" (final nominations from readers — who suggested more than 50 people and groups)
"Final mavericks — Jade Simmons and a Go-Go symphony" (final only for 2012, because we'll resume this in 2013)
 "Still more mavericks" (resuming in 2013, with marvelous things from two major institutions, the Toronto Symphony and the Orchestra of the Age of Enlightenment)