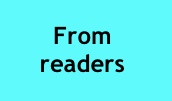 Many suggestions for maverick classical music people and groups — which I asked for in a recent post  —  have come in, via blog comments, email, Facebook, and Twitter.
I asked for "nominations," actually, which now I regret. Did I really think I was going to vet all suggestions, and then pick some of them? No way! I'll just pass on all suggestions. And I'll have some of my own, like Ad Hoc, the Rochester chamber ensemble I blogged about, or Jade Simmons, or the River Oaks Chamber Orchestra (ROCO) in Houston, or… (more to come).
Jade and ROCO in fact were named by others. (Well, ROCO was named by its founder, but why not?) Here's some of what came in. More in a future post.
So here's some of what came in:
From M. Figg, in a blog comment:
Greg, period instrument ensemble L'Académie here in Boston does really smart, "sexy" programming with an emphasis on the French Baroque. Their website speaks volumes [it's a good one, says Greg], as does their choice of venues (please see here).
(L'academie was seconded on Twitter by Leslie Kwan, their General Director, who tweeted: "no Baroque org was performing this rep in a bar, specifically baroque opera. People stick w/churches."
And Leslie suggested (le) Poisson Rouge, the famous club in New York that presents classical music, along with nonclassical stuff.  Their motto (see their website) is "serving art and alcohol."
 Fram Shawn P. Keith:
While not a part of classical music in the same sense you speak of, Bradley Gawthrop (son of composer/musician Daniel Gawthrop) is a pipe organ builder in TN with some excellent ideas for getting our industry out of its doldrums, where we have been mired for a great many years.
(I'd see he's just as much part of classical music as anyone else we might name! Change comes from many places, the more — and more varied — the better. I'd love to know more about Gawthrop. Shawn provides this Facebook link.)
Marc Feldman, General Director of Orchestre Symphonique de Bretagne suggests the Oakland East Bay Symphony, strongly led by its long-time music director, Michael Morgan:
I'm sure you know these guys well. They are not necessarily changing things by turning the industry on its head, but Michael has done a tremendously innovative job connecting a community to an orchestra in the shadow of MTT and the SFO. For me, this orchestra exemplifies how to do diverse and interesting programming that reflects their particular place. They've done it over a long period, with all stakeholders at the table.
(I served on a funding panel years ago with Michael, and thought he was a wonderful spirit. Smart, constructive, strong, funny. He's in a perfect place to do something special — an African-American music director in an African-American majority city.)
And — last one today — Caitlin Vincent names her own group, The Figaro Project, which does opera in new ways in Baltimore:
I'd like to nominate The Figaro Project (www.thefigaroproject.com) as a classical music maverick.  I admit there's a bit of a conflict of interest (I am FP's Artistic Director), but I truly believe we are unique among opera companies in the US.
I founded The Figaro Project immediately after I graduated from Peabody in June 2009, shortly after the recession caused arts funding to plummet and the Baltimore Opera declared bankruptcy.  Instead of waiting for arts funding to recover and companies to start hiring again, I decided to take matters into my own hands: I wrote a new adaptation of Mozart's Le nozze di Figaro called "The Figaro Project," recruited several of my Peabody classmates to perfom, and produced the show in May 2010 for less than $1,200.
It wasn't until after this first production that I realized we had inadvertently created a new kind of opera company: a "troupe" of artists dedicated to presenting innovative productions in accessible and affordable ways.  Now, three seasons later, The Figaro Project has a roster of 20 singers, instrumentalists, conductors, and composers, all of whom are dedicated to FP's mission and donate their time and talents for the opportunity to perform with us.
 Our seasons alternate between adaptations of tradition repertoire (such as last season's Who Killed Don Giovanni?; check out our youtube trailer: http://www.youtube.com/watch?v=9COJbH9PrSg), and contemporary opera, such as 2011's Contemporary Opera Trio, which featured three new one-act operas written by Baltimore composers.  Our upcoming mainstage production for May 2013 is Camelot Requiem, a world-premiere opera written by composer Joshua Bornfield and myself in honor of the 50th anniversary of the assassination of President John F. Kennedy.
(No conflict of interest, Caitlin — why shouldn't you promote yourself? And what a wonderfully entrepreneurial project this is. Hope I can get to Baltimore to see some of what they do. And maybe Caitlin and I can meet sometime in DC.)
That's' all for now. I've gotten many suggestions, maybe 30 by now. I'll put them all in the blog, but not all at once. Thanks, everyone, and forgive me if I haven't yet answered those of you who emailed me. I've had a heavy travel schedule, and email triage set in. I'm grateful for every idea I've received.
***
Other posts in this series:
"Breaking the mold" (about Ad Hoc, a chamber ensemble that describes its performances as jams)
"More Mavericks" (more readers' suggestions)
"Path-breaking piano curriculum"(about a truly astounding program at a Canadian university)
"Mavericks — continuing" (still more from readers)
"We personalize what music is" (about the River Oaks Chamber Orchestra, which is breaking 
"A lot of mavericks" (final nominations from readers — who suggested more than 50 people and groups)
"Final mavericks — Jade Simmons and a Go-Go symphony" (final only for 2012, because we'll resume this in 2013)
"Still more mavericks" (resuming in 2013, with marvelous things from two major institutions, the Toronto Symphony and the Orchestra of the Age of Enlightenment)