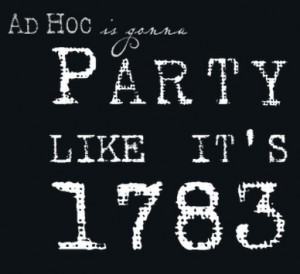 I want to talk about people in classical music who break the mold. Leave the classical music business far behind, and do things in new ways. New ways that work!
Here's my first nomination: Ad Hoc, in Rochester, NY, which on its website calls itself "an ephemeral chamber ensemble." Though after more than a dozen performances, they've got some staying power.
Here's how they describe themselves:
You enter a beautiful hall — acoustically perfect — where musicians are getting ready to rehearse. You hear the noise of individual warm-ups for a few minutes until the the tuning note sounds. The room quiets. They take a familiar, collective breath — just a second of silence before sound pours from the stage. They start to play, and it's effortless, like they've done this a million times. There are dozens of rehearsals ahead of them. The concert has been planned for months. By the time that night comes, they will have prepared an impeccably polished performance. The lights in the hall will dim, the audience will take their seats, and everything will go as planned…
That's not us.
And instead of wishing that it were, we celebrate the edge and energy that come with limited resources. We schlep our own music stands, print our own programs, and play on tight schedules and short notice. We don't have a performance hall. We rarely play with the same people twice. Our performances come together at the last minute, so they feel a little more like jams than concerts. We think that's an exciting, interesting way to make music – and it's a lot of fun.
And, on top of that — they tell their audience how little they've rehearsed! And who in the group might be sightreading, because they're replacing someone who at the last movement got a gig that paid too much to turn down.
It's worth browsing their website to see what they play, and how they present themselves. How their concerts sometimes feature visual art. How they had a contest for kids — kids wrote stories, they picked a couple as winners, and had composers set them to music.
For next year they have some terrific concert ideas, which I hope they'll let me share.
Full disclosure — I'm on their advisory board. But I was asked to join it just recently, long after I'd given them enthusiastic support, in emails and a visit with their founder and conductor, Rebecca Smithorn. And in a blog post I wrote early this year, where you can read a message Rebecca sent me, which will tell you more about what they do.
I'd known Rebecca for years at that point, again through email, with one meeting in person. She's one of many people I know — and whose terrific work I know — because of this blog. Part of the community my blog seems to define. Makes me happy when I see it grow! It's a community defined by nothing more than an urge to change classical music, to bring it into the present day, to see it reborn. And of course that means it's a community defined by much more than my blog, but the blog seems to bring large parts of it together.
Shortly I'll post a nomination from someone in this community, who names another mold-breaker we should celebrate. 
If you've got someone, or want to name yourself, let me know!
***
Other posts in this series:
"Mavericks nominations" (the first group of readers' suggestions)
"More Mavericks" (more readers' suggestions)
"Path-breaking piano curriculum"(about a truly astounding program at a Canadian university)
"Mavericks — continuing" (still more from readers)
"We personalize what music is" (about the River Oaks Chamber Orchestra, which is breaking 
"A lot of mavericks" (final nominations from readers — who suggested more than 50 people and groups)
"Final mavericks — Jade Simmons and a Go-Go symphony" (final only for 2012, because we'll resume this in 2013)
"Still more mavericks" (resuming in 2013, with marvelous things from two major institutions, the Toronto Symphony and the Orchestra of the Age of Enlightenment)