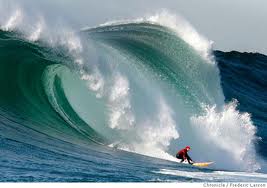 Here I want to offer a radical idea: That all of us in classical music should get out of the classical music business. As I stressed at the end of my last post, this doesn't mean we should stop doing classical music. It means we should think about it differently.
Here's an example. Someone I know, a veteran arts professional with a sterling resume (among other things, he ran one of the leading performing arts institutions in the US), emailed me about something he found dismaying at the New York Philharmonic. Alan Gilbert was about to conduct a new piece, and had what my correspondent thought was a marvelously engaging conversation on stage with the composer. During the concert, not before.
When they finished talking, my correspondent naturally thought that he'd now hear the piece. But no! Alan and the composer walked offstage, and the concertmaster stood to lead the orchestra in tuning. Only after that did Alan come back onstage to conduct. Momentum gone, moment ruined.
So let me ask you: If we thought we were in the performance business, or in the art business, or in the creating depth and excitement for our audience business — if we conceived of ourselves in any of those ways (or many more that any of us could think of), would such a thing be allowed to happen?
No way! We'd understand that a terrific onstage conversation makes people eager to hear the piece, and we'd dive right into the music.
But no. We think we're in the classical music business, or the orchestra business, and in those businesses, that's not how things are done. We don't think of what makes sense for art, or music, or for our audience. Or even for our own involvement. We just repeat all our rituals.
I'm exaggerating a bit for effect. Of course there's a middle ground, where most of life (in all areas) happens. A little of this, a little of that, mixtures of opposites. And so it is in classical music.
But we have too many rituals, too many stiffnesses, too many things that don't make sense. Which is why I say we should get out of the classical music business, or, maybe a better way to put it, drive the classical music business (and all its rules and expectations) out of our thinking. We should think of ourselves as doing something else — playing or singing or composing classical music, yes, for sure, but doing it in the service of art, creativity, performance, human interaction, communication, whatever. And we should put those things first.
I'm influenced here by something I read in an arousing business book, Mavericks at Work: Why the Most Original Minds in Business Win, by William C. Taylor and Polly G. LaBarre. Like all business books more than a few years old (this one was published in 2006), some things seem a little quaint. Inevitably there are companies (Netflix and Yahoo, to name two which are praised in this book) that later ran into trouble the authors couldn't foresee.
But still this book hit me like a powerful ocean wave. So many new ways of doing business, from wildly successful companies, almost none of which we see in classical music. That's the subject for a future blog post.
But what stuck with me and led to what I'm writing now was something about Southwest Airlines. Its CEO is quoted as saying that he doesn't think he was in the air travel business. Instead, he was in the freedom business. Meaning that he wanted to empower his customers, his passengers, finding ways to make them feel comfortable, unimpeded, to make air travel easy.
And, just as much, he wanted to empower his employees, make them feel free to act on their own in the best interest of the passengers. Hence the famous Southwest practice — is it still in place? — of giving all employees power to spend up to $1000 at any time, purely on their own initiative, to resolve any customer's problem.
If someone can rethink an airline, why can't we rethink an orchestra? Or an opera company? Or anything in classical music? The old ways are dying, losing their audience, their vitality, even their appeal for many classical musicians. (By now surely a majority of younger ones.) How do we replace them? Let's get ourselves out of the classical music mindset — out of the classical music business.
And let's instead think of some other business we want to think of ourselves as being in, something that will let us play/sing/compose classical music with real power and freedom. And by doing that draw in an excited, smart, artistic new audience.
A wonderful quote from someone I was talking to, yet another person with a tremendously distinguished resumé: "We have powerful, vital music. But we keep it in a cage."