The hurricane is on my mind — the devastation in NY and NJ, which (though this is a minor part of it) hits me, even while I'm safe in Washington. I go to NY weekly, and my normal transportation (for a three-pronged trip, between DC, NY, and my home in Warwick, NY) just isn't available. I'll cope, while my heart goes out to people whose problems are much worse.
And meanwhile…
One problem we have, when we try to imagine the future of classical music, is that we don't know enough about its past. Take something that ought to be simple — the age of the classical music audience. I'd always assumed, like many other people, that the audience going back generations had been the age it is now. But then I found studies from the past, showing that in fact the audience used to be much younger. And I realized there was endless anecdotal evidence pointing the same way.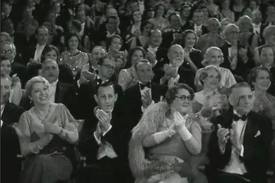 You can find my work on that here. But there's so much else we don't know. Take, for instance, the idea that applause should come only after the end of a piece, and never after each movement. We're starting to change our view of this, but where did the idea come from? When did we embrace it?
It's easy to see that the prohibition has to be, in historical terms, fairly recent, since we know that people applauded during the music during the 18th and some of the 19th century, and that they even talked while music was performed. But when did we stop applauding between movements? A famous scene in E.M Forster's 1904 novel Howard's End shows — as well as a very young audience — people applauding between movements without a thought that this might be wrong.
So the prohibition came in after 1904. Richard Schickcl, in his 1960 book The World of Carnegie Hall, says very briefly that the rule didn't become more or less universal until the 1950s. When I read that, I wondered where he got that — most likely from his own observation, I thought, but I wanted to know more.
Finally i've found more data. It's from a 1951 book by John H. Mueller, The American Symphony Orchestra: A Social History of Musical Taste. I've found that old books on classical music can open a window on times so different from ours that we might be in another universe. And here, on page 357, Mueller tells us about when people applauded:
The growing tendency to consider a symphony as one continuous number, which should not be interrupted by applause, first became a matter of editorial comment in American musical journalism about 1925. Some conductors, notably Stokowski, Toscanini, and Koussevitzky during the thirties, aroused controversy by their insistence on abolishing such interim applause. These new manners have not yet found complete acceptance among all audiences, and listeners are frequently beset by uncertainty unless the gestures of the conductor at the close of a movement are unambiguous.
The contemporary public objection most commonly heard is that the uninterrupted symphony is a pretty long endurance test. This is balanced by the conductor's claim that applause breaks the spell and snaps the continuity of an integrated whole. It should be observed that intermediary applause has long been deteriorating into the merely perfunctory. In the nineteenth century individual movements were considered units in themselves, individually applauded and individually encored. But in more recent times, no audience has considered the pause between movements as anything more than minor punctuation marks; applause at this point has become a vestigial convention without much meaning, often downright embarrassing in its listlessness. The conductors who wish to eliminate it are only pruning what has already withered away.
That seems entirely convincing. Not applauding after each movement became a subject of discussion in the 1920s, and in 1951 seemed on its way to becoming the general rule, though it hadn't yet been fully enforced.
Knowing these things, I think, frees us. If we know how classical music has changed in the past, we'll more easily see how much it can change in the future. Mueller's picture — of an audience thinking it ought to applaud at the end of each movement, but not fully sure that was right — is worth its weight in gold.