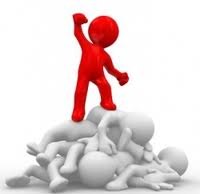 Don't believe anyone who tells you not to be your own artistic self.
That follows from the third of my four keys to the future, "Be yourself." I explained this in terms of pandering:
Your urgency, your joy, and your passion will draw people to you. But you can't be joyful if you don't love the music that you perform. So never pander. Never struggle to be relevant. Perform music that makes your heart sing. Trust your new audience. Trust it to be smart, to be curious, and to respond with joy when it sees how joyful you are.
And that's true. But there's more. Your urgency, joy, and passion won't reach other people if they're not really yours. If they don't come from your deepest place, if when you present yourself to an audience you're not doing exactly what you want.
This is crucial in classical music, because we're not told to be ourselves. We're told that doing what the composer wants is the most important thing a classical musician can do. We're given prohibitions in music school — play this way, not that way. Don't move while you play. Don't call attention to yourself. It's about the music, not you. Play in a restrained style. Don't emote. One of my Juilliard students wrote a paper about the times she can't be herself when she plays — at orchestra auditions, at school juries, at any performance her teacher attends. Which says volumes about what many of us learn at music school.
But one of the best things I've read about being ourselves comes from the inimitable Jade Simmons, in her blog "Emerge Already." It's a post called "Are You a Victim of Artistic Identity Theft?" Who can steal your artistic identity?
People who want you to play mainly standard classical rep, rather than other music that might speak to you more.
Your manager, who wants you to be just one thing, and can't figure out what to do if you're multifaceted.
Anyone who wants you to play classical music the way it's always been played. Or the way they think it's always been played.
Follow the link, and read Jade's post. I assign it in my Juilliard course on the future of classical music and in my branding workshops. But there's one part I want to quote here. It's the priceless (in both senses of the word) bit about a manager:
I once had a manager ask me, "Well, what do we tell presenters when they ask us if you're a pianist, or a spokesperson, a fashion plate, or a writer or a webhost?" He was worried my "extras" would cast doubt on my "main." I say, tell them they're getting a freakin' amazing package deal!
I've quoted that last line many times. And it led to a revelation in one of my branding workshops, as you'll see in my next post about being ourselves.