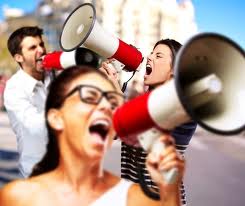 Here I'll expand just a little on the second of my four keys to the future (which I offered in an earlier post): "Work actively to find your [new] audience."
What this means, specifically, is that it's not enough to do what was done in the 20th century, to advertise your concerts, or put up flyers and posters. Or even to jump into our new century, and send out email or put videos on YouTube. Or start a blog, make a website, or create a Facebook page.
The new audience we want to find isn't a classical music audience. The people in it don't, at the moment, care much about classical music. So they won't look at advertisements, and if they do, they won't respond to them. They won't be persuaded by posters, assuming they see them. They'll delete your email, won't see your videos, won't read your blog, and won't go to your website or your Facebook page. They won't follow you on Twitter.
So how do you find them? You look for them actively. At a college, for instance, you might do what students in the University of Maryland orchestra did last year: Organize themselves into dorm committees, to promote their concerts directly to the students they live in dorms with. Last year they doubled the size of their audience by doing that. I was knocked out. In previous years, I'd go to their concerts, and see half-full houses, made up of contented older people. Last year, I saw full houses, full of vibrant, excited students. (I've blogged about this before, in much more detail.)
Others at universities have attracted new audiences, by reaching out to people they know.
But what if you're not at a school? Suppose you're a string quartet, in an urban area. You might look for restaurants to play in, maybe for special events. I know a musician who's done this, and now, looking to promote some projects she loves, could contact people she's met at the restaurant where she's played, or see if the owners might be willing to work with her, to make her project in some ways a joint endeavor.
Where else could you play? Art galleries. Coffeehouses. Clubs. Boutiques. You have to be flexible. Could you open for a band you know? Could one of your members play at a bookstore? Could you stage a guerrilla event, showing up unexpectedly somewhere, and playing?
Could you do what Bang on a Can did, when they got started, and pass out flyers for your concerts at  gatherings of possibly sympathetic people, at theater and dance performances, at clubs where interesting bands play? The point not being the flyers, but the personal contact. The flyers then serve as a reminder, for the people you talk to.
Can you play music for theater productions, dance performances, art installations? Have actors, dancers, comedians take part in your concerts? Or musicians who play other kinds of music? (You'll figure out many ways they could do that.) Can you combine your concerts with literary readings? Can you get involved in social causes, charitable events, both as musicians and simply as people?
Or let's say you're simply a string quartet, just want to play your repertoire, aren't inclined (though you have nothing against other people doing it) to get involved with dance or theater or comix or performance art or clubs or coffeehouses. Can you find one place to play — a storefront, maybe, in an area full of art galleries and nightlife — and play there regularly, week in and week out? Till people come to know you, say hello when you come down the street toward your performing space, come to your concerts out of curiosity, then interest, then friendship?
And as you do all these things — and more things that I don't have the imagination to think of — you gather names. Names of people who take even a casual interest, or simply are curious. You keep in touch with these people, regularly, in interesting ways, giving them things to think about, music to hear (not necessarily always your own), things to join you in. Writing liner notes for your recording, making videos of your performances, and of your rehearsals. Baking cookies to serve at your concerts, designing your website, making graphics for it, and for your flyers and posters. Form an online street gang (as some people have called it), a group of people committed to promoting you and your events to their friends, families, social networks. Raise money to pay for your recordings before they're made. Pop musicians have done many of these things successfully.
Now you have an active audience. Even at an early stage, you'll have the beginnings of one. Now you have people who will read your blog, will go to your website, will watch your YouTube videos. And who, if they see flyers or posters for your events, will happily smile, because they know you. And once more be reminded that your performance is tomorrow night.
All this, of course, is just a start. Once you've begun it, how can it grow? You perform in a club. You make friends, but no money. Can you make enough friends to move to a larger club, where you might make some money? Or enough friends to perform in a small theater? To perform in a theater not just once, but each Friday for a month, or for a four-night run? Enough friends to make your recordings at least a little bit profitable? Enough friends to by merchandise you make available, and buy enough of it to pay you reasonably well?
These things aren't impossible. I'd love to know who in classical music has done them. Or would like my help in trying.