So why does Lincoln Center's White Light festival matter? I mentioned it in my last new audience post, and listed next season's programs:
U.S. premiere of Rian, performed by Ireland's Fabulous Beast Dance Theatre
 Virtuoso Wang Li plays jaw harps and calabash flute
N.Y. premiere of choreographer Akram Khan's Vertical Road
Cameron Carpenter plays Bach on the Alice Tully Hall organ
Mahler's Das Lied von der Erde, arranged for chamber orchestra, conducted by Matthias Pintscher, and  performed by pianist Emanuel Ax, members of the New York Philharmonic, mezzo-soprano Tamara Mumford and tenor Russell Thomas
Cosmic Pulses, all–Stockhausen program, performed by percussionist Stuart Gerber and sound projectionist Joe Drew
U.S. debut of the Latvian Radio Choir
Mary Chapin Carpenter sings from her new album, Ashes and Roses
Heiner Goebbels' music/theater work I went to the house but did not enter featuring the Hilliard Ensemble
Esa-Pekka Salonen leads Philharmonia Orchestra in Mahler's Symphony No. 9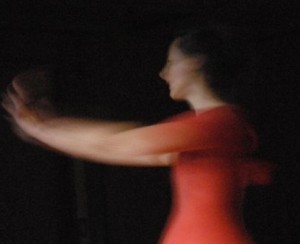 So here we have classical music, old and new, mixed with world music, theater, dance, and pop. The thread tying it all together is spirituality. And what Lincoln Center has done, with this focus, is bring in an audience (a segment, I'd guess, of the Next Wave audience at the Brooklyn Academy of Music) interested in art, and happy to go to classical music events because they're part of the festival.
Something similar happened a couple of years ago with Lincoln Center's Tully Scope festival, which was only music, of many varied kinds. I went to one of the events, and heard a Heiner Goebbels evening (current classical music),  played for a fairly full house of people  — and this wasn't just my own view — who clearly weren't the standard classical audience, or the standard new music audience. Lincoln Center had found an audience eager to come to whatever the festival offered — Goebbels, Emanuel Ax playing Schubert,  Xenakis, Tyondai Braxton playing out-there rock with a classical orchestra.
And, as I've written before, there have been many events in New York that draw a non-classical audience to new classical music — the Bang on a Can marathon, a big Wordless Music orchestral concert. And  yes, the Wordless Music concert featured a piece by Jonny Greenwood, the Radiohead guitarist, and that was clearly the draw. But it was a piece any classical group should have been proud to play, a piece whose ancestry lay far more with the texture music of composers like Penderecki than with rock. (As you can hear on the Nonesuch album pairing Greenwood with Penderecki himself. (Here's a Spotify link if you'd like to hear it.)
The lesson for us here? That if you create an event — something that feels like more than the usual classical concert — people open to adventurous culture may well come, whether or not they normally go to classical performances.
And it doesn't only work in New York. In Sakatoon, Saskatchewan, Lia Pas founded the Mysterium Choir, which for two years presented concerts of spiritual music, including pieces by Meredith Monk and Pauline Oliveros. She told me she drew more people than the Saskatoon chamber music series.
(The graphic I've used here comes from her website.)