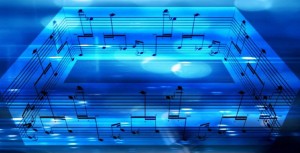 As I wrote in my last post (at greater length):
I'm not saying that every moment in every classical performance has to be new and eclectic. I'd expect a wide-ranging mix. All-Schubert one night, Les Noces the next weekend, Shuffle.Play.Listen midweek, and then a student-crafted concert happening down the street. Then a Stockhausen retrospective, and then my friend Stewart Goodyear playing his Beethoven marathon, all the sonatas in a single day. 
That said, here are more examples of what can be done. Of what has been done. I label some of my email "Signs of the times," for announcements  about new departures in classical music (or else examples of the old ways dying on the vine).
(And, really, I should have called it Sign 'O' the Times, after the Prince album.) 
Here are four announcements all of which — so you'll see how frequent these are — came in between June 6 and June 12:
Blind Ear Music (a concert series in New York):
Mendelssohn: String Quartet in A minor, Op. 13
Haydn: String Quartet (as determined by audience's text-to-vote poll results)
Attacca Quartet
Reifsteck: Questions Unanswered
Ciupinski: Drop Zone
Spinei: Pick Up
Cadillac Moon Ensemble
Ciupinski: Marathon
Flutronix
Reifsteck: Inwood Hill Park
Flutronix and Attacca Quartet
(with real-time composer and audience collaboration)
"The first half of the concert is traditional-with a twist. After a conventional performance of Mendelssohn's String Quartet in A minor, Op. 13, the Attacca Quartet will play the themes from four Haydn String Quartets. Just as television viewers vote for their favorite contestant on American Idol, the concert audience will use their cell phones to vote for the Haydn work they want the Attaccas to perform in its entirety.
[About the composer/audience collaboration:]
"Short musical phrases are composed and assembled by Blind Ear composers Adam Reifsteck, Cristina Spinei [one of my Juilliard students from a few years ago], and Jakub Ciupinski beforehand in Blind Ear's performance software and a network of Wi-Fi-connected laptop computers that replace traditional music stands. As the music is being performed, the audience influences the composer's musical decisions by sending text messages to vote on various compositional parameters such as tempo, complexity, mood, and dynamics. The result is that the audience gets to contribute to the sound of the composition in real-time. For more information, please visit www.adamreifsteck.com and www.blindearmusic.com.
[The graphic above comes from Blind Ear's email.]
Richard Reed Parry and Warhol Dervish at Ottawa Chamberfest (part of their "chamber fringe" late night programming):
"The concert will feature a performance of Parry's Music for Heart and Breath, an avant-garde composition cycle that requires musicians to wear stethoscopes during the performance as they play in synch with their own individual heartbeats and breathing. The compositions were commissioned and previously performed by Kronos Quartet, Kitchener-Waterloo Symphony and Y Music ensemble. [Note the performance history of this piece — very respectable.]
"The idea for their Chamberfest collaboration took shape in 2011 in Montreal, while Warhol Dervish was contemplating its programme for Innovations en concert, a new chamber music concert directed by Cassandra Miller. Parry and Warhol Dervish founder Pemi Paull met in the early 1990s at Canterbury High School in Ottawa.
"'Cassandra played a recording from Music for Heart and Breath and suggested that we consider performing it,' says Paull. 'It was a wondrous, beautiful work. For me, the Canterbury connection added a personal dimension that was impossible to ignore.'"
[Excellent plan, to have a chamber music festival, and then add a fringe, with new things going on. A fine transitional strategy, addressing both an old and new audience.]
Christian Marclay, The Clock, a video installation at Lincoln Center's David Rubenstein Atrium:
"In his epic video installation, The Clock, artist/musician Christian Marclay draws attention to time as a multifaceted protagonist of cinematic narrative. Using a range of timepieces, from clock towers to wristwatches, buzzing alarm clocks to the occasional cuckoo, Marclay samples thousands of film excerpts to indicate the passage of time.  The installation is constructed from a spectacular variety of periods, contexts and genres, representing a veritable 100-year history of cinema—bank heists, chase scenes, emergency rooms, shootouts, silent comedies, detective dramas, and more. With virtuosic skill, the artist has excerpted each of these moments of image and sound from their original contexts and edited them together to form a 24-hour montage, which unfolds in real time, synchronized with the local time of the exhibition space.  The Clock received the 2011 Golden Lion award for best art work at the Venice Biennale. For more information about the artist visit: paulacoopergallery.com/artists/CM."
[Again note the history, the award from Venice. This is serious stuff. And it's offered by a performing arts institution, helping them position themselves — alongside their traditional offerings — as a place for new art. Which, in the performances they present, they in fact are. Every performing arts institution should think about opening itself, in some way, to advanced art (as we've just seen the Ottawa Chamberfest do). People outside the classical audience are into the advanced stuff. Just look at the arts coverage in the New York Times and the Washington Post: story after story about installation art and performance art.)
[Christian Marclay, by the way, began as a musician. I used to review him doing live performances with turntables, early in the '80s before many people in the arts knew that rap DJs were also using turntables to do new things.]
Lincoln Center's White Light Festival, happening in October and November: 
Here are highlights from the programming:
U.S. premiere of Rian, performed by Ireland's Fabulous Beast Dance Theatre
 Virtuoso Wang Li plays jaw harps and calabash flute
N.Y. premiere of choreographer Akram Khan's Vertical Road
Cameron Carpenter plays Bach on the Alice Tully Hall organ
Mahler's Das Lied von der Erde, arranged for chamber orchestra, conducted by Matthias Pintscher, and  performed by pianist Emanuel Ax, members of the New York Philharmonic, mezzo-soprano Tamara Mumford and tenor Russell Thomas
Cosmic Pulses, all–Stockhausen program, performed by percussionist Stuart Gerber and sound projectionist Joe Drew
U.S. debut of the Latvian Radio Choir
Mary Chapin Carpenter sings from her new album, Ashes and Roses
Heiner Goebbels' music/theater work I went to the house but did not enter featuring the Hilliard Ensemble
Esa-Pekka Salonen leads Philharmonia Orchestra in Mahler's Symphony No. 9
I'll talk more about this one in my next post. And yes, three of my four examples today come from New York, so people may be quick to say that programming like this isn't possible elsewhere. But one example comes from Ottawa. And in fact things like this can be (and are) done almost everywhere, a point I'll address periodically. (It's come up a lot in comments.)