One more thought about changing/expanding the classical repertoire, because our culture has changed, and people have new ideas about music. Have had those ideas, in fact, for quite a while.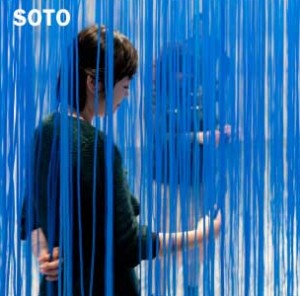 So I want to suggest that classical music people — even those in the most mainstream classical music institutions — should perform music that's far outside the normal notions of classical music. This is music that might be compared to installation and performance art,  work which (as I've noted before) is huge in the art world, is shown in major museums, and is strongly featured in major media. (The links take you to some Washington, DC examples. One is the Hirschhorn Museum's website, where you can see what they're offering, including the show the graphic I'm using illustrates. The other is the Washington Post's explication of a giant outdoor Hirschhorn installation, one that got giant press, and was much talked about in this town.)
So I'm going to suggest that orchestras,  for instance, think of programming John Cage's famous silent piece, 4'33", or pieces by Pauline Oliveros, in which the audience hums and sings. Or Stockhausen's Stimmung, where six singers sit in a circle and chant overtones of B flat. Or Alvin Lucier's I am sitting in a room, in which a series of recordings gorgeously reveal the acoustic color of the space you're in.
To which some people surely will reply: Orchestras? Why should orchestras (or chamber music groups, or opera companies) do these things? These pieces aren't orchestra works (or chamber pieces, or operas). That's not what our mission is!
But you have a larger mission, which is to represent classical music in your community, and to foster it. You may think, "We're an orchestra, so everyone understands we play orchestral music." But you're wrong. Part of your job — an essential part, in the coming years — will be to reach people who currently don't care much about classical music, and (a crucial thing to understand) they don't think of you the way you think of yourself. Yes, they see you play orchestral works, and that's what they — without thinking very much about it — expect from you.
But even more than that, they see you as a prominent — maybe, in your community, the most prominent — example of classical music. So what you do is what they think classical music is. To attract them, you'll have to function as part of their culture, as a contemporary art form. To do that, you have to offer music that stretches as far as other arts do, and as far as popular culture does. And you won't be doing that if mostly what you do is play familiar masterworks for your existing, conservative audience.
I see that this post is running long, so I'm going to stop here, and continue tomorrow. After I get this post about programming done (and one more, very short one), I'll move on to what might be my most controversial suggestion — that we have to play the standard works more vividly.