So now it's time for a post about what kind of classical music a new audience might like. Which means an audience younger than the one we have now, and one that's native to our changed culture, which (as I've noted in my last few posts) classical music hasn't kept up with.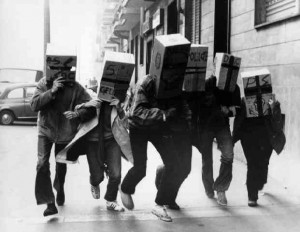 We have to think about this, because the audience we have now won't be replaced by another one like it, by another audience that accepts the old view of what classical music is. Or at least there won't be another old-style audience nearly as large as the current one.
But I made one careless statement, when (a few posts ago) I told  a story about a former girlfriend of mine, not a classical music fan, who asked — when I put on a Handel record — why classical music wasn't more noir. And when I replaced Handel with Berg's 12-tone Lulu Suite, said, "Yes, why doesn't more classical music sound like that?"
I drew two conclusions from this, first that the new audience won't be afraid of atonal music, and second, more radically, that this audience might demand atonal music. That second statement was careless. What I should have said is that the new audience is going to want classical music that sounds like it comes from our current culture. Or at least it will, if it's going to embrace classical music as living art, and not just as something delightfully quaint (though in its own way cool).
Music from our current culture might be atonal (in film scores, for instance). And, atonal or not, it's likely to be more dissonant than most of the classical masterworks, simply because harmony in all kinds of music today is mostly more dissonant, whether it's two-fisted piano chords in jazz, added seconds or major sevenths when a cocktail pianist plays old pop standards, or clashing overtones that give three-chord rock an overlay of jangling noise.
But most of our music isn't atonal, of course. And here it's important to note that a new audience might not respond to a lot of what gets labelled as "contemporary music" inside the classical world. That's because — as someone said in a comment to an earlier post — a lot of it feels like it comes from the classical concert hall.
Or, to put this differently, it grows from a classical music culture that — as a whole — doesn't without many roots in contemporary life. So even if a piece was written yesterday, it might strike no more sparks in our wider culture than Mozart does. Or, really, it might strike fewer sparks! Because Mozart has a place in our wider culture. More or less everyone knows he existed, knows he was a genius (and may know various true or false things about him from Amadeus), and on hearing his work can, at the very least, say, "That's classical music."
Whereas people like Matthias Pintscher or Magnus Lindberg — or even someone more amiable, like Christopher Rouse — stir just about no recognition at all, either from their names or from the sound of their music (though maybe, at times, something they write might make someone think of a film score).
The moral of this? Simply playing new classical music isn't the answer. It may not attract a new audience. It's part of the answer, but the full solution has to be far more diverse.
Next: Why Pierre Boulez is a poster child for this problem. We talk about him as if his serial scores broke new paths in the culture of their time. But almost nobody heard them, while the French artists making real waves on the avant-garde — and shaking French and world culture — were filmmakers, Truffaut and Godard.