Well, proof is a strong word. But I'd think that the aging of the classical music audience — over just about a 50-year period — is a very strong sign that our culture has shifted. And shifted away from classical music.
But first a step backward. I'm writing more posts in my current series than I expected to. So to get reoriented: My main thesis is that building a new, young audience for classical music ought to be our most urgent priority. Why? Because we're losing the audience we have, and there will never be another audience — or at least not one nearly as big as the current one — that will embrace classical music as we present it now. 
To find that new young audience, we'll have to make big changes. To quote what I wrote earlier, we have to: (1) change the way we present classical music (2) change the repertoire we play, and (3) play our music more vividly. (Earlier, I said "play better," but that's not accurate, and gave the wrong impression that I think we play badly.)
If you follow the link, you'll find quite a lot on the changes we have to make in our presentation. And, no, they don't involve concert enhancements, like (for instance) changing the lighting in the hall when the mood of the music changes. Instead, we have to change the way a concert feels, so that people who come feel welcomed, involved, and fully informed about what's happening onstage. 
So, having said all that, now I'm going through the reasons for changing the music we play. They're tied up in the changes we've seen in the culture around us. Scroll back to see a few ways I've addressed this. After this post, I'll go on to the music itself — what, exactly, the repertoire changes might be. 
But about the age of the audience. For many years, most of us thought that the classical audience has always been old.  But that's not the case. Surveys done in past generations — going back to the '60s and earlier — show an audience much younger than the one we have now, an audience with a median age in its thirties. I've collected this data, plus anecdotal evidence, here. (I seem to be the first in our time to discover this data and make it available, for which I'm happy to take credit.)
So here's the true picture. Up through the 1960s, we had an audience no older, roughly speaking, than the population at large. In the '70s, it started to age, and it's been aging ever since. (Though possibly we've chipped away just a bit at that, with energetic programs — special concerts, discount tickets, and the like — to attract younger people.)
In the 1980s, according to data from the National Endowment for the Arts, the percentage of the classical music audience under 30 fell in half. And since then, the attendance of older age groups has also declined, until by 2008 (again according to NEA data) only people 65 and older go to classical performances as often as their counterparts did in the past.
Why would this have happened? Was it (as I know many of us believe) because classical music stopped being taught in our schools? Not likely. The younger people who — unlike their counterparts in earlier decades — so notably didn't go to classical concerts in the '80s, grew up at a time when classical music in fact was still taught. But the teaching didn't make them classical music fans. (If you read Dave Marsh's book, The Second Beatles Album, you'll find a leading rock critic slamming into the music education classes he took as a high school kid in the '60s, finding them repressive and out of touch with the world around him.)
So I think the audience aged because the culture changed. Here are some things that I'm sure we all know, but I'll say them, just to emphasize how great the change was. Even before the '60s, something radical happened: a new generation of white teenagers started listening in the '50s to what essentially was black popular music, otherwise known as rock & roll. We'd never had such an irruption of black culture into the white mainstream. In the '60s, rock (after years in which it sounded more white) took a decisive turn back to its black roots. Along with that came the civil rights movement, bringing all kinds of black ideas, culture, and politics into mainstream culture.
None of this touched classical music in any substantial way. And this is just one of many cultural changes. I recommended, in my last post, a book by Mark Harris called Pictures at a Revolution, which shows how movies changed in the '60s — how, in fact, Hollywood split into old and young factions, and the young factions (influenced by avant-garde films from France) won, changing the movies for ever. Popular culture was becoming art, something we also (of course) saw happen in rock.
So people who grew up in the '60s — and, even more, the two decades after, when the changes dug themselves in deeper — didn't relate to classical music as earlier generations had. It didn't reflect their world.
And they acted on this, by not going to classical concerts. The people 30 and under who stopped going to classical performances in the '80s were born in the '50s and '60s. Which means that — most crucially — they grew up either in the '60s or in the '70s, making them the first generation to come of age after things started to change. They grew up in the emerging new culture.
Now move the clock forward. With each passing decade, the culture changes even more. and younger people move further from classical music (further from its sound, its sensibility, and from the kind of life depicted in the older masterworks). They listen to it even less than their counterparts in previous decades did, and go to fewer classical concerts.
And people a little older also go less than their counterparts in earlier decades. In 1990, people aged 40 to 50 were born between 1940 and 1950, which means they grew up just as the culture was starting to change, at a time when the classical audience still was young. They took to classical music easily, and kept up their interest as they grew older. Which in 1990 made them a strong segment of the classical audience.
But the clock keeps moving. Soon it's 2000. People now in their 20s grew up in an age when the new culture had pretty much taken over. Classical music already had already begun to. They're not going to be in the classical audience, now or later (and in fact, as I've said, haven't been since the '80s). People in their 30s, too, grew up after classical music began to lose its central position in our culture, so they go less often than their earlier counterparts did.
But people 40 to 50? And above? They're still prime classical music lovers, and now form the core of the classical music audience. They're the same people who were 30 to 40 (and above) in 1990, and they're still going to orchestral concerts, opera, chamber music, solo recitals.
Here's a chart I made from NEA data, showing this happening: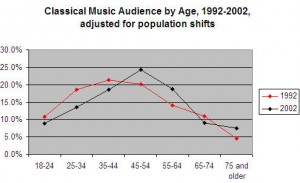 In 1992, the largest age group in the classical music audience was 35 to 44. In 2002, the largest age group is people 45 to 54 — the same people who were the largest age group in 1992, now 10 years older. (I've adjusted the data for shifts in the overall age of the population. So the numbers show not the actual percentage of each age group in 2002, but what the percentage would have been if the number of people in that age group — in the entire population — had stayed the same.)
And thus the audience ages. By 2012, the dominant group should now be 55 to 64.
The key to all this — the most important thing to remember — is that what shapes your relation to classical music isn't how old you are. It's when you were born. If you grew up when younger people naturally turned to classical music, you may well develop an interest, and keep that interest as you grow older. But if you grew up after the culture started to change, you may not develop that interest.
And so, as  the decades pass, the audience gets older and older. And of course that means it shrinks. Some younger people come into it, of course. But there aren't enough of them. There aren't enough to keep the younger segments of the audience as large as they'd been in the past.
We can't roll back the culture change, so the only way to make the audience younger — which we have to do, if we want it still to exist — is to bring the cultural changes into classical music.
Which, as we'll see, will make things smarter, more artistic — certainly more creative — and a lot more fun. Details to come.