(Writing this on Tuesday night.)
Because I have the first session of my next branding workshop tomorrow, I won't have time to write the next installment of my posts about how to build a young audience. Which would be — will be — about how the repertoire we play needs to change.
But here's an addition to yesterday's post about making people feel excited and involved. It's an email I and many others got from Anastasia Tsioulcas, about a project she's part of at NPR, where she works. It speaks for itself, so I'll just reprint it here:
Happy (nearly) summer, everyone!
Ever dream of participating in a world premiere of music by one of the world's most widely beloved and celebrated composers? Here's your big chance: yes, you, you lovely friends & colleagues. (And if you don't want to sing, just come watch.)
To honor the 75th birthday this year of Philip Glass — perhaps the world's most famous contemporary composer — NPR Music has commissioned Glass to create a short choral work that would be great fun for amateur and professional singers alike. Glass' short piece is called The New Rule and features text by the medieval Sufi poet Rumi, translated by Coleman Barks. We're lucky to have one of America's leading choral conductors, Kent Tritle, on hand to conduct. We've teamed up with our friends at WQXR and WNYC, along with the Make Music New York festival and the Times Square Alliance, to make this happen.
We're inviting the public to take part in this event on June 21, which will take place at one of the world's most iconic locations: Times Square. (We'll be at Duffy Square, which is the little northern wedge of Times Square near the TKTS booth & stairs.) We'll be videotaping and recording the performance for an NPR Music Field Recording.
So: Times Square, just around the time you'll be leaving work anyway. And if you want to sing, here's the link to the score: http://www.npr.org/blogs/deceptivecadence/2012/05/11/152517919/come-sing-in-a-philip-glass-world-premiere-in-times-square
You'll be there, right? And tell your friends: the more, the merrier. RSVPs (via the link just above) very much appreciated.
Every classical music institution (and maybe even soloists and ensembles) should be doing things like this. Understanding, of course, that "things like this" covers a lot of ground, and that there's no reason to imitate what NPR has done. Find your own way of getting your community to join you in making music.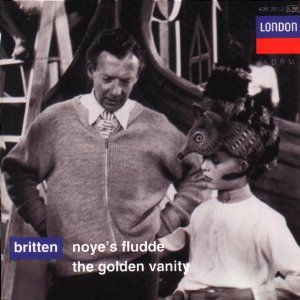 One thought. Benjamin Britten's wonderful opera Noye's Fludde, which tells the story of Noah and the ark, was written for an entire town to perform. Or, anyway, a large number of musical people in a town. Teenage girls play Mrs. Noah's friends (her "gossips"), dozens of kids can be the animals, with the littlest kids playing the smaller ones (squealing "Kyrie eleison" as they march unevenly onto the ark).
The orchestra includes a handbell choir, which British towns would have had in 1957, when the opera was written. There are parts for beginning string players, violinists who only play on the open strings. There are parts for recorders, which many kids back then learned to play. You need a couple of grownup singers, baritone and mezzo, to be Noah and Mrs. Noah, and someone with a fine speaking voice and a decent rhythmic sense to be the Voice of God. But otherwise, it's a piece with a part for just about everyone, including the audience, who join in singing hymns.
(The text, by the way, is a medieval mystery play, hence "fludde" for "flood." I've modernized the names for simplicity's sake.)
It really is a wonderful piece. I played the Voice of God in a production in Boston in the 1960s. (And no, that didn't go to my head; I was a singer then, and wished I'd been chosen to be Noah. I hope my speaking voice was good enough for the role I did play!) And I loved every minute of rehearsals and performances. In the past decade, reencountering the piece on Britten's recording, I loved it just as much.
So there's something an orchestra or opera company could do (if they can find a handbell choir), to involve their community.
Or why not commission a composer to write a new piece that works the same way? With, maybe, some of the local rock bands, instead of a handbell choir. Or however the composer wants to do it. The possibilities are truly endless, and I'm surprised that — in Britten's wake — pieces like Noye's Fludde didn't spring up all over.