Back in the '90s, I was music editor of Entertainment Weekly, which meant I was plunged into pop music. I had a girlfriend who worked at the magazine, someone with no classical music background, and also without any fancy taste in pop music (which I don't mean as any kind of criticism). She listened to what everyone else like her listened to. No art rock, no challenging indie bands. 
One Sunday morning, we were at my apartment, and she asked if I'd put on some classical music. So I put on something Baroque, maybe Handel's Water Music. She listened for a bit, and then asked, "Why isn't classical music more noir?" Referring, of course, to film noir, the dark, morally ambiguous films of the 1940's and '50s that became a touchstone of American culture. So much so, in fact, that "noir" entered our world as a label for anything that shared the films' sensibility.
I took the Baroque music off and put on the Lulu Suite. "You mean like this?" I asked, as the dark, morally ambiguous 12-tone pieces from Berg's opera played. "Yes," she said. "Like that. Why doesn't more classical music sound like that?"
There are two lessons in the story above. First, atonal music holds no terrors for many people who come to classical music from mainstream culture. They're used to its sound (from film scores), and, more important, they're used to its sensibility. They take to it far more readily than the standard classical audience, and — very important — they don't have to be educated to like it. They don't first have to be taught to like Eine Kleine Nachtmusik (let's say), and then take baby steps, one at a time, until they end up liking Berg. It's so much simpler than that. They hear Berg, they like him.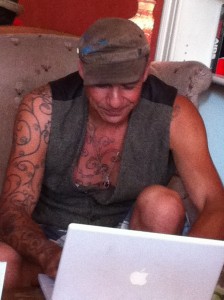 But that's the less important lesson. The more important one is that people from mainstream culture — if they're going to start listening to classical music — might demand atonal sounds. Or, more simply, they might feel something missing if they don't hear them. For Joanna, my '90s girlfriend, Berg sounded completely natural, even though, as she would have been the first to say, she had no taste for sophisticated music. (And — unlike the man in this photo, who was working opposite me in a coffeehouse this week — she had no tattoos.) Berg, to her, sounded like he was part of her culture: the noir part, one strand in the web of things that made her world what it was.
Which means that if classical music downplays sounds like this — if, as she encounters it, it's mostly music of the mellifluous past — then it can't hold her interest long. In a sense, it excludes her, by claiming to be a universal art form, while giving little space to the culture she lives in.
Because of course there's more we don't hear in classical music — or largely don't hear — than film noir. Think of things that have swept through American culture since the 1940s. The beat generation. The sixties. The entire African-American experience. And, of course, rock & roll. And much more. You could go to an entire season of classical concerts, plus operas, and never feel even a breath of these things. Instead, you listen to Schumann, and read program notes about how close Schumann was to Brahms.
Meanwhile, you go to the theater, and see August Wilson plays, tracing black history through many generations. You see Tom Stoppard's Rock 'n' Roll (as I did on Broadway), which is about (among other things) how important rock was to 1960s Czech dissidents. You go to the Museum of Modern Art, and see a retrospective (including concerts) of the art-rock band Kraftwerk. Or a show about how the art world got close to post-punk bands and hiphop during the '80s. (A show I especially loved, because I was part of the downtown art scene in New York, where it all happened.)
Or, again at MOMA, you see a Marina Abramović show, in which she sits motionless, for days, while hundreds of people look at her. And also confront nude people, also standing motionless (and, yes, completely naked) for days. While hundreds and hundreds of people walk by them. Just another day at MOMA, a museum that's one of the important tourist attractions in New York. (Maybe not as much so as the Hard Rock Café, but still — people go there.) Try to find anything like it in classical music.
Or you turn on TV, and on HBO watch The Wire, which for five seasons turned a searing, multiracial light on key American institutions (and how they're linked) — the police, drug dealing, politics, labor unions, the press.
Or you go to the Whitney Museum in New York, and see a show on the beats, complete with the typewriter Jack Kerouac used to write On the Road, a typewriter altered so he could type on a large roll of paper, pouring out streams of words with no need to stop at the end of a page.
Or you go to the Metropolitan Museum of Art website (as I did, a few years ago), and find three shows being touted — Raphael (classic art), Jeff Koons (contemporary art that's been compared to soft porn), and a show from the Met's Costume Institute, tracing the influence of superhero costumes on fashion.  This, in the largest art museum in the US, the one with the largest collection of classic art! (Would the New York Philharmonic do anything similar?)
Here's what they touted on their website when I went to it last week:
Tomás Saraceno, Cloud City: On the Roof [a site-specific installation on the museum's roof)
 Schiaparelli and Prada: Impossible Conversations [a Costume Institute show, exploring the work of two iconic female fashion designers from the 1930s]
The Dawn of Egyptian Art
Ellsworth Kelly, Plant Drawings
Byzantium and Islam: Age of Transition
Designing Nature: The Rinpa Aesthetic in Japanese Art
Two contemporary shows (one an installation, rather than art in any older genre), one show about popular culture, three shows about non-western art — and none featuring the visual art equivalent of the meat and potatoes classical repertoire, by which I mean artists like Rembrandt, Degas, Van Gogh, Rodin, Monet, Picasso, Matisse (we all know the names). The Met has these artists, but the new shows it touts add up, taken together, to a very different cultural world, one that's more current and far more diverse.
All of which is one way to demonstrate how far contemporary culture — high-art culture included — has moved from what we see in the mainstream classical world. And yes, things in classical music are changing. But still the focus is on the past. Or, more to the point, the focus is not on things we're aroused about now, which means that — for people who aren't classical music initiates, who don't already love classical music as it's long been presented, who've heard it's a great, great art, and come to it with an eager wish to be enlightened, inspired, transfigured, blown away — something is missing.
Unlike Joanna, they may not name what's not there. They may even not be aware, consciously, that there's a lack. But their reaction will tell you that classical music hasn't connected. They'll think that it's nice, or even refreshing, something to dip into once in a while. They may even be deeply moved, like the man I met at a party this week, who thought Beethoven's Ninth was one of the greatest musical experiences he's ever had, but spent much more time talking to me about Bruce Springsteen.
So they might enjoy a classical concert. But they won't often go back. They certainly won't be drawn to go week after week. Their culture is missing.
Next post (this all is taking more time than I thought it would): how we got to this place. And while I don't want to summarize this just now, I will say one thing. For quite a long time — the first half of the 20th century (very approximately) — it seemed natural to go to classical concerts, and hear old masterworks. That resonated, culturally. Just as, for centuries, educated people learned Latin, an antique language, not natively spoken by anyone, but which still had such cultural resonance that it seemed quite alive. 
During this time, the classical music audience was younger than it is now — no older than the population at large. But then, starting (again approximately) in the 1960s, our culture started to change. Just as, in decades before that, Latin began to drop out of sight. It no longer was something educated people needed to know. So now the standard classical repertoire began to seem like only one part of what ought to have been a larger — much larger — musical world. 
And so the audience aged. And classical music — as focused on the old masterworks — changed from a central part of our culture into a niche taste for (largely) older people. 
Of course that's simplified. Some younger people are drawn in. And classical music still has some of its long-time glamour, prestige, and money. 
But still it's retreating. And the contrast between it and the culture around it, joined to the long, slow aging of its audience, tells a story we can't afford to ignore.