I know that much that I'm saying is hard for some people to accept.
And I sympathize.  Change can be difficult. Major change can be more difficult still. And fundamental change — radical change — can be wrenching.
So when I say that the repertoire classical musicians play will have to change, I can see why many of us might be upset. I'm thinking now of people deeply engaged with classical music as it is now. We all — I'm very much including me in this group — got into classical music because we loved it.
And what that meant, obviously, is that we got into it because we loved the old repertoire. That's true of me. I remember a moment when I was in college during the early 1960s, when — in the common room of Adams House, at Harvard — I heard a concert in which someone plucked the strings of the piano. I was outraged! Thought that the piano would be damaged. What I loved about classical music back then was opera and lieder — Verdi, Schubert, Schumann, Brahms, Fauré.
(Though — jumping ahead now to points I'll make later — I was also watching with the greatest excitement, films by then-avant-garde European directors like Antonioni. Which shows my overall cultural taste at odds with my classical music taste, making me a microcosm of the larger cultural problem I'm discussing here, which is that the culture's tastes have changed, leaving classical music behind.)
So since we love the old repertoire, it's natural for us to think that others will love it, too. If they don't, we think, it's only because they don't know it. Or because they're scared off for some reason.
We also know that — no matter how often I and others might say that a younger audience won't be attracted to concerts consisting largely of standard classical rep — some younger people definitely are attracted to that music. I of all people know that, since I've been teaching at Juilliard for 16 years, and my students of course love the old masterworks. Their devotion to them, in fact, is very moving. I've had contact with young classical musicians in countless other ways, too (teaching elsewhere, working with orchestras, speaking at many music schools), and always their devotion to the core classical rep is vivid, unshakable, and, again, deeply moving.
Beyond that, we all know cases when younger people who don't play classical music have been swept away by Beethoven, or Mahler, or Mozart, or Bach. Yvonne Frindle cited a lovely example in a comment she posted, in which a large young audience loved a standard classical piece, liking it more than something by Thomas Ades.
I've even learned that at one big American orchestra, the younger people who do come to concerts say, when surveyed, that they like the older music better than new music.
But now it's time for reality to set in. What's happening at that orchestra is, pretty clearly, a selection effect. The younger people who love the concerts they give are the ones attracted to the old music. Left unanswered is how many of them there are, and whether there might not be more younger people who don't come at least in part because the old music doesn't — taken as a whole — speak to them strongly enough.
Which brings me back to the large point that I'm making. I told a story about Joanna, my former girlfriend, who back in the '90s wished (as an outsider to classical music) that classical music could be more noir. Or, more generally, more like the culture she felt was hers. One commenter quite properly objected that this was only an anecdote, and (since I'd made the same point about the story Yvonne told) that anecdotes, on their own, can't prove anything.
He was right. I should have said that this anecdote was only one of many I might offer, all showing more or less the same thing. For instance, in the '90s I took a date (again, someone with no classical music background) to a concert by the Emerson Quartet. They were playing late Beethoven, and also Berg Op. 3. I was worried about what my date would think of the Berg, and tried to prepare her, asking her to imagine an art museum, with Beethoven being the old masters, and Berg being in the rooms with abstract art.
When the piece was over, she was annoyed at me. I didn't have to say all that, she said. The piece was easy for her to hear. It sounded, she said, as if Berg was drunk. Now, I and other classical music sophisticates might think that's a simplistic way to hear Berg's work, but on the other hand, there's something to it. The early atonal pieces by the Second Vienna School composers are, rather famously, drenched in uneasiness, if not outright angst. They don't depict normal mental states, and emphatically aren't meant to. So the "drunk" reaction, though rather simple, isn't off base at all. (Think of Pierrot Lunaire, moon-drunk.)
Same thing when kids at a summer music program I taught at in the '70s thought some of these early atonal pieces sounded like film scores, for horror films. That's not a crazy reaction (and it's one adults, too, have had). In fact it fits with Theodor Adorno's famous belief — and remember that he was a friend of Schoenberg's and Berg's, and strongly supported their work — that atonal harmony represents frozen pain.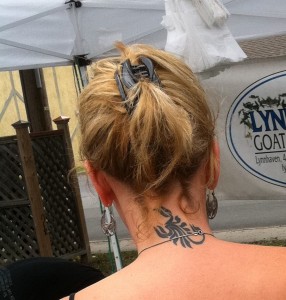 We now have a culture in which we don't try to pretend that happy endings always happen, that (to use a phrase of Henry Miller's) everyting isn't, in the end, "merry and bright." Hence film noir, and the sense Joanna had that an art form as important as classical music should catch up with her culture, and be more layered, ambiguous, dark, pessimistic. Which atonal pieces — the early ones, at least (what happened when 12-tone music came in is another story) — clearly are.
More anecdotes. The whooping, cheering crowd at the NY Philharmonic, when Alan Gilbert conducted Ligeti's opera Le grand macabre. Subscribers turned in their tickets, which then were resold to the kind of younger people you never see in such numbers at standard Philharmonic events. And, as I said, they whooped and cheered.
Likewise the younger audience at the Mavericks concerts at the San Francisco Symphony. I met someone who'd been to them at a party once. She'd just moved from San Francisco to NY. We were chatting, as one does at parties, and she asked me what work I did. When I told her, she said that she'd loved MTT's performance of the Ives Fourth Symphony. I asked her if she ever went to the NY Philharmonic. "No. Why would I?" she answered (or words to that effect). She'd pigeonholed them as an orchestra that played largely old music. Instead, she said, she went to the Next Wave festival at BAM — a festival of performances in advanced artistic styles, at which whatever music might be played is almost certainly new. She'd never go to classical concerts if they play mostly old music.
And then there are the big audiences for the Bang on a Can marathons in New York. Or for Present Music, the new music group in Milwaukee, which is a resounding success. I mention them because, back in the '90s, I did a piece for the Wall Street Journal about a tour by Estonian groups, who played Avro Pärt. They were presented in Milwaukee by an established chamber music series, whose director told me that new music fans in Milwaukee — and Present Music, back then, had a few hundred subscribers, and could get as many as 600 people to its performances — were so dismissive of the chamber music series (because they identified it with old music) that they wouldn't come to it even if it presented something they'd like.
Or the Wordless Music orchestra concert in New York a few years ago, which I've talked about here many times. A church with 1000 seats was filled two nights running, for a concert of John Adams, Gavin Bryars, and Jonny Greenwood. Greenwo0d, of course, is the lead guitarist in Radiohead, but the piece of his played at this concert wasn't anything like a Radiohead song. It was, instead, something like Penderecki's Threnody — a piece with dense clusters of sound, without melodies or steady rhythms.
The audience loved it, as it loved the other pieces on the program. A friend of mine from the mainstream classical world, someone with extensive high-level experience at orchestras and at a management company, looked at the crowd, and said to me: "This is the young audience we always say we want to attract. But they'd never come to anything we do."
And in fact I think I've never seen an audience at a standard classical concert with as many young people — who paid for their tickets — as I saw at Wordless Music or at Le grand macabre, or certainly at which a large younger audience loved the music so much. The closest I've come to that, maybe, was one night when the New York City Opera lowered its ticket price to $25 for any seat in the house, for a performance of Madam Butterfly. That was the youngest paying crowd I've ever seen at an opera house, though it wasn't as young, or as excited, or as visibly (by dress, body language, tattoos) immersed in current culture, as the audience at Ligeti or Wordless.
I can see that this set of posts will go on longer than I thought. So I apologize for making this one in part just a footnote to the last. I'll go on with more specific thoughts, with helpful reading, and with repertoire thoughts when I post next.
Why the photos — in this post and my last one — of people with tattoos? Because I'm saying our culture has changed, and I can't think of a better quick visual shot of that than the tattoos people so commonly have now. When I was young (in the days when classical music still attracted a large number of younger people) these tattoos were unthinkable. Inconceivably, on anyone respectable. And now? They're all over. The man with tats in my last post was working on his Mac, just as I was working on mine, opposite me in a coffeehouse in Adams Morgan, in Washington. The woman in this post I photographed at a fairly upscale farmer's market in Warwick, NY. As respectable an upscale wife and mother (she was shopping with her child) as you'll find anywhere. With this lovely — and, pretty much, unhideable — tattoo on the back of her neck. 
A thought experiment: Yes, I know that younger classical musicians (who, after all, live in the same culture as people their age who don't like classical music) might have tattoos. But can anyone imagine an audience full of people with tattoos sitting silently in a standard classical concert hall, for a standard classical concert? I can't.