So how do we build a young audience? Of course I need to offer ideas, first because I've said (and here, too) that building a young audience should be the highest priority for classical music. And, second, because I can help you do that, if you hire me as a consultant. So I need to show how I can help.
To build a young audience, we need to do three things: (1) change the way we present classical music (2) change the repertoire we play, and (3) play better. I'm sure that last will be controversial! But let me address these points one by one.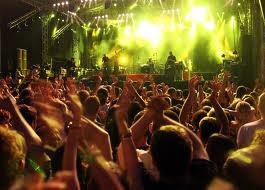 How should we change our presentation? You might be expecting me to say we should add lighting and videos, explain our music to our new audience, or maybe draw parallels between the great composers of the past and things in present-day life. ("Liszt was a rock star!")
But in fact I'm not the greatest fan of these things. I've seen them done well — wonderful lighting changes, for instance, at a performance of the Pastoral Symphony at the University of Maryland. And I can't object to the explanations I've given in many, many places, for instance when I co-programmed and hosted a concert series (for a new audience) with the Pittsburgh Symphony.
But I think we need to avoid a few things. We need to avoid lecturing our audience, attempting to educate it (before it asks for information), looking down on it, patronizing it, and — above all else! — apologizing to it. Apologizing is what I think we do if we tell everyone that, hey, they can understand Liszt, because in his time he was like a rock star. Sure, there's truth in that. But if we stress it too much, aren't we saying — in our subtext — something like, "We know you don't care about Liszt, but look! Here's something you might like! Something you can understand, even if you don't know anything about classical music!"
I find that more than a little feeble. What matters much more, I think, is that we care about Liszt, and not because women in his time ran to grab cigar butts he threw away, and then wore them like treasured jewelry around their necks. We care about Liszt because we love his music. The cigar butt thing, well, it's a great story, but if we didn't love the music, we wouldn't be telling it. So let's start with loving the music.
(And to jump ahead to how and why we should play better — if we really understood the cigar butt story, we'd understand that we have to play Liszt really wildly, giving his music the kind of gut-sexy knockout power that Elvis had when he was young. Which — let's be honest here — is something we almost never hear.)
So that's the main thing that has to change in our presentation — we have to give concerts in which our love for what we're doing just jumps off the stage. That doesn't happen now. Walk into the hall for a standard classical concert — at a major orchestra, let's say — and what do you see? What do you feel? You're not going to tell me that (on the overwhelming majority of nights) there's any buzz of excitement in the hall, any spark of excitement. The audience is well-behaved, sedate. Sitting calmly, in a kind of comfortable passivity, ready to receive whatever it's offered.
(And, of course, if you're young, this is an audience far older than you are, an audience not like you at all. Not many tattoos in it! Which, people in the older audience might say, shouldn't be an impediment, because what matters is the music. Until, that is, they go to a hiphop show (if that ever happened), and suddenly they're the odd ones out, the people in an uneasily unfamiliar setting, in which nobody is like them.)
Onstage — thinking again of an orchestra concert — the musicians sit (typically, anyway, in the US), talking to each other, noodling on their instruments, ignoring the audience.
Oh, and the program, the music to be played — why this music, why play it tonight, why play it in the way they're going to play it? These questions aren't addressed. Again the audience is expected to be passive. The program notes tell you all sorts of things about the history and structure of the pieces, but not why they matter, right here, right now, played the way they're going to be played.
(Also, of course the musicians' bios, in the program book — dead, dead, dead, blank lists of achievements and distinctions, phrased in a way no living human could care about, absolutely unreadable, giving no hint that (just for instance) tonight's soloist has even the faintest love for music.)
None of this will fly, in our current culture. It's not the way we live now. We want to participate, be part of things, be told what's going on, feel like we matter, that our presence and participation makes a difference. A survey I was told about, conducted in the 1990s, asked people in their 20s why they didn't go to classical concerts, and one big answer was that their presence didn't matter. The concert would happen in exactly the same way, no matter who was there.
We have to change all this. In a dozen, twenty, a hundred ways, we have to create an environment in which people come to a concert, feel a buzz, see musicians who plainly care that the audience is there. And know that the music is being played for a reason. Again thinking of an orchestra: it'll be clear that the conductor, the musicians, the soloist, the board and staff of the orchestra, and other people in the audience love the music, think it matters, can and do say why it matters, at the concert, before the concert, after the concert, in the hall, in the lobby, on the orchestra's website, on Facebook and Twitter, throughout the city, everywhere.
Each piece has not just a reason, but a goal. What's supposed to happen in a performance? What makes the piece hard or easy to play? What's the principal oboist's favorite passage? What passage scares the violas, because it's so difficult? What place in each piece makes the orchestra most thrilled? One of my Juilliard students, years ago, said something wonderful about the Brahms first symphony. He's a trumpet player, and said that for him, the moment that showed the meaning of the symphony came in the last movement, when the horns play their famous passage in C major. He said he'd sit there waiting for that, and be thrilled each time he heard it.
That's the kind of information we need about every piece that's played. Things that matter to the people presenting the music (including, as I said, nonmusicians like the orchestra's staff and board), things the audience can listen for, and see if they feel the way the concert presenters feel.
Now, how this is done is another story. Another post. A book, even. And there's no one answer, especially because we're going to be doing these things all season long, every season, for every piece, for every concert, for the orchestra (or whatever classical music institution or soloist or ensemble or presenter) even when there's no particular concert we're talking about.
And of course we want the audience to participate. So we'll offer endless opportunities for that. Chances to comment. To remix the music. To compose! Jon Deak, former assistant principal bass player of the NY Philharmonic, gives workshops in which he teaches children and adults to compose. The results — I've seen it myself, done one of the workshops with him — are beyond miraculous. People with no knowledge of music compose pieces, using whatever notation they can, often graphic notation.
When musicians on hand play the pieces, the pieces sound different from each other. They have character. I sat, when I did the workshop, with the executive director of a major orchestra, someone who'd come to that position from the business world, someone with no musical training. He got so excited writing music, for the first time in his life, that I — designated as his partner (the pieces were written by teams of two) — was relegated to the role of scribe, writing down his ideas as quickly as he came up with them (which was impossible, because ideas poured out of him so fast).
So do workshops like this, and then play the resulting pieces on your programs. Play works by high school kids. Student composers. A five-minute piece by the most famous composer alive, added to tonight's program without a word said in advance.
Put Beethoven's Seventh Symphony on your website — several performances, in different styles. Bookmark crucial passages. Keep it there for weeks before you play it. Invite your audience (or, for that matter, anyone at all, anyone in your town, anyone from anywhere in the world) to comment. Which performance do they like best? Why? Which passages do they like? What's at stake in each passage? Which performance renders each passage in the best way?
Not that there are single answers to those questions! Get your audience debating. Let them recreate these passages at home, on guitars, keyboards, kazoos, banging on pots, whatever. Put these renderings online. If there's a good youth orchestra around, maybe they can play the piece. Put their version online. Invite them to join your players in a performance of the piece. Now the hall is full of their parents and friends.
If you're doing a world premiere, have members of your audience get to know the composer, months before the concert. Let them email with her, talk to her via Skype and telephone, bring her to your town and let them meet her. Get to know the piece as it's being written, and later when it's being rehearsed. Get to know the composer's other pieces.
When the premiere happens, let these audience members present it. Write the program notes. Talk about it from the stage. Send email — their own email in their own words — to everybody on your email list, saying why they like the piece. Or don't like it. Or don't like it, but understand why it should be played. Let them talk about it everywhere in your town.
I'll stop here. I think you get the point. We can make concerts so exciting — including those, when very serious music is played, when everyone just sits their, raptly listening. After all the participation we've given them a chance to have, they'll be a thousand times more prepared for rapt and silent contemplation. Because they'll hear everything more vividly.
I'd love to work in a classical music world that functions in the ways I'm describing. I'd love to go to the concerts. And this is just the beginning of the changes we need to make!
One small proof of concept: At one point, I worked with the Pittsburgh Symphony, leading conversations with members of their audience, after concerts. 
At one point, the PSO replicated a British competition called the Masterprize, a composers' competition in which an audience could vote on which of three finalists it liked. 
So that happened in Pittsburgh. The PSO opened a concert by playing the three final pieces from the Masterprize, each about 10 minutes long. At intermission, the audience could vote, pick the piece it liked best. Which then would be repeated, at the end of the evening. 
And what happened in the conversations after the concert? The people in them were more excited, more aroused than they'd ever been. And they'd listened very carefully. When I asked which piece they'd chosen, they answered in great detail, citing specific passages to tell me why. That had never happened before, not when they'd hated an atonal piece the orchestra played, not when they'd loved a soloist in standard repertoire. The bar was now set higher. They'd really listened, and remembered what they heard. 
Two people even voted for a piece that wasn't their favorite. They guessed — correctly — that their favorite piece would win. But they'd also liked another piece, and wanted it to have some glory. So they voted for it. 
Again, I did several conversations like this, and never saw the people who came to them even remotely this excited. And about new music, which they'd never shown an interest in before! 
Suggestive evidence, I'd say, that participation makes an audience more engaged, and not just in personal ways. They have a deeper connection to the music — which is what we want to encourage, isn't it?