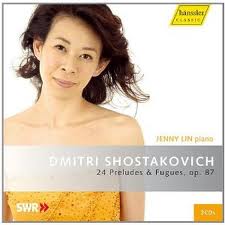 I was listening to my friend Jenny Lin's strong recording of the Shostakovich piano preludes and fugues, and it made me think about my graduate study in composition at the Yale School of Music, from 1972 to 1974. And how Shostakovich was a nonperson. We never talked about him. He was bad. He wrote tonal music.
Likewise Benjamin Britten. Like Shostakovich, he didn't count. In 1974 (after I got my degree) Britten's last opera, Death in Venice, played at the Met. It overwhelmed me. I saw the error of my (and Yale's) ways. (Funny: I'd sung in Peter Grimes, in a Yale production, doing the leading baritone role, Captain Balstrode. But somehow the quality of that piece — plain to me now — escaped me.)
The music we cared about: modernist music. Berio, Ligeti, Cage, Stockhausen, Carter, Mario Davidovsky (who came to teach at Yale). I gave a vocal recital, and sang music by Ligeti, Morton Feldman, and George Crumb. Somehow tonal works by Stravinsky and Bartok were allowed in our pantheon. But not Copland, Prokofiev, Britten. Or Shostakovich.
Though I didn't realize it then, those were bad days for new classical music. Though I love a lot of modernist music, including the pieces I sang, and of course Webern (a composer who reaches a deep place in me). I think this music should be revived, promotoed, maybe in pop music contexts. And, I'd think, at art museums.
But the stress on modernism — and exclusion (at Yale, and other prestigious places) of masters like Shostakovich — did so much harm.
Oddball footnote: If you follow my link to the Amazon download of Jenny's album, you'll find the cover rendered as a photographic negative, with colors reversed. Weird!