As I look over the comments on my recent posts — and of course over many things that have been done and said over the past few years — I'm struck by something we don't seem to agree on. "We" being people involved professionally in classical music.
And that's whether the field is in trouble. And, most pointedly, whether orchestras are in trouble, or whether they're essentially healthy.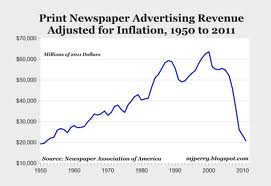 But then I have to ask why we're having this debate. Why don't we know? In the newspaper industry, for instance, there's no debate about how things stand. Everyone knows that print newspapers are losing both circulation and advertising, that this has been going on for quite a long time, and that income from digital enterprise — whatever it may be in the future — hasn't yet made up for the losses.
No one disputes this! There's lots of disagreement over what to do about it, but no one disputes what the facts are. You don't, for instance, find unionized journalists saying that circulation hasn't dropped, or that, if it has, that's because newspaper managements haven't done their job. Or that, overall, the climate is healthy for print newspapers.
Likewise the US auto industry. Nobody disputes that US carmakers were in serious trouble. We've seen partisan disputes — Romney vs. Obama — over what should have been done to fix the problem. And the carmakers fumbled badly when their CEOs flew private jets to congressional hearings about how to help them. But nobody says the problem wasn't there. And nobody, as far as I'm aware, denies that things are now better.
I could take this further. No one disputes that, among mainline Protestant churches, congregations are shrinking. Or that the Catholic church has been closing down some of its parish churches and parochial schools.
So why — in classical music — can't we agree on how things are going? Think for a moment. Isn't it amazing, almost beyond belief that we can't? That we still have violent debates over the most basic facts?
If you ask me, this doesn't bode well for our industry. We're not acting the way I'd expect a mature enterprise to act.
Though there are a few other areas, in our world, where we see similarly basic debates. I'll talk about them in another post. But I'm not sure all of us will find the comparisons quite flattering.