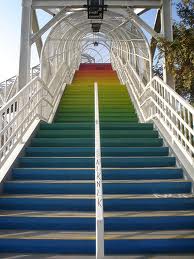 For years, I've ended my Juilliard course in the future of classical music with one simple exercise. I've asked my students to speak from the heart about a piece that they play (or sing, or have composed). To tell the world — well, me and the class — why they love it.
The results have been, almost always, very moving. To see and hear people talking about anything with as much love as my students convey is — quite seriously  — inspiring. Year after year.
This year, as you can see from the class schedule (this link goes to the same place as the earlier one), I'm using this assignment as a springboard for an exercise in branding. The idea is for the students to take what they say when they speak from the heart, and build on it to find both words and images  that can describe who they are as musicians.
But later for that. The students have, this week and last, been giving their presentations, and the results touched my heart. This week, for some reason — it must have been me; the presentations the students gave last week were just as strong — I found myself thinking two things.
First, the individuality, the way each student thinks about music differently — this is stunning. We heard a baritone talk about musical theater, and why the "Soliloquy" from Carousel speaks so strongly to him. A brass player talked about being inspired by a contemporary piece, which let him choose many of the notes he play, and which incorporated jazz and world music sounds.
A cellist talked about the Ravel quartet, how playing a quartet was like having a conversation, how the bonds she felt with the other musicians might extend beyond music. And how Ravel gave her the chance to say things through music that she couldn't say in any other way on her own.
A violinist talked about the "Meditation" from Thais, and how it forces her to be tender, when the world outside so often forces her to be tough.
A pianist got so inspired, talking about Frederic Rzewski's Windsome Winsboro Cotton Mill Blues — with its driving cacophony, tenderness, playfulness, and its take on American history — with such excitement that all of us wished we could hear the piece, right then and there.
An an oboist talked about the Mozart Oboe Quartet, about (among other things) about how Mozart elevates him, makes him feel he's not touching the ground.
You see what I mean? Such feeling, such individuality. Each musician unique.
And then I had one more thought, which (like the last one) I shared with the students. The thoughts about Ravel and Mozart, especially, invoked — at least for me — something I love about classical music, something it does that no other kind of music can do, or at least not in the same way.
It makes us part of something larger than we are. Something that existed before we came along. If you play jazz, you improvise, and that's pretty wonderful, too, the idea that everything you do happens right in  the moment, that it expresses exactly who you are right now, that you're speaking spontaneously.
In classical music, you walk in the composer's footsteps. Some people might say that's not creative, but I powerfully disagree. It's a powerful, difficult discipline. To walk in Mozart's footsteps? Or Ravel's? How could that be easy? How can you bring yourself to the places they inhabited, speaking — with (as you should) just as much feeling and specificity as they did — the things that they wrote down? (Using "speaking," here, as a metaphor for playing music.)
It's not easy. Not to do well! And certainly not in a way that puts you on the level that good or great composers reach. The same discipline exists in playing new pieces.
And it's discipline that — just as the cellist said of Ravel — can take you places you'd never go on your own. Bigger places, deeper places, important places. To follow Mozart, in the Oboe Quartet (as the student described it), going from an "upinflected"(his word) first movement, into a second movement in a minor key, so poignant and deep.
That's an experience we don't have every day, which classical music can bring us. I'm grateful to my students for bringing me back to these truths.
[The Rzewski correction above? A lesson for writers. I needed to look up the title of the piece, and instead of looking it up immediately — and interrupt the flow of my writing thoughts — I typed in a placeholder, an approximation of the part of the title I couldn't remember. And then forgot to look up what it really was! It's so easy to do that, but we shouldn't. It's every writer's job to get the facts right.]