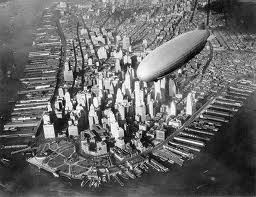 The New York Philharmonic supports WNYC, New York's public radio station. And so they get little quasi-commercials sprinkled into the station's shows. In which they tout Alan Gilbert as the first Philharmonic music director born and bred in New York.
And so now I must tell my friends at the Philharmonic that this is pointless. If Alan Gilbert comes from New York, what difference does that make?
Just about none, I'd think. Because it's not as if Alan — in his work as music director, in his programming, for instance, or for that matter in anything he projects personally — comes off as a New Yorker. Or even as someone with any special interest in New York. Which isn't a problem, in itself, because he can be whatever he wants to be. But if the Philharmonic wants to market him as a New Yorker, then it matters if he doesn't smell or taste like one.
And that's especially true, because the Philharmonic, as an institution, doesn't have a New York vibe either. Oh, sure, they play a parks concert in each New York borough every year, and play a concert annually in a big Harlem church. But that's tokenism. They aren't (just for instance) in New York neighborhoods all year long. Their musicians aren't showing up on New York events, or on New York TV and radio. The orchestra (unless I'm missing something) isn't playing the National Anthem at any New York sports events, the way the Pittsburgh Symphony played it at a Steelers game.
When Leonard Bernstein was their music director, well, that was New York, because Lenny — even if he was born in Massachusetts —  was a New York celebrity, the composer of hit Broadway shows, a figure in New York society and nightlife. Plus, back in those days, the Philharmonic did take on a New York vibe, at least in the summer, because it played concerts in Lewisohn Stadium, on 137th Street, right on the City College campus, attracting everyday New Yorkers who might not have paid big-time ticket prices for the regular-season events. Another New York connection.
But in 2012, if neither Alan nor the Philharmonic have anything that's truly New York about them, anything that we can taste or touch, then to bill Alan as New York-born is meaningless. It's a fact without a context. You hear it stated, and you don't know what to do with it. So I'm going to guess that — in the minds of people who hear those spots on WNYC — it sinks like a stone.
(If anyone who's heard these non-commercials reacted differently — or if anyone knows of studies that prove I'm wrong about all this — please let me know!)