I talk a lot about problems with classical music, and maybe don't say enough that what I really care about is classical music's rebirth.
Which — knock on any wood-like substance available — seems to be happening.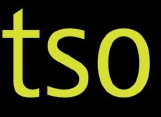 For instance: The Toronto Symphony says it has an amazingly young audience. More than one-third of it is younger than 35!
I read this some months ago in a story that appeared late in June, in the Culture Monster page on the Los Angeles Times website. And then was surprised to see that the story — in journalist-speak — didn't seem to have legs. It wasn't picked up, as far as I could see, by other major media. And even people in the classical music business didn't seem to know the Toronto Symphony was having this notable — pathbreaking — success.
And i confess I sat on the story myself. It was summer, Then came Rafa, the baby we adopted, and two months focused largely on him. (Such a joy.) And what I wanted to do — since there was, as far as I know, no precedent and no context for news like this — was talk to people in Toronto.
I should have linked the story right away, though. I did set up a conversation with Carey Suleiman, the Toronto Symphony's Senior Director of Marketing. From whom I learned that, yes, the astounding stat (about the audience age) is correct. The number dates from the 2009-10 season.
Carey also said, anecdotally, that "audience at our concerts looks younger than other things i've seen" — meaning other audiences she's encountered in her classical music career, which included time at the Philadelphia Orchestra.
I'd love more hard data. And also I — and I'm sure many others — would like to know how this happened. And at what cost, if any. (Some classical music institutions attract a young audience by lowering ticket prices, but then they need funding to offset the loss from selling tickets at a cheaper price.)
In fact, I think I held up posting because I wanted some explanation. I've formed a theory, for what it's worth: I think that the Toronto Symphony persevered. More than a decade ago, in 2001, they introduced their Tsoundcheck program, which sells tickets at a low price to anyone 15 to 35.
You have to sign up, which puts you on the Symphony's mailing list. They can market to you. And they're selling 3-packs, tickets to three concerts at a time, which makes Tsoundcheck members Symphony subscribers.
There are more details — for instance, that Tsoundcheck tickets are only available if full-price tickets aren't all sold. And how, as a Tsoundcheck member, you can bring a friend along at the same low price.
But what I think is crucial is that they've continued the program for all these years. All too often, I've seen classical music institutions try an innovation, and then drop it. If you want a new audience, you might have to work on that for years.
Which is what the Toronto Symphony seems to have done. They also have some special series — Casual Concerts, Late Night Concerts — that might appeal to younger people, and as far as I know they've continued these for years, too.
Or maybe it's Toronto, at least in part. The Tafelmusik Baroque Orchestra has had success with younger people, too.