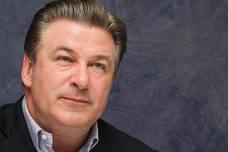 I'm going to be posting a lot about the future — or, rather, about how to make classical music ready for the future. And, especially, how to make classical music institutions ready. A lot of what we need to think about involves the culture around us — the culture into which classical music needs to expand, if we're going to find more audience.
I know this idea isn't always welcome, but think about it. If we want to attract people who don't now listen to classical music, who are they? Clearly they're people who live in our lar
ger culture. Or did we think we'd find people who've withdrawn from our culture, who spend their cultural time in tiny, fascinating niches?
Not likely. And so, to introduce this thought, let me present someone who certainly takes part in mainstream culture, Alec Baldwin, who of course is a classical music fan — celebrity spokesman for the New York Philharmonic, no less, and host of their radio broadcasts. He loves classical music.
But of course he's  also a star on 30 Rock. And as for his musical taste…well, as it happens it's not fully classical. Alec Ross has been asking art celebrities — Björk, Mark Morris — what their favorite records are, and when h
e asked Baldwin for a list of favorites, only two were classical. Namely, recordings of Mahler's Fourth and Ninth Symphonies, conducted by George Szell and Georg Solti. Showing, I have to say, a connoisseur's taste.
And the rest? A Decade of Steely Dan, Stevie Wonder's Songs in the Key of Life, With the Beatles, and Sondheim's Assassins (a connoisseur's taste, again). The Who Live at Leeds, the complete Columbia recordings with Miles Davis and John Coltrane playing together, U2 Live from Paris, Eric Clapton's Layla and Assorted Love Song
s, Elton John's Tumblewe
ed Connection, Tony Bennett At Carnegie Hall, and 21, the album for which Adele won all those Grammys.
Truly a connoisseur's taste, and quite individual. The moral of the story? This is the audience we're looking for — people with developed musical minds, who (unlike Alec Baldwin), haven't yet taken to classical music. Or who already like classical music, but don't go to concerts much, or buy many classical recordings. This is a snapshot of who these people are, what their larger tastes are in music.
Which should be obvious, right? But for many of us it isn't. I've run into a lot of what I'd call classical music exceptionalism, the belief — so often passionately held — that classical music is special, that U2 may be fine, in its place, but that classical music is something people have to like, that it's superior to the dross (musical and otherwise) of current culture. Etc., etc., etc.
We can believe that, if we like, but the people we're trying to reach don't believe it. To reach them, we'll have to let them see that we value — not just understand, but value — who they are, and what their culture is.