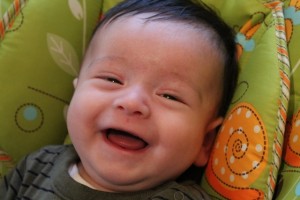 The new year has come, and after two months happily devoted to our new baby Rafael, it's time to get back to work. Though not without a Rafa photo. Here he is, smiling, the first of his smiles ever caught on camera. He's just a little past 10 weeks old as I'm writing this. Such a darling!
Although I see — looking back at 2011 — that I haven't been idle here. Starting on October 4 (11 days before Rafa was born) — I did 18 posts that I've grouped under the category entrepreneurship, and which got a lot of comment. To see them, click the link.
Loyal readers will remember these, I think. I talked about branding yourself, by talking about your deepest core. About why we shouldn't put so much stress on education and outreach, how instead we should go out and find our own audience. And about why photos of orchestras (and orchestra musicians) are so bad — the entrepreneurship connection being that if we want people to care bout us, we'd better make ourselves look like something people would want to care about.
But these links just scratch the surface. And one thing I especially loved were the comments. People suggesting better orchestra photos. (I've linked to just one of the posts I did, showing what people suggested.)
And, best of all, people telling their own entrepreneurial stories, for instance here. I like to think of this blog as a community, and it never felt more like one than when so many of you gave me these responses.
So happy new year to everyone! I've got more entrepreneurial stories coming up, plus much, much more. Including my Juilliard course on the future of classical music, which I start teaching on January 18. I've linked to last year's curriculum, which I'll update for the new year, and link to again when it's updated. I'll put a lot more entrepreneurship in the course than I used to.
And that's it for now. Again, the warmest happy new year to everyone! 2012, for all sorts of reasons, should be a fascinating year for classical music — decline and rebirth very likely blended. I'm going to continue with some happy stories, more entrepreneurial delights reported to me by readers. Look for these Wednesday and Thursday, and on Friday…some striking news from the field.